---
You can also be interested in these:
---
In this article, we'll review the Logitech Harmony 350 remote, which is a cost-effective universal remote that will meet your needs. It is produced by Logitech, a well-known Swiss company that has been manufacturing computer hardware peripherals (such as keyboards, mice, trackballs) and software since 1981. The company is in Lausanne, Switzerland.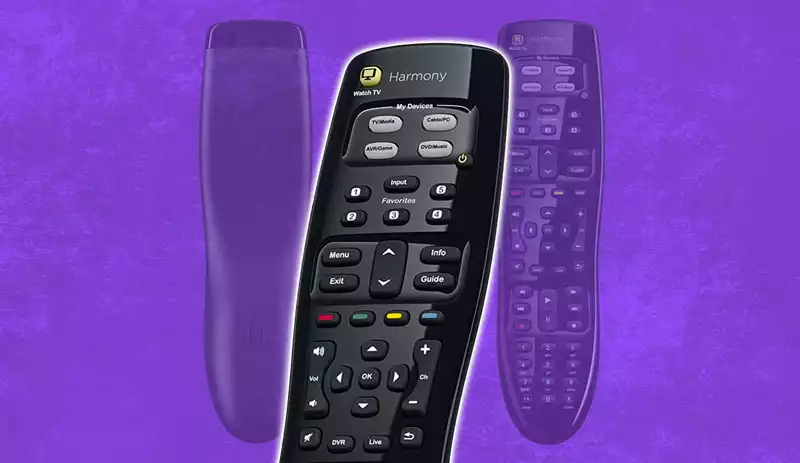 Most of nowadays have numerous electronic devices placed inside their homes and these devices are getting more and more complex. All these devices have their own remote controls (TV, cable box, DVD player/recorder, VCR, satellite box, A/V receiver, etc) which make using all of them a total hassle for you.
Logitech Harmony 350: Does inexpensive has to do with bad quality?
Logitech has always been a company that pays a lot of attention to its customer's wants and needs and with the Logitech Harmony 350, it has created a cheap, easy-to-use, reliable, and user-friendly universal remote, which allows you to replace all your home entertainment centre remote controls with just one simple click of a button, without you doing anything at all. It is not only versatile and easy to use but respects your budget as well.
If you are short on time and mobility, this review is perfect for you! We obtained one recently and took it through its paces on our new Samsung Smart 65″ TV and we're delighted to share and go through the features of this remote, as well as what we have to say about it!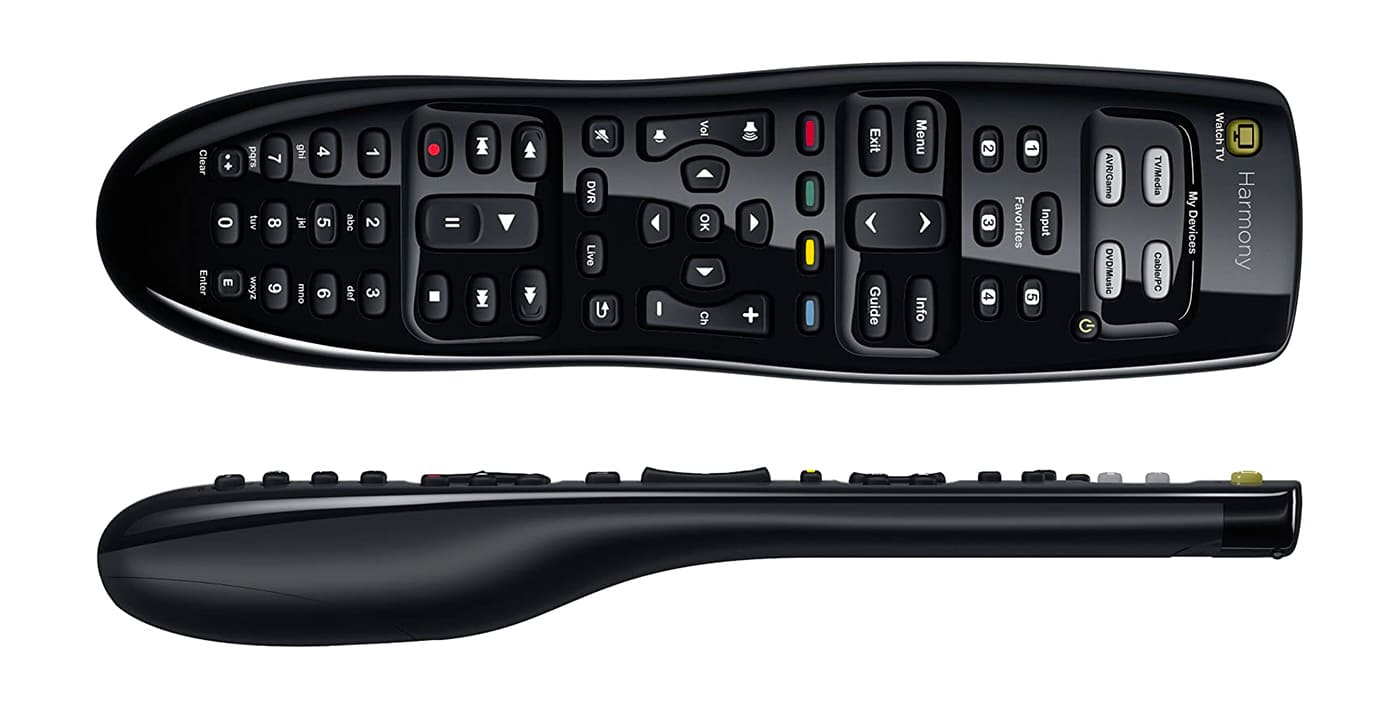 Compared to the sometimes-expensive universal remotes that are out there in the market, the Logitech Harmony 350 remote is perfect for anyone who is looking for something that won't break the bank, but still delivers what it needs to. At about $50 from Amazon, this remote is a straight shooter of a deal and it's easy to use!
Harmony 350: Good and Bad Thoughts from use
At first glance, the Logitech Harmony 350 doesn't look much like an impressive device. However, it features a clean and modern standalone remote with a simple design with a wealth of one-touch device buttons, features and functions that allow you to control up to 8 devices, practically all your home entertainment devices in one! That should be good enough to put away a range of devices whilst also saving batteries. It comes with two AA batteries, a supplied USB cable
First, it is important to know what makes a universal remote different from an ordinary TV remote. A universal remote is one that can be programmed to work with an array of electronic devices while an ordinary TV remote can only be programmed to work with one or two.
Setting up the Logitech Harmony 350 is simple.
The Logitech Harmony 350 can be set up very easily by using either Logitech's MyHarmony desktop software or the Harmony mobile app (however this requires a separate Harmony Hub which we didn't purchase and try with this review). It is available free for download for both Windows and macOS at the Logitech Myharmony website; See this link.
Setting up a remote with a computer sounds like a difficult process but this was not the case with us using our Mac (we also tested the setup using Windows 10). It took around 10 minutes to download, install and create an account before then adding our first device. After downloading the software, you have to create an account, ensuring the universal remote has the two AA batteries installed and then connect it to your computer so you can sync the devices you want it to work with.
Once connected, we were prompted to add each of our home entertainment devices that we wanted the Logitech Harmony 350 to replace. This was easily done by entering the manufacturer and model for each device. Finding device model numbers can usually be a real pain, however, the Myharmony website provides a link on how to find a model number for some of the more popular manufacturers such as LG, Samsung, Toshiba and more obscure such as Roku and Vizio, but this really isn't required as the Harmony software has a database of over 270,000+ devices which will cover almost every one of us.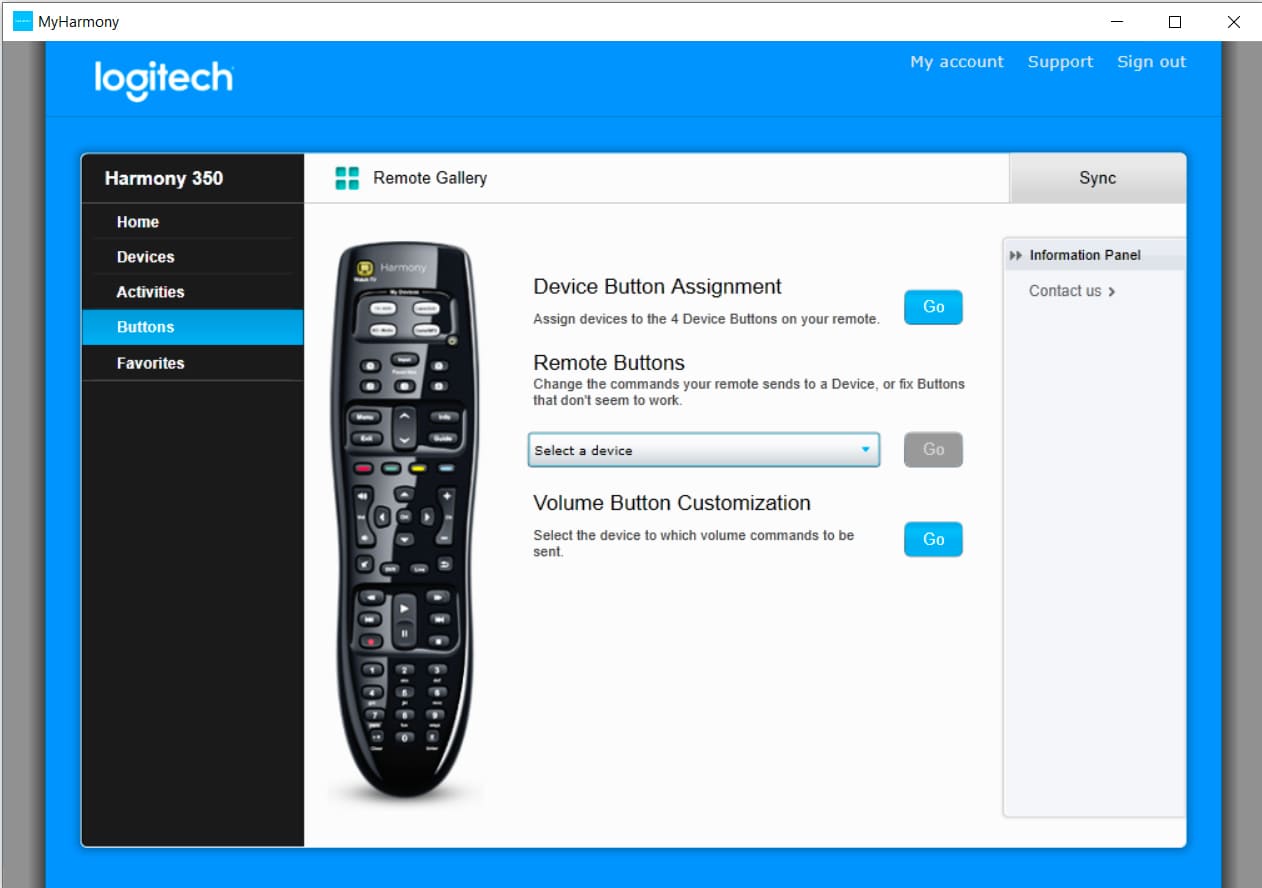 At the top of the Logitech Harmony 350 is the WatchTV button that operates like a "universal" master power button. What we liked about the device was the ability to further customise four programmable buttons with additional functions beneath the Watch TV button and additional favourite buttons. Although they are pre-labelled, we found it easy to assign each of these to separate devices such as our Series X and any favourite channel.
The only negatives we can give to the Logitech Harmony 350 are cosmetic and have no detriment on the usability and use of the drive overall. The first is a less than impressive user documentation manual, the second was a tricky battery cover (we found it a little difficult to open) and the third is an inability to control Smart devices such as an Alexa (as this requires the Harmony Hub). But for entertainment, this isn't a problem at all! Offering a more up-to-date and appealing user documentation manual could be easily implemented.
We set up our Logitech Harmony to operate our new 65″ Samsung Smart TV, a Cable Box, Surround Sound System and Series X. At no stage did we experience any problems locating the model and device which was fantastic.
Logitech Harmony 350 Requirements
The Logitech Harmony 350 is compatible with devices running the following operating systems: Microsoft Windows including Vista, Windows 7, Windows 8, XP and Windows 10 and Mac OSX 10.6 and later.
Where can you get one?
The Logitech Harmony 350 is available at major retailers including Amazon.
In conclusion
We hope you've enjoyed this Logitech Harmony 350 review. We highly recommend it because it's simple, easy to set up and use if you are tech-savvy and don't find installing software first an issue. It has a stylish design, and it is a handy way of controlling all your home entertainment equipment from the one remote. We are very happy with how this device operates and control our home theatre devices and we hope you will too.
Do you have a Logitech Harmony 350 remote? Do you like it? If you do, why? Share your thoughts in the comments section below!​ ​Thanks for reading! We hope you enjoyed this article, please rate it if you did and feel free to share it on social media.
---
More stories like this
---