---
You can also be interested in these:
---
Audio products are some of the most lucrative and popular niche products available, with speakers and headphones being some of the best selling electronics on digital stores. Speakers in particular are fascinating, coming in a ton of shapes and sizes from a bevy of different manufacturers. Two of the juggernauts in this department that get compared pretty often are Klipsch vs Bose.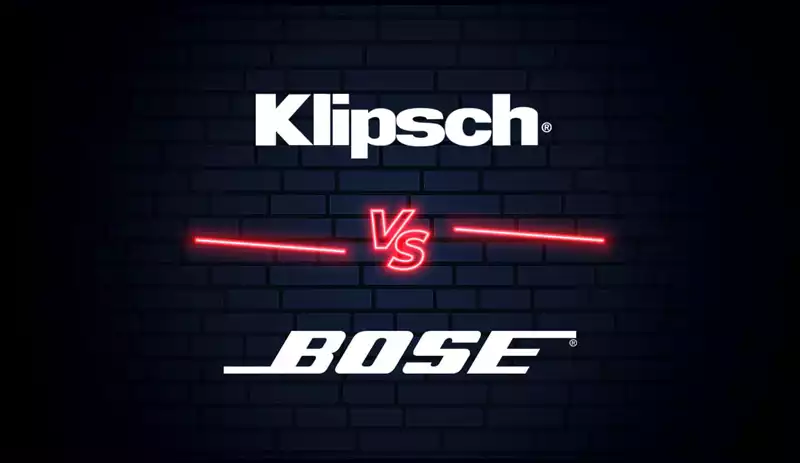 If you're new to the whole audio product market, Klipsch and Bose are the two names that will come up often, and for good reason. Not only are they well established all around the world making for easy availability and warranty claims, they both also have a certain pedigree to their names, ensuring you're always in for a good experience with their products.
That does beg the question though, which of these two is better when it comes to affordable yet quality speakers? Do you go with some classic Bose speakers, or do you want to buy a Klipsch speaker? Today, we'll be doing a deep dive into both companies and their offerings to see which option gives the best blend of build, sound and affordability.
What's so different about these two brands?
When it comes to audio equipment, there are a huge amount of factors that differentiate between products from different companies. After all, every company wants to leave an impression on the consumer, and they all take different routes to achieving this.
Some go for higher quality sound and sophisticated audio drivers to sell their products, while others bank big on trendy, stand-out designs that make their mark, transforming their products into accessories. The same applies to both Bose and Klipsch, who take very different approaches when it comes to speakers.
Bose are well known for being on the higher-end of the audio market, with products mostly aimed at general consumers. They have very classy and elegant designs, fitting beautifully on any ensemble. Klipsch on the other hand are much more sound focused, with emphasis on audio fidelity without being too audiophile tuned.
Of course, that's not all there is to it, which is why we're going to go deeper into the differences between these companies. It's important to know just what you're getting into when you invest into audio equipment after all. You don't want to make a wrong choice. So, time for a dive into Klipsch vs Bose to see what they've got going on.
What is Bose?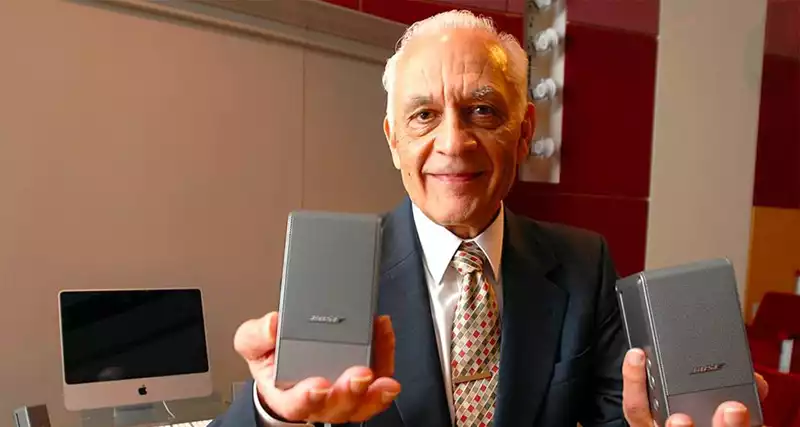 Bose is an American manufacturing company that predominantly sells audio equipment. The company was established by Amar Bose in Framingham, Massachusetts back in the year 1964, focused on delivering high quality sound far above any of their competitors.
Dr. Amar Bose was more than just an audio engineer. He was also a professor at MIT where he was a professional at psycho acoustics, or the study of how human beings perceived sound. Finding other speakers on the market unsatisfactory, Dr. Bose began designing his own speakers, eventually starting up his own company and growing fast thanks to his innovative designs.
Over time, Bose became one of the biggest manufacturers of audio products in the world. In the 80s, Bose slowly began shifting their focus away from precise sound, and more towards pleasant sound that appeals towards consumers. Nowadays, this approach has led to the company having a bad standing among audiophiles, but it's still a respected brand and considered good for general media consumption.
What's special about Bose?
From the beginning, Bose have had a big focus on elegant designs that were classy and exquisite. Every speaker from the company's early days had an artistic touch to it, fitting in perfectly next to antiques and other crafted works. Even now, the company keeps up that pedigree, with their designs being some of the most technically impressive in audio equipment history.
Bose speakers are also built phenomenally well, withstanding wear and tear very well. Buying a Bose speakers means you'll be able to use them for many, many years. It'll live through many instances of knocks and spills with no issue, and then give you few more extra years of service on top of that. Even people who aren't fans of Bose concede that the build quality is nothing to scoff at.
While this is all fascinating stuff, it's also important to note that Bose have always had a focus on the premium end of the market. Today it's more common to see affordable Bose products, but the company's catalogue is squarely aimed at the higher-end spectrum of the market. Because of this, it's not common to recommend Bose to people looking for the most affordable deals.
Also, like we mentioned earlier, Bose equipment is built to be easy to enjoy by general consumers, but it generally doesn't appeal much to audiophiles. This is because they are tuned to be pleasant to the ear, but aren't at all accurate sounding to the music's production. If you don't particularly care for the accuracy of your music but like it sounding generally nice, Bose is a good choice.
Bose has a lot of history behind them, and they stand out thanks to their excellent reputation and pedigree. Their customer service is also excellent stuff, and it's easy to get support no matter where you are. Reliability is a strong factor in favor of Bose, so that's good to keep in mind.
What is Klipsch?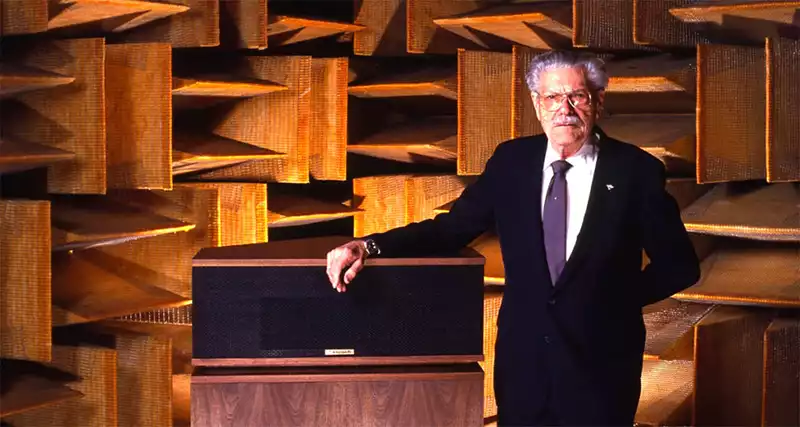 Klipsch was founded by Paul Wilbur Klipsch in the mid-1900s as a small project out of his shed in Arkansas. Paul Wilbur Klipsch pioneered the use of horn-loaded speakers as part of his goal to produce speakers which were high in efficiency, low in modulation distortion and with a wide dynamic range. It was patented by Paul 1946 and has been in continuous production by the company ever since.
Paul refined his corner horn speaker design even further with time, making each loudspeaker himself until he hired his first employee in 1948. Now, Klipsch has grown to become a major player in the audio industry, with some of the best speakers on the market and wide critical acclaim.
The company is renowned for their four major principles, those being high efficiency, low modulation distortion, flat frequency response, and wide dynamic range. These principles have carried the company to many accolades and awards including the Digital Trends Recommended Product Award for 2014, and the CES Innovations Award in 2010.
What's special about Klipsch?
Klipsch have also always tuned their equipment for neutrality, tonal quality and flat sound, which appeals greatly to the audiophile audience. Klipsch products are known for having smooth sound. Keeping with their original innovative roots, the company also aren't scared to try new things. For example, lots of their speakers use AptX technology for crystal-clear sound, even over Bluetooth.
Wonderfully enough, the Arkansas-based company has always retained consistent quality on all their products whenever possible. Thanks to qualities like this, the company has managed to retain a surprisingly loyal fanbase, one that's passionate about their brand. It's not uncommon to see Klipsch speakers and headphones get recommended on enthusiast forums for their signature sound.
That's not to say that Klipsch skimp out on aesthetics and build quality however. On the contrary, they do a phenomenal job when it comes to purely aesthetic design. Taking a more simple and clean approach to design allows the company to have a varied lineup of products. Unfortunately, where they struggle is in durability. Klipsch's equipment aren't badly built, but they're not nearly as robust as Bose.
The biggest factor in Klipsch's favor however has to be their more affordable prices. More accurate and crisp sound tends to come at a higher cost, but Klipsch have a wide array of choices and options at costs far lower than Bose. Both companies offer affordable options, but Klipsch has a much better track record when it comes to high quality on a budget.
Klipsch vs Bose
Now that you're a bit more familiar with both of these companies, their general strengths and weaknesses should be apparent. Although neither option is much better or worse than the other, there are clear and undeniable strengths to both choices.
Klipsch audio products are built more for the audiophile side of the market, with a focus on crisp and clear audio clarity and simple aesthetic design. They're still perfectly suitable for the average consumer but come with the added advantage of having professional tuning. The added advantage of having more options to choose from also gives Klipsch some extra points.
Bose equipment on the other hand are built from the ground up for the average consumer, with greater focus on build quality and a more premium aesthetic. Some may find Bose's general design cues to be a bit gaudy, and there's no denying that Bose are definitely on the higher end of the price bracket. But, when it comes to reliability you really can't beat Bose.
But, while we can compare the companies in general, it's far better to have a more laser focused comparison by directly putting their products against each other. So, we'll be taking speakers from both Bose and Klipsch to put against each other and find out which one offers the highest quality cheap speaker.
Bose SoundLink Mini II – $189

Bose doesn't offer many lower-end options, but when they do put one out they're usually excellent. Case in point, the Bose SoundLink Mini II, a small bluetooth speaker that makes up for what it lacks in size with strong and punchy performance.
With a sleek unibody aluminum chassis around two small drivers and the device's front and back radiators, it almost looks like something out of Apple. It also has a bit of heft to it at 670g, which makes it far more rigid and durable than basically any of the plastic Bluetooth speakers on the market. Portability is important for a speaker like this, and despite its weight the SoundLink Mini II remains easy to carry around.
Bluetooth functionality on offer here is also excellent. The Bose SoundLink Mini II allows you to pair two devices to it at the same time and seamlessly swap between them. It even goes as far as to allow for alternating audio streams. In general, it can remember up to eight devices at once which is more than most people could need.
Bose also say they have streamlined the pairing process. Unlike other bluetooth speakers that require you to fiddle with settings, the Bose SoundLink Mini II utilizes voice prompts to operate a lot of its functions. On top of that, it can even recognize voices, making use of text-to-speech to memorize devices. The best feature on here though is its battery life, lasting 10 hours of playtime.
So what about the sound quality? The Bose features some excellent volume for its size, along with a nice large sound stage that excels with acoustic and ambient music. With harder genres like rock and metal, the device can struggle a little, but it does an enviable job keeping itself together. Unfortunately, more complex and bass heavy tracks also cause it to stutter, but it's still impressive stuff.
With a strong balance of features, great build quality and good sound quality, you really cannot go wrong with the Bose SoundLink Mini II. Even people who knock Bose sing the praise of this little speaker, and it's clear why. The only real caveat is that it's not all that affordable next to the cheapest budget options, but it makes great use of that extra cost to produce good value.
Bose SoundLink Color – $129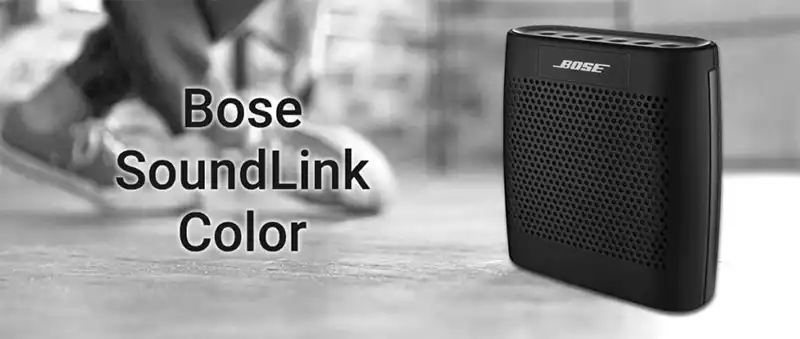 So, let's say the SoundLink Mini II is cutting it a bit too close to your budget. Say hello to the Bose SoundLink Color, the Mini II's smaller but equally impressive and far more vibrant brother.
As the name implies, the SoundLink Color comes in a delightful palette of colors, namely black, white, blue, red and mint green. The speaker is designed "to fit easily into a handbag, knapsack or the palm of your hand," and it fits that description. It's nice and compact, measuring 13.5cm high and 12.7cm wide. It's also lighter than the SoundLink Mini II at a mere 570g, though it's still well built.
Where Bose cut corners on the Color is in the device's extras and features. It's a pretty barebones affair with not much more than a pause/play button on top and volume controls, but it doesn't really need extra bells and whistles. It can memorize up to eight devices, though it can only pair with two of them at the same time. It also has some pretty good battery life with up to 8 hours of continuous playtime.
The most important factor for a speaker is still its sound quality, so how does the SoundLink Color fare? Surprisingly, it holds its own quite well against the more expensive SoundLink Mini II. Like its bigger brother, the Color gets quite loud with a reasonable amount of bass. It's not as punchy as the Mini II, but it really holds up well.
Unsurprisingly, it suffers exactly where the Mini II falters. On top of struggling with more complicated and harder genres, the speaker is also designed to avoid distorting at higher volumes. Because of this, sometimes music can seem a little restrained or even stutter. It's not a common problem, and it handles most genres quite well despite this.
Overall, at $129 it's a solid choice for a portable speaker. With a fun amount of color choices and some solid sound quality, it does well for itself. Even in its price bracket, it punches up to speakers more expensive than itself. Buy it if you want a fun device that doesn't break your bank account, but also won't go out of commission after a year or two.
Klipsch Heritage Groove – $149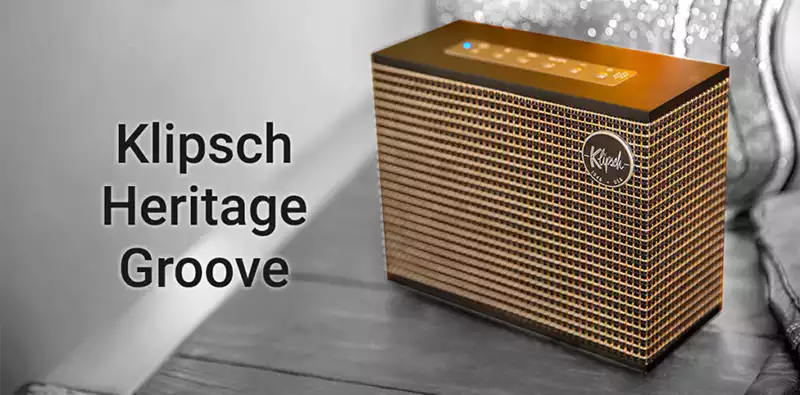 To start off for Klipsch, we have the Klipsch Heritage Groove, by far one of the best looking speakers the company has ever released. It's also an excellent piece to compare against the Bose SoundLink Mini II since they're both Bluetooth speakers at similar price points. It's also the company's smallest model of speaker available.
There's no mincing words here, the Klipsch Heritage Groove is a beautiful piece of work. With genuine wood top and bottom panels and clean acoustic fabric on all sides, it's classy in all the right ways. We've also got a little metal badge with the company's name on it, which just adds to the look. A small aluminum panel on the top holds the device's physical controls.
Getting into more technical details, the speaker has one of the company's famed 3" aluminum cone full-range driver, held in a sealed cabinet paired with two passive radiators at the back of the speaker to extend the low frequency response. We've also got a digital module capable of delivering up to 20 watts and a DSP that optimizes sound to the output volume.
In terms of sound, we once again get some good volume from the elegant little box. It has some good and punchy bass, though it's lacking a little on the low-end. It has a surprisingly fun sound though, with good dynamic range. Bringing up the volume unfortunately loses out a decent amount of detail, resulting in overly sharp and artificial sounding highs.
Keeping the device juiced is a 2200mAh battery that offers up to 8 hours of battery life, solid stuff. We can't really fault the device much at this price, it offers a substantial amount of value at the price. It falters a little against the Bose SoundLink Mini II, but it's also more affordable than the device. Against the SoundLink Color it fares better, both in terms of sound and design.
Klipsch R-15M Bookshelf Speakers – $180

Now, for something a little different, we've got the Klipsch r-15M Bookshelf Speakers. Like the name implies, these aren't portable Bluetooth speakers, but instead a pair of speakers to sit on your bookshelf. The design blends in seamlessly with most things in your bookshelf, featuring muted and understated colors to fit in.
The biggest selling point of the Klipsch r-15m's speakers are their performance, featuring the company's signature cone drivers paired with an aluminum tweeter. Keeping the distortion under control is the LTS Tweeter, and even more impressive, a molded graphite woofer that minimizes frequency response and cone breakup. It also comes with a small remote control that's quite user friendly.
All of this leads to a smooth and vibrant sound that also features a full bass. Mids, lows and highs are all extremely well-defined, with no section overshadowing the others. The clarity here is also on a completely different level, punching far above its price point. If you're going after the best sound quality, the r-15M is the way to go.
On top of all this, the r-15M even has a built-in phono preamp, allowing you to hook it up to a turntable to play vinyl. Without any battery, you also don't need to bother with charging or battery. Despite their understated looks, their also a handsome pair of speakers, so they'll fit in perfectly with any setup. Definitely a standout, though it's not going to be nearly as portable as any of the others on this list.
Klipsch vs Bose: Conclusion
If the question is Klipsch vs Bose, the answer is to simply check and see what your priorities are when it comes to buying an affordable speaker. We've listed out all the strengths and flaws of all the devices here, so we trust you'll be able to make an educated choice now without much of an issue. Speakers are tough to really understand, so it always pays to know more about them before buying one.
Make sure you're well informed before making your purchase and you'll be fine. You really cannot go wrong with any of these speakers, they're all built to standard and feature good sound quality. There's a reason both these companies have stuck around for so long, and despite whatever failings they may have, they're both industry titans with products that won't disappoint.
---
More stories like this
---