---
You can also be interested in these:
---
You may have heard of MXM modules or slots before. These modules were popular in laptops with an upgradeable graphics card, which was included in these PCBs instead of being soldered onto the motherboard like many other laptops. However, it has slowly become less popular due to the increasingly thin design of laptops, although it could return.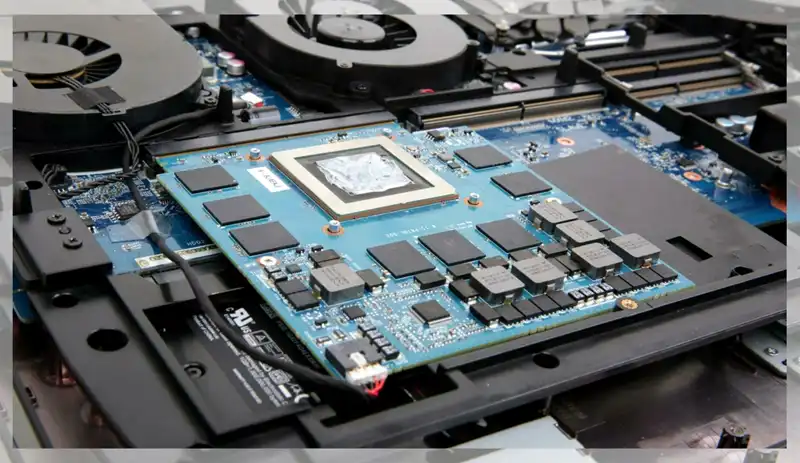 What is MXM?
A Mobile PCI Express Module (MXM) is a type of GPU interconnect standard specifically designed for laptops that uses the PCI Express slot and has been used by several graphics cards throughout history. As a result, unlike BGA GPUs that are soldered to the board and difficult to replace in case of failure or impossible to upgrade, the MXM module can be changed at any time, as is the case with desktop PCs.
This type of module was created to become a standard in the industry and not proprietary, so that it could be adopted by multiple manufacturers to include their graphics processors in these cards in laptops and make it easier for users to upgrade or replace this component.
Generations of MXM
MXM graphic modules have evolved over time, from the first boards to the newer, more powerful generations, adapting over time to the needs of the laptop market, with each generation providing increasing performance.
Generation IV was abandoned. The latest standard released was MXM III, with the ability to house GPU chips with a maximum of 75W. In addition, these PCBs not only include the GPU chip, but the manufacturers also integrate any type of VRAM memory chips to power this GPU, as well as other auxiliary components necessary for the proper functioning of these MXM graphics cards.
On the other hand, it should be noted that the second generation of MXM 3 came with two types of modules with the same heat dissipation system mounting, such as Types A and B:
MXM-A: it has dimensions of 82x70mm, and can tolerate maximum powers of 55W. As for the memory bus, it is 64-bit or 128-bit.
MXM-B: this module has dimensions of 82x105mm, and can support up to 200W of power and with memory buses of 256-bit.
In 2012, MXM 3.1 would be released, which would add PCIe 3.0 compatibility. It should also be noted that first-generation MXM modules are not compatible with second-generation modules and vice versa, so there is no backward compatibility in the 2nd Gen modules as in other cases. However, first-generation modules are compatible with earlier versions.
Examples of GPU usage with MXM slot
Throughout history, many graphics cards in their mobile versions or Mobile, have used the MXM 3.x module. Some noteworthy models are:
AMD:
FirePro M5950, M4000, M5100, M6100, W5130M, W5170M, W6150M, S4000X, S7100X
Radeon Pro WX 4130, WX 4150, WX 4170
Radeon Embedded E6465, E8860, E8870, E8950, E9172, E9174, E9260, E9550
NVIDIA:
Tesla M6
Quadro K610 Mobile, K1100 Mobile, K2100 Mobile, K3100 Mobile, K5100 Mobile
Quadro M520 Mobile, M620 Mobile, M1000M Mobile, M1200M Mobile, M2000M Mobile, M2200M Mobile, M3000M Mobile, M4000M Mobile, M5000M Mobile
Quadro P1000 Mobile, P2000 Mobile, P3000 Mobile, P3200 Mobile, P4000 Mobile, P4200 Mobile, P5000 Mobile, P5200 Mobile
Quadro T1000 Mobile
GeForce GTX 965M, 970M, 980M, 980, 1050 Mobile, 1050 Ti Mobile, 1060 Mobile, 1070 Mobile, 1080 Mobile
GeForce RTX 2060 Mobile, 2070 Mobile, 2070 Mobile, 2080 Mobile, otras.
Intel:
Conclusion
In conclusion, MXM (Mobile PCI eXPress Module) is a type of GPU interconnection standard specifically designed for laptops, using the PCI Express slot, which allows users to replace or upgrade the GPU module. The MXM technology has evolved over time and has seen several generations, with the latest being the MXM III, which can accommodate GPU chips with a maximum power of 75W. Some of the examples of GPUs that have used the MXM slot include AMD FirePro and Radeon Pro, as well as NVIDIA Tesla and Quadro. However, it should be noted that the first-generation MXM modules are not compatible with second-generation MXM modules and vice versa, so there's no backward compatibility.
---
More stories like this
---