---
You can also be interested in these:
---
We will be sharing two ways to convert any type of audio file to MP3, both of which are free and straightforward. You can conveniently convert your files with Convertio, which is an online tool, or FFaudioConverter, a Windows application.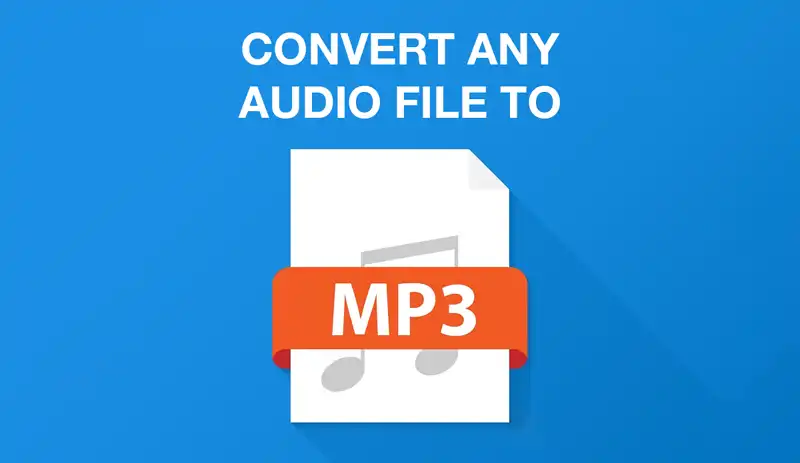 Convert an audio file to MP3 online
Online conversion tools that are completely free and function well on any modern browser are available. This allows you to use them on your mobile or computer.
After conducting some research, we particularly enjoyed using Convertio. Not only is it user-friendly, but it also supports a variety of formats, including:
8SVX
AAC
AC3
AIFF
AMB
AMR
APE
AU
AVR
CAF
CDDA
CVS
CVSD
CVU
DSS
DTS
DVMS
FAP
FLAC
FSSD
GSM
GSRT
HCOM
HTK
IMA
IRCAM
M4A
M4R
MAUD
MP2
MP3
NIST
OGA
OGG
OPUS
PAF
PRC
PVF
RA
SD2
SHN
SLN
SMP
SND
SNDR
SNDT
SOU
SPH
SPX
TAK
TTA
TXW
VMS
VOC
VOX
VQF
W64
WAV
WMA
WV
WVE
XA
This results in a total of 3416 potential combinations, although our main focus is on converting to MP3.
How to convert to MP3 with Convertio step by step
Here is a step-by-step guide on how to convert audio to MP3 using Convertio. As expected, the first step is to upload the file from the converter's main page, and you can do so by dragging the audio directly into the browser window.
As long as you do not register, the maximum audio size allowed is 100 MB, which is typically sufficient for most conversions. However, you can exceed this limit by creating an account.
After waiting for the file to fully upload, you can add multiple audio files if desired. In the file list, a drop-down menu appears next to each file, allowing you to select the output format.
Moreover, clicking on the gear icon will reveal additional options on the screen. Convertio enables you to trim audio at a specific point, change the output quality, and much more. These parameters can be adjusted to suit your conversion needs.
When you are ready, click on the Convert button. Wait for the Download button to appear, and then click on it to save the MP3 file to your preferred directory.
Convert an audio file to MP3 with an application
Although online conversion tools have clear advantages, they also have certain drawbacks, such as the need to upload files to a remote server or privacy concerns. If these are concerns for you, it is recommended to download a local application that can be run on your PC.
Our suggestion is to use FFaudioConverter, which is a free and open-source program. The full list of supported formats can be found below:
mp3
aac
ogg
opus
flac
wav
This software also includes the following features:
Multiprocess: It can maximize the power of your CPU.
Batch conversion: It allows the selection of multiple files or entire directories for faster conversion.
Filters: With them, you can improve audio quality by adjusting the bass or treble frequencies, as well as input and output fades.
Sampling frequency change.
Sound enhancement: It offers high-quality resampling with SoX.
Fast mode: Allows copying files in the same format and skipping files that have already been converted.
How to use FFaudioConverter step by step
First, download the application from its official GitHub page, where you can find releases and variants for Linux and Windows. For this guide, we will be following the steps for Windows.
Once you have obtained the FFaudioConverter ZIP, extract its contents to a directory on your PC. This tool is portable and does not require installation, which is convenient.
Note: When you run the application, you may receive a Smart Screen message warning you that the application may not be safe. In the link provided earlier, we explain how to bypass this block in a simple way.
When the application is running, drag the files you want to convert to it. Then, click on Settings to ensure that the output format is MP3. While in the app's settings, you can modify the export directory if desired, and we recommend choosing the quality of the generated file.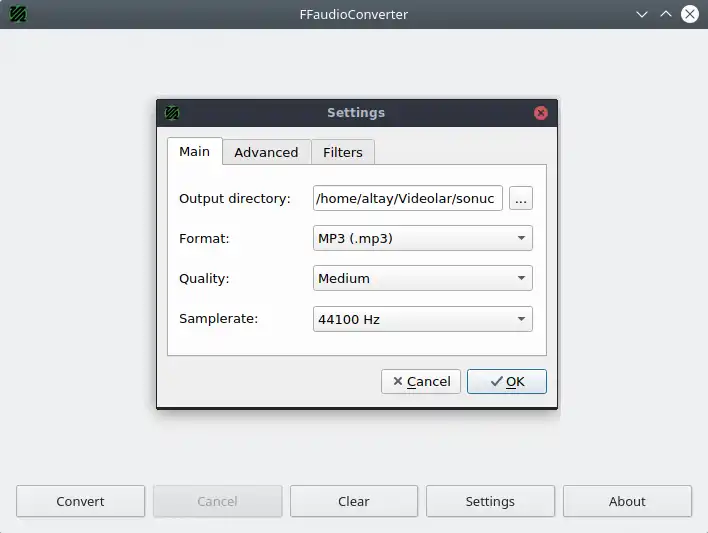 Within the settings window, you can also access the Advanced and Filters tabs. The first one provides advanced options, such as defining the path of the codec executable. On the other hand, the second one offers several audio editing parameters.
Finally, exit the settings and click on Convert.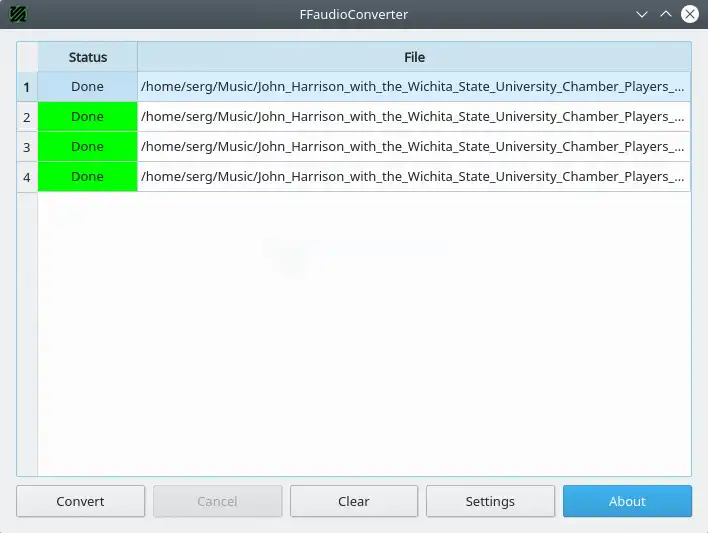 When the Done message appears, it means that the MP3 file has been saved in the path specified in Settings. Check the directory to verify that the file has been properly converted.
Then, we verify that the process is successful, and the generated MP3 file is a valid audio file and has acceptable quality.
---
More stories like this
---