---
You can also be interested in these:
---
Devices that are compatible with wireless charging base technologies are increasingly becoming more common allowing to have a centralized location for our device charging needs. This adds greater practicality when charging the battery on our devices because we don't have to connect any cables and therefore keep our table surfaces clutter-free. Another important advantage of a wireless charging base is the possibility to charge several devices at the same time.
Currently phones and other considerable amount of devices, headphones and smart watches among them, allow the use of wireless charging technology to avoid the use of cables. Apart from being super practical, as we stated before, this is a proven technology with high security and reliability, so there is no risk as it happened with prior versions due to inadequate optimization. Now with the Qi standard there are even less things to worry about, since this technology allow a rather larger flexibility, more compatibility and reliability, charging all your devices in a breeze without having to connect and charge them through the use of cables.
What should be included in a wireless charging base?
One of the most sought after features in wireless charging bases is the ability to charge multiple devices at the same time, or as it is generally known, the multi-charge feature. Another important thing that our base must have, regardless of whether it includes integrated ports for devices without wireless charging, is that it must have compatibility with Qi technology. This has become the most used standard today by manufacturers of mobile phones, audio and smart gadgets, such as Apple and Samsung.
To make the best purchase that guarantees good quality and that is an adequate solution for us, the minimum that our wireless charging base must offer is having at least support for charging two devices at the same time. With the widespread use of mobile devices, an average person has 2 mobile phones for daily use (in the case of a couple, there is also the need to have two charging ports available) and with these a rather large number of additional devices that require electric charge. Additionally, it is advisable that the charging base includes the ability to charge all those other devices at the same time. This way we leave all our devices ready during the night or in downtime in one go for a later prolonged use.
Wireless charging bases come with a USB cable as a power source. Normally, the newer bases bring a USB C connection. It is preferable to buy a base with the latter type of connection since the transfer of electricity is more optimal and it guarantees that the base is fast charging. Likewise, being a USB cable, we can connect it from any electrical power source without major inconveniences.
For many, the design of the base also plays an important role in the decision making for the purchase of a wireless charging base. These bases are usually placed on desks or in highly visible places in the home, so their appearance can greatly diminish the attractiveness of the home décor. One point that we have in our favor is that in all cases we are reducing the number of visible cables that we would have had if we were not be using the base in the first place.
Last but not least, there are bases that are equipped to counteract the effects of voltage surges, electrical fluctuation and overheating. These features are almost imperative in the production of these products, but it never hurts to make sure that the base we buy includes it.
The top 10 wireless charging bases you should consider buying
In this section we have selected 10 of the best wireless charging base options available on the market today. The criteria for choosing these options revolves around their durability, compatibility, quality and aesthetics. Regarding the price, all these bases have a fairly affordable price (in the most cases between $ 40 and $ 60 US dollars).
Zens Qi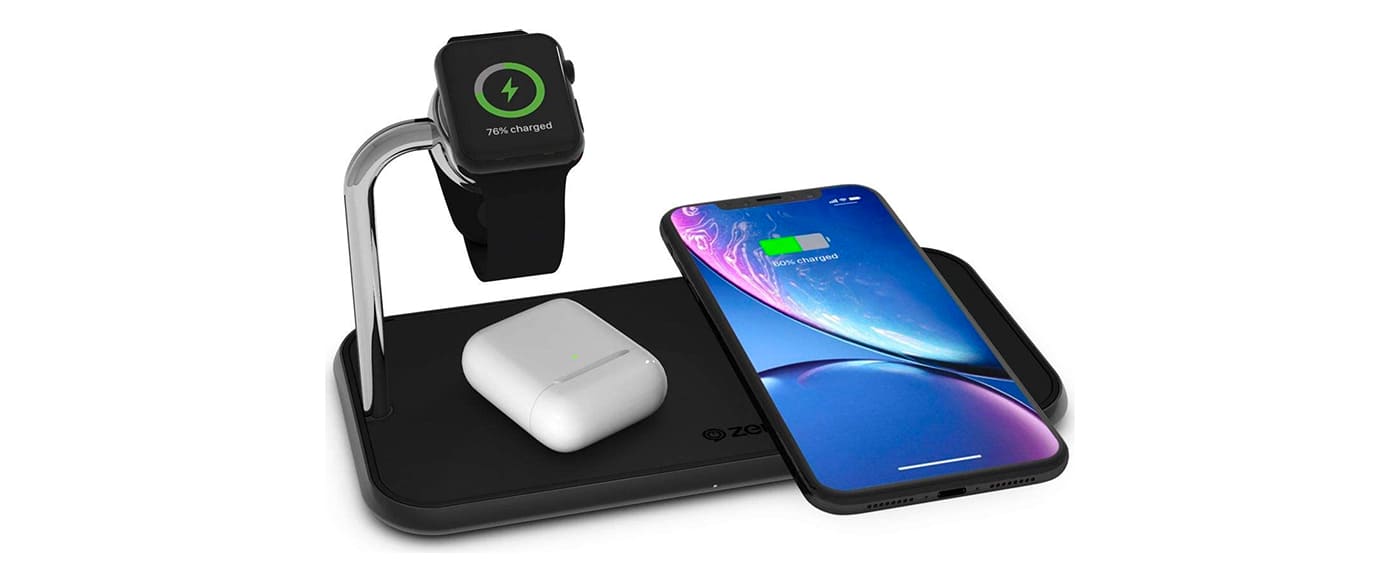 This option allows you to charge 3 different devices at the same time with excellent compatibility. Made of aluminum, 8 mm thick. Good design and power output.
Powergiant wireless charging base

The power output can reach the 15 watts, which ensures compatibility with even the most power demanding units and latest device models on the market. It allows charging phones safely.
Base power technology

Another good option currently available in the wireless charging base universe. Highly compatible with many devices and it allows to charge up to three devices at the same time. With a good power that ensures adequate speed when charging. Very good reliability.
Ksix base

Good dimensions that don't take too much space in our table or desktop surfaces. You will not have any problems in terms of safety and reliability in its use. Maximum power is 10 watts which ensures a fairly descent power output. The design is super flat and thin.
Simpfun charger

This base is ready for extensive demands on the number of devices that you can charge wirelessly at the same time. It is capable of working with up to four devices at once. Compatible with both Apple Airpods version models.
Seneo charger

Another super reliable 3 in 1 model high high power output and fast charging aneabled. Compatible with Apple devices. It has a slick design, quite convenient and provides good protection against voltage surges and fluctuations. It uses USB type C charging port.
Seenda charger

The two coils that are included in this model ensure a completely reliable operation avoiding risk of damaging the devices that you charge wirelessly. With a good design and wide compatibility it is a pretty reasonable choice.
Zhike charger

One of the most powerful options that you can find at the moment for its price. It allows a charging current ratio of 15 watts, so it makes it convenient while having several devices charging at the same time. This is a 3-in-1 charging base. Low profile and high-quality.
Wonsidary wireless charger

It has everything you might be looking for in a device of this type, such as design that ensures placing your accessories and, in addition, it has compatibility with Qi wireless charging technology.
Labobbon base

A good choice, a model that allows you to charge both phones and headphones (and even smartwatch). You will not have stability or loading speed problems when using it and aesthetically it is a device that does not clash with the overall aesthetic.
---
More stories like this
---