---
You can also be interested in these:
---
Samsung officially unveiled its new mid-range smartphones after a barrage of rumors and leaks. The Samsung Galaxy A52, Galaxy A52 5G and Galaxy A72 arrive prepared to dangerously approach the high-end product line-up in many aspects, borrowing technologies that we can see in the Samsung Galaxy S21, although maintaining lower prices.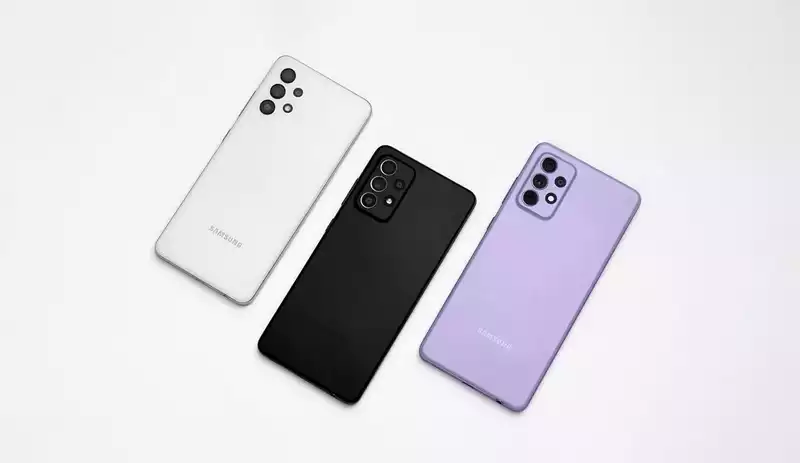 These new devices come to follow up with the mid-range of Samsung, after giving us a glimpse of what 5G technology can do with important model releases, but this year the additions go beyond connectivity. Its design also changes to differentiate itself from the previous models, but also getting closer to the current design aesthetics.
Samsung Galaxy A52, a mid-range phone on steroids
The screen of the Samsung Galaxy A52 is the first thing that stands out. It has a sAMOLED technology that integrates the fingerprint reader under the screen and promises to make us enjoy the 6.5 inches it brings. With 800 nits of brightness, combined with a refresh rate of 90 Hz to take advantage of all kinds environment conditions. We can see how the new design took over, especially on the back of the phone where the camera module meets the rim.
The weight of this model remains very similar to that of the previous generation with 189 grams which makes it quite light. The average measurements of the Samsung Galaxy A52 are 159.9 x 75.1 x 8.4 mm. It keeps the flagship hole in the central part of the screen. It also integrates IP67 resistance against water and dust, a feature that still wasn't present on mid-range phones.
Specs and technical aspects
At the core of the Samsung Galaxy A52 we can find a Snapdragon 720G processor, which offers an improved experience even in the most demanding and intensive use. It comes with memory options of 6 or 8 GB of RAM along with 128 or 256 GB of internal memory, which you can expand through a MicroSD of up to 1 TB.
The battery on the Galaxy A52 promises to last up to two days, as it offers 4,500 mAh that together with the sAMOLED technology, the processor and the optimization of the software meet the perfect conditions to a well-balanced masterpiece . This battery comes included with a 25W fast charge, therefore you will be able to charge the mobile in less time, although in the box we find a 15W charger.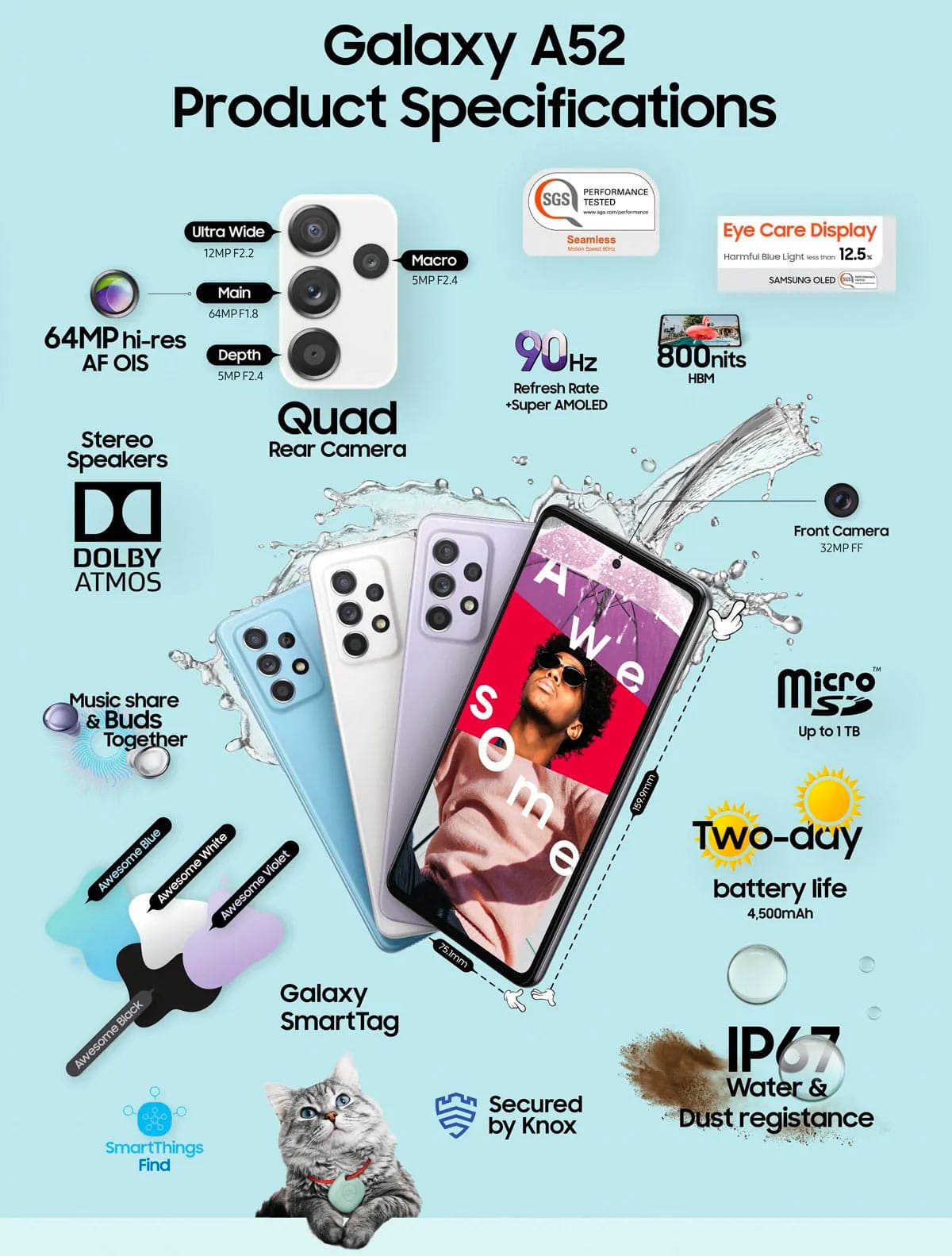 It comes with Android 11 and the One UI 3.1 customization layer, benefiting from the change in terms of Samsung updates that allows the company to offer this model 3 years of Android updates and 4 years of security patches to take advantage of the device for further time.
To cap it all, there are also new features on the speakers. The Samsung Galaxy A52 integrates double speakers with stereo and AKG Dolby Atmos technology. Another advantage for music lovers is that it includes the 3.5 mm jack to connect headphones or audio outputs.
Cameras and Optic Image Stabilizer (OIS)
Another selling point of this device is its cameras, where Samsung opted to add an optical image stabilizer (OIS), which will allow us to record super stabilized videos with amazing results. Its 64 Mpx main lens and ƒ/1.8 aperture will achieve maximum detail, all this accompanied by a 12 Mpx ƒ/2.2 wide angle, a depth sensor to achieve the lowest possible delay with 5 Mpx ƒ/2.4 and a macro sensor puts the cherry on top with another 5 Mpx ƒ/2.4.
Moving along we come across a 32 Mpx selfie camera with ƒ/2.2 aperture that promises to give the best result in photos and video calls, managing to capture all the details and maximum clarity. For now there is no information on video recording beyond the integration of OIS technology.
Samsung Galaxy A52 5G
The Samsung Galaxy A52 comes in another flavor with many similarities but with a few details that definitely draw the line in terms of differentiation. Regarding the design, they are identical, however there are important aspects that change. The 6.5-inch sAMOLED screen this time offers a 120Hz refresh rate plus layers of data for gaming or other needs.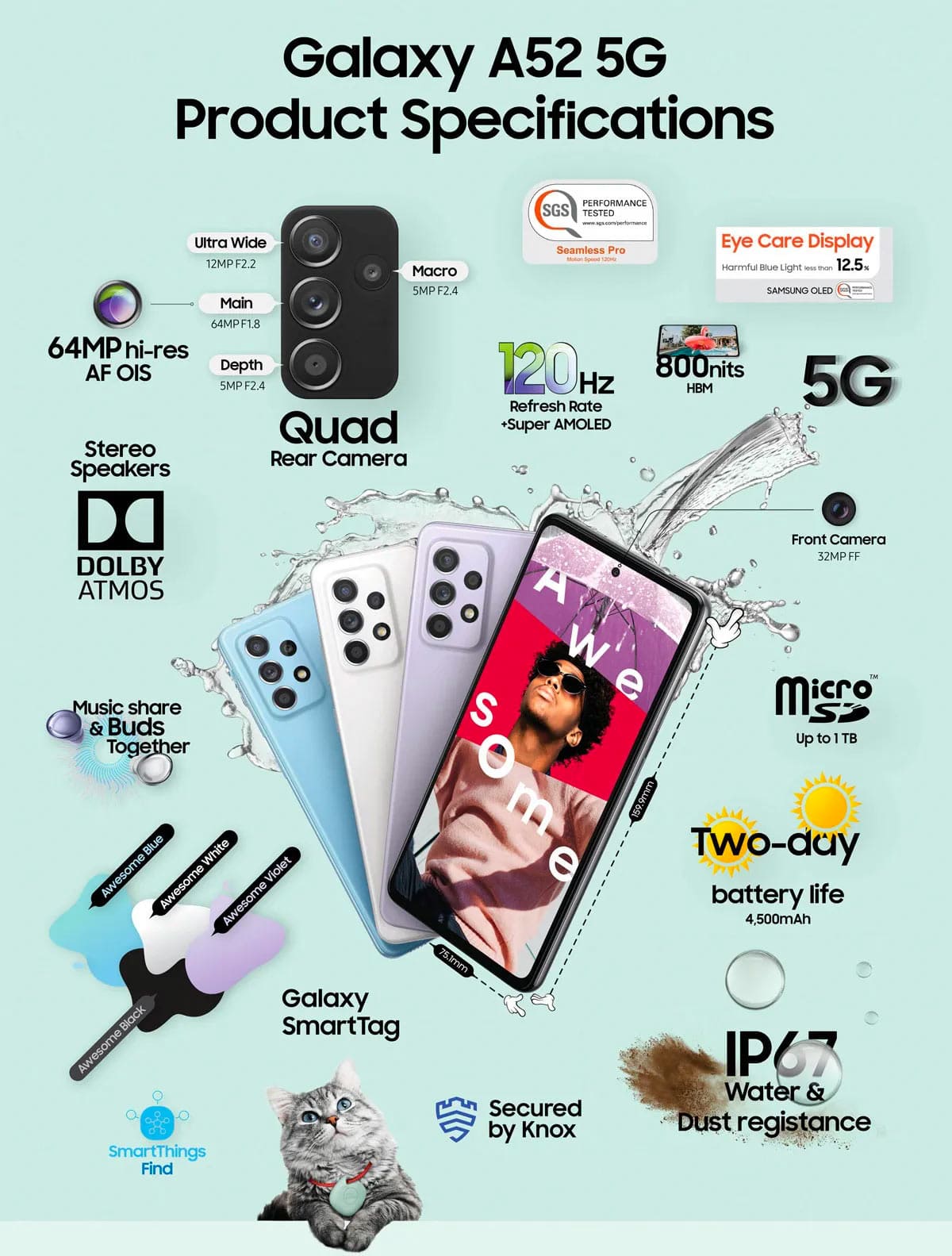 This model has been upgraded with a Snapdragon 750G processor, which is capable of giving better performance, better response times and also adds 5G technology to the connectivity. The memory options remain the same, as well as the battery, the quad camera combo with the optical image stabilizer and or all the other features of the standard model.
Samsung Galaxy A72, a higher bid to close even more the high-end gap
Finally we have an additional model available with even more upgrades and capabilities, we are referring to the Samsung Galaxy A72 which moves the Samsung Galaxy A series even closer to the high-end. With an absolute striking design, measuring 165 x 77.4 x 8.4 mm and a weight of 203 grams. It has IP67 resistance to water and dust, which will offer us more peace of mind in the face of unwanted situations.
The screen of the Galaxy A72 has 6.7 inches with sAMOLED technology, including the fingerprint reader under it. It has a maximum resolution of 1080 x 2400, aspect ratio of 20:9 and 393 dpi. One of its great additions is that it has 90 Hz to fully enjoy the screen, along with 800 nits that ensures not to have visibility problems in any kind of situations.
Specs on the Samsung Galaxy A72
The Samsung Galaxy A72 comes with 5G technology directly in this model. This is possible thanks to the Snapdragon 720G that comes with 6 GB RAM + 128 GB internal storage or 8 GB RAM + 256 GB storage options, in both cases with the possibility of expanding its capacity with a MicroSD card of up to 1 TB.
The battery has grown to reach 5,000 mAh and a fast charge of 25W, however it sadly only includes a 15W charger in the box. The Samsung Galaxy A72 also benefits from a double stereo speaker that together with AKG Dolby Atmos technology promises an amazing level of results, in addition to the 3.5 mm jack.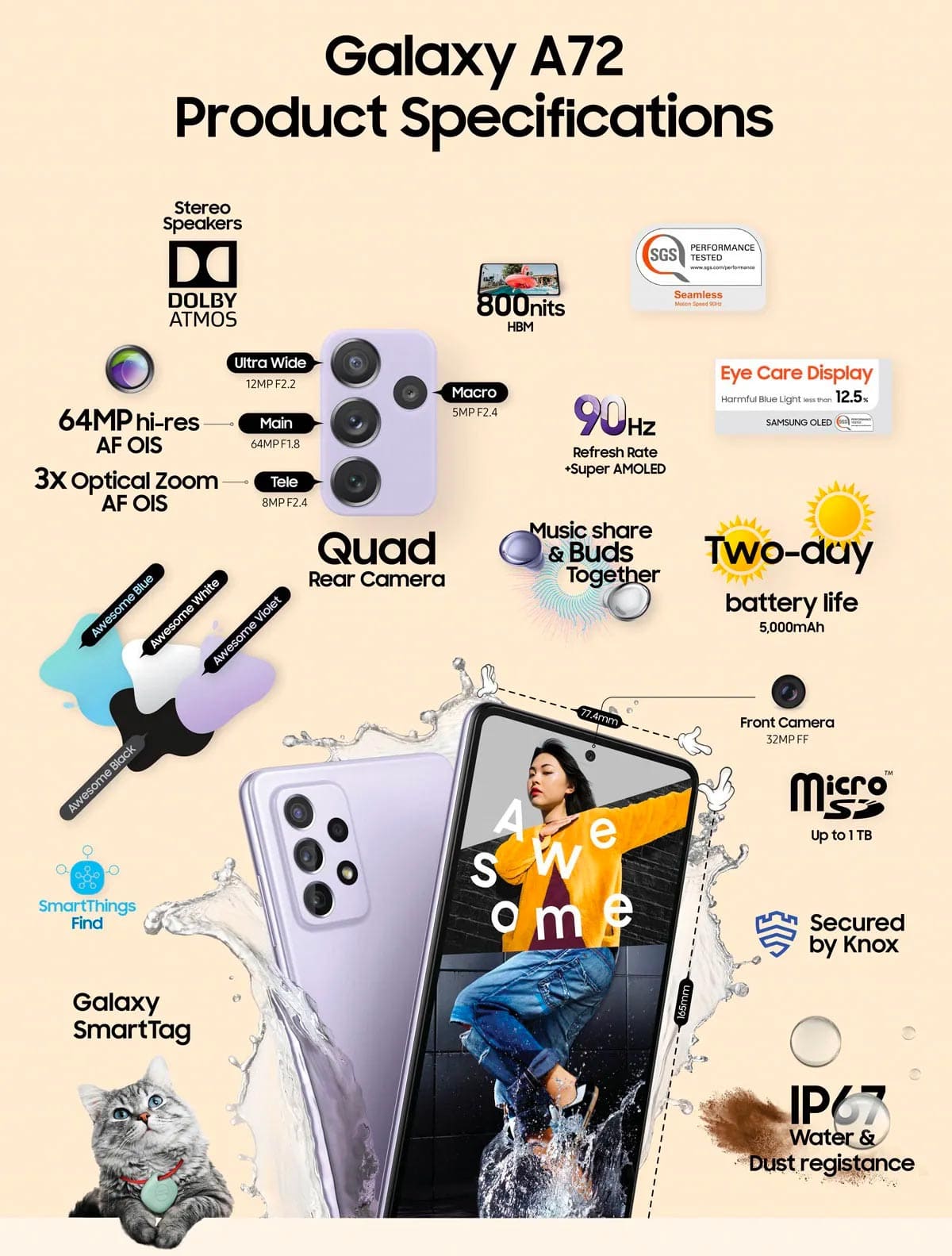 Regarding to the operative system it has Android 11 installed together with One UI 3.1, this time enjoying 4 years of security patches and the next 3 big Android updates safely.
Samsung went out of its way with the cameras
For those looking for the ultimate in camera versatility, the Samsung Galaxy A72 has it all, offering a 64MP ƒ/1.8 main sensor with OIS that will make every video experience a lot more enjoyable. It also includes an 8MP telephoto lens that achieves a 3x optical zoom to photograph the most distant objects with total clarity.
The model has an additional camera with a 12MP wide angle, 5MP macro sensor for smaller objects and a 32MP ƒ/2.2 selfie camera on the front.
The price on the Samsung Galaxy A52, A52 5G and A72
The new Samsung Galaxy A52 will arrive to dominate the mid-range market, available in different color options. Both the Galaxy A52 and the Galaxy A72 will come in white, black, blue and lavender. Starting today they can be purchased in the official store and soon in other locations or usual points of sale. The prices of all models are as follows:
Samsung Galaxy A52
6GB of RAM + 128GB of memory: $418 USD
8GB of RAM + 256GB of memory: $490 USD
Samsung Galaxy A52 5G
6GB of RAM + 128GB of memory: $514 USD
8GB of RAM + 256GB of memory: $586 USD
Samsung Galaxy A72
6GB of RAM + 128GB of memory: $538 USD
8GB of RAM + 256GB of memory: $610 USD
---
More stories like this
---