---
You can also be interested in these:
---
Companies in the last two or three years have been increasingly pushing dozens, if not hundreds of foldable phone models in the market. It seems that the technology available in present times allows such devices to be produced with more reliability and better implemented. However, one of the key features of foldable phones, and the one none of the companies producing them have come with a good and spot-on solution are the hinges. It looks like now, after years of development, we have a foldable phone with higher quality assembly that can live up to today's standards. We are talking about the Samsung Galaxy Z Flip 3. On this on-depth review you will know everything about this phone.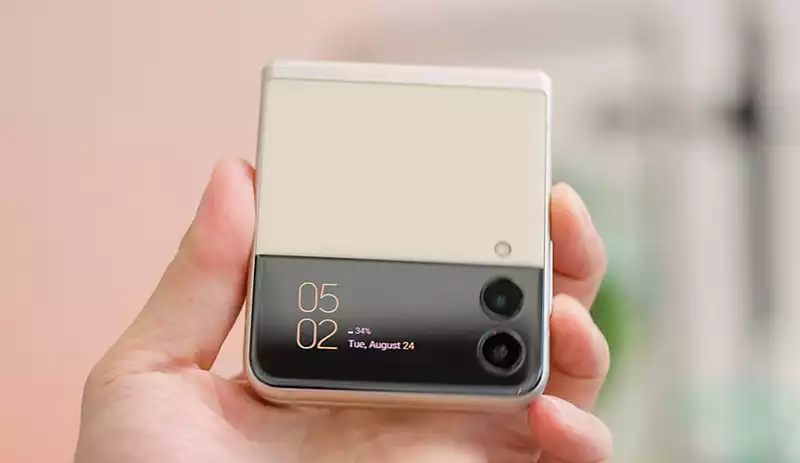 The Samsung Galaxy Z Flip 3 features a 6.7 inches folding screen, a solid and sturdy hinge, sleek and stylized design, the new Snapdragon 888 CPU, 8 GB of RAM, 128 GB of internal memory, 5G compatible and a powerful set of cameras (Let's not talk about the battery, just not yet). It is extremely compact and slim, with only 6.7mm when unfolded, giving you a weird feeling (in a good way) while carrying it on the hand or in the pocket.
Foldable phones design is back thanks to Amoled technology
This is already the third generation of Samsung's folding phones, and with it we receive exciting news regarding its manufacturing quality and improvements for the hinge. This represents a critical area for the Samsung Galaxy Z Flip3 5G that little by little is perfecting its functionality. This mobile will take us back to the times when flip phones were a thing due to the little space they take.
When folded, the dimensions of this model are 2.8 inches wide, 3.26 inches long and about 16mm thick. Down the hood it packs a 6.7-inch Amoled screen with a flexible panel that will giving us the usual measurements of a conventional smartphone, with 6.53 inches long. What is most surprising about this new generation model is how extremely thin it is, with only 6.7mm, two screens and cameras, not to mention how concealed the hinge and the battery are.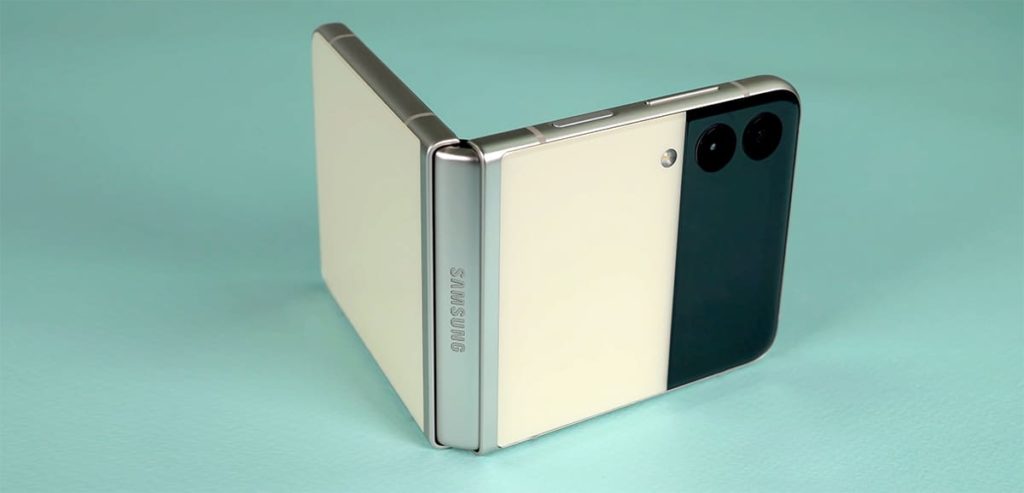 A step in the right direction has been taken at the construction level, where we have as result a much better built phone especially in the hinge department. For it, the highest quality materials such as aluminum and Gorilla Glass 7 Victus have been used for its screens. It is available in up to 7 colors, green, lavender, white and pink tones, all with with quite original and fresh design. There will be exclusive colors for in-store purchases.
One of the highlights when using this device is the incredible sensation of its thin case. Being quite slim and narrow, it will be comfortable to use with one hand. It can be opened with a single finger without much effort, and also placed at 90° "sitting" on any surface to watch videos or take a selfie with the rear camera. Here the rear screen will play a very prominent role.
Minimum space, super thin design
Focusing on the technical aspects of the design, the Samsung Galaxy Z Flip 3 5G offers a very good use of its front area, however it stands behind rigid models with its 84 percent of usable surface. The front camera is located in the upper central area, just like the Galaxy S21.
The upper frame will be quite tight to the edge of the terminal, using of course 2.5D edges for a slight soft curvature of the screen that improves grip. On the opposite side, where the hinge is located the frame is not so tight. The greatest concern of the user will be the central folding area of the screen. In this model we will still have that slight curvature that remains when opening the screen that will be noticed with the reflection and passing the finger. There is still a long way to go here, and although it has improved in this generation, we still see a color variation in certain conditions due to the slight concavity. The Galaxy Fold 3 seems to have this pain point even more polished and this effect is less noticeable, although present.
Focusing the back area, where the two halves meet at the center cut, the hinge stands out. This one works incredibly well, and its metal construction with the internal twist mechanism will make both rear shells stick together. It is a fairly hard hinge that allows almost any opening position between 45 and 135°. With just one finger and only one hand we can open it without much effort.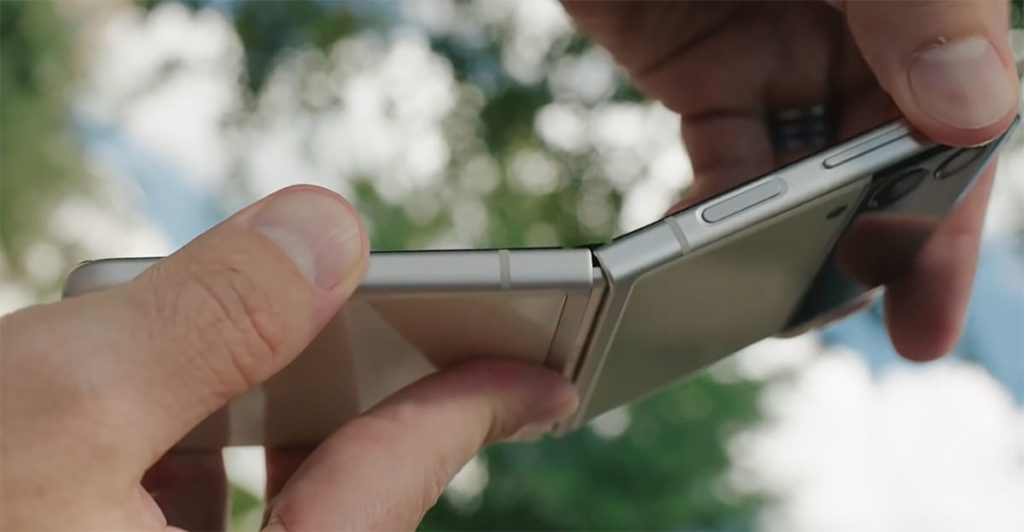 Both parts will be encased in an aluminum frame with the central area in glass, totally smooth and in satin finishes. The upper area will be the most interesting when finding a black panel that includes a 1.9-inch Amoled screen type display (always active) and two camera sensors next to it with independent frames. They will be protruding a little out of the body, which is a magnificent how they achieved that in such a small space available. Just below the sensors we will have the LED flash also integrated into the housing.
Regarding to the sides of the Samsung Galaxy Z Flip 3 5G, they are made of aluminum with a curved edge profile. On the right edge we will find the volume keys and the fingerprint sensor in the upper half. The fingerprint reading sensor placement is a little awkward as your finger never reaches that area in a normal grip position, although we understand that they had to do the distribution the best they could considering the space limitations. Left-handed people will see this as a disadvantage.
In the left edge, there is a tray for the Nano SIM card, in this case without dual capacity because of space. A microphone has been placed on the upper edge, while the loudspeaker in this area has its opening just above the screen frame. Finally, on the lower edge we will have another microphone, the USB-C port for charging and data transfer, and the opening for the second speaker. Only the 3.5mm Jack port has been waived, although this is not a surprise. The device offers IPX8 resistance, that means, it is water-proof, but no dust-proof.
120Hz flexible Amoled display
Samsung didn't miss on the opportunity to install one of the best Super Amoled screens on the market on the Samsung Galaxy Z Flip, even if it was foldable. Of course, it wasn't that hard for them since they manufacture those components. This screen uses the Infinity Flex Display technology, which allows it to bend and be folded at really sharp angles.
A 6.7 inches diagonal has been used in a 21:9 format: it will be a fairly long and narrow panel that will come in handy for video in this type of scale. It has a FHD+ resolution of 1080 x 2640 px, giving us a brutal 426 dpi density, even in the fold area. Due to these types of details and technical advances, flexible screen displays are still much higher in price compared to rigid ones.
Among the screen features, we have support for HDR10+ covering the entire DCI-P3 color espectrum and offering a maximum brightness of 1200 nits. But one of the most interesting features about the screen is that it comes with 120Hz refresh rate, of course with the possibility to be adjusted to a fixed 60Hz or better: the adaptive refresh option. This mode is also present in the Samsung Galaxy S21 offering extended battery life.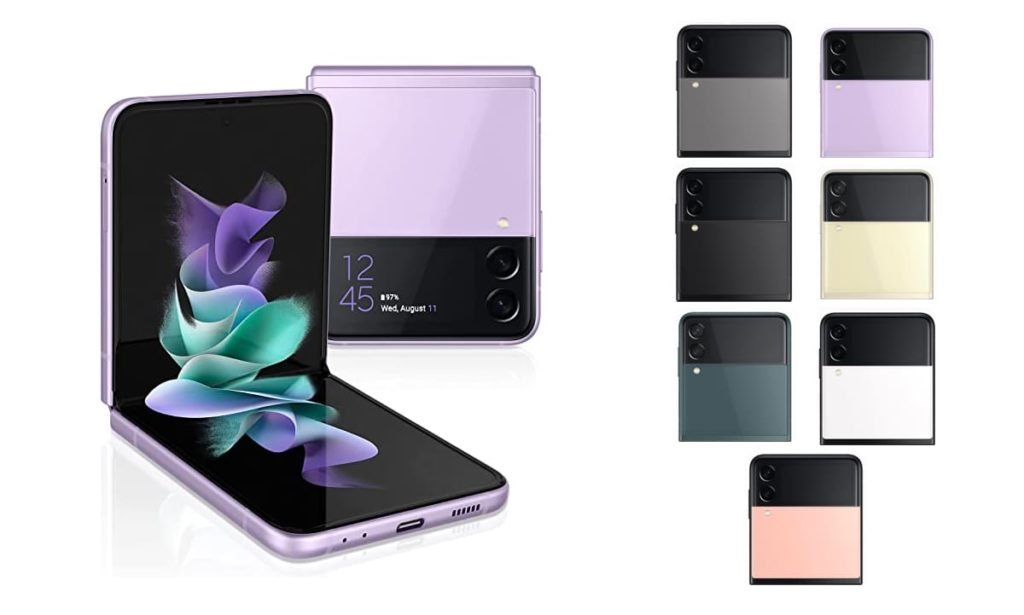 In terms of screen performance this device is at the level of the top competitors on the market. It will offer vivid and saturated colors that will stand out especially in multimedia content, and with 178° viewing angles that are perfectly implemented both vertically and horizontally. With the blue light filter and TÜV Rheinland certification, it ensures visual comfort and protection to your eyesight.
Now we move to the second 1.9-inch Super AMOLED rear screen with a resolution of 260 x 512 px. This panel will function as an "always-on" display for the camera when closed, and when open will allow us to see notifications, control music, see the time, alarms, voice recorder or any other configurable option from the system. It gets activated with two touches, and keeping our finger on it will access different features as if it were a Smartwatch. In addition, we can use it with an inverted screen to see ourselves while we take a selfie with the rear sensor, detecting shutter with the palm. Extremely useful to operate the device at a basic level while it is closed.
Stereo speakers as in the Galaxy S21
In the sound department of this Samsung Galaxy Z Flip 3 5G in-depth review we will see the typical two speakers with Dolby Atmos technology that provides native stereo sound with surround effect for compatible content.
The sound experience will be practically the same as the one of the Samsung Galaxy S21, because technically they are the same speakers and even the same location. It has an excellent balance in frequencies, providing high volume, with excellent quality and detail.
We will not have a 3.5 mm jack, nor it was something we were expecting, after Samsung ruled out its presence in high-end mobile phones for a long time. In its place we will have the USB-C port and of course the bluetooth 5.1 LE. Headphones will not be included though. The wireless receiver will be compatible with A2DP, AVRCP, HSP and ANT+ among other functions to get the most out of Samsung Wearables.
Security systems
In terms of security the features of the Samsung Galaxy Z Flip 3 5G get a little distant from those present in higher-end models. It is limited to a fingerprint sensor and facial recognition.
The main difference will be precisely in the fingerprint sensor, it is located on the right side edge, a rather counter-intuitive location. It will only make sense to use it when the device is folded, because this way we can unlock it without having to open the unit. The downside is that it will be inconvenient for lefties.
This mobile uses the Samsung's proprietary facial recognition system with perfect operation under all kinds of circumstances and a high activation speed. The front sensor allows us to register our face quite accurately even in very low light conditions or against a light source. In comparison we would rather use this method over the finger print option.
Performance and connectivity
At the hardware level we will have very good news for those who expect a super top-of-the-range device from this Samsung Galaxy Z Flip 3 5G. The Koreans have very correctly opted for an eight-core Snapdragon 888 processor, the most powerful CPU model only below the most recent 888+, which may be a bit large for this specific phone, which doesn't any appeal in the gaming niche.
This CPU uses a 5 nanometers manufacturing process under 64-bit ARM architecture. It is made up of 1 Cortex X1 core at 2.84 GHz, 3 Cortex A78 at 2.42 GHz and 4 Cortex A55 at 1.8 GHz. Along with it, we will have an Adreno 660 GPU at 840 MHz that will be able to perform super smooth graphic algorithms taking advantage of the 120Hz of the screen. This processor is superior to the Exynos 2100 and doesn't heat as much.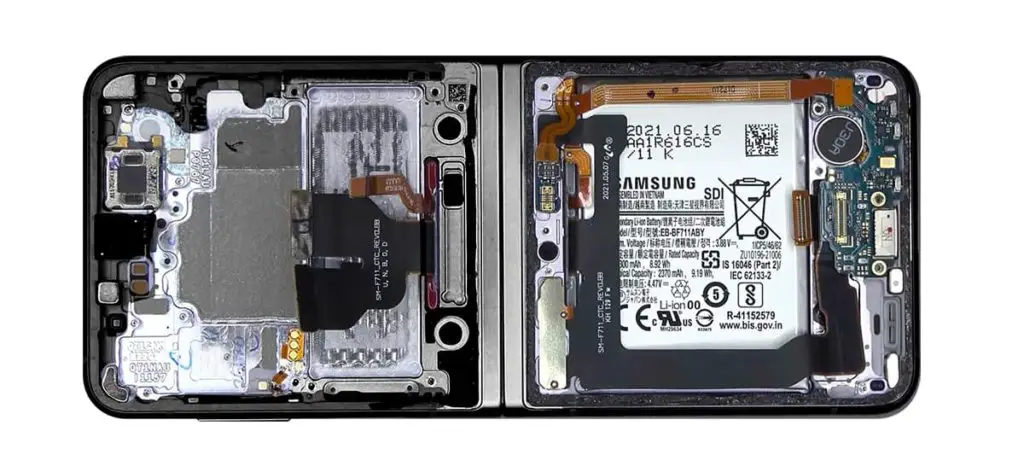 To cap everything off a 8 GB LPDDR5 RAM and options of 128 and 256 GB of internal storage type UFS 3.1. We have an outstanding storage capacity in thins unit. On the downside, due to the limited space inside the unit there will be no possibility of expanding its capacity through MicroSD.
The CPU performance will provide a great experience in performance and fluidity in day-to-day activities and with games. There is a very good integration of both the Android 11 OS and the ONE UI evident in all kinds of scenarios.
On the specific case for gaming or any other tasks that requires too much pinching and swiping, the screen is not recommended for those tasks. You can't even push it hard with your finger nail, or you will be surely leaving a mark of the screen. One of the recommendations on the main screen when you first turn this phone on is to, never, under any circumstance, remove the plastic screen protector that comes with the unit. Suspicious he?
To this is added insufficient battery to spend long sessions playing. Being so skinny, it is also more susceptible to overheating, which is why probably the Snapdragon 888+ CPU would have been way bigger shoes for it to wear.
In terms of connectivity, Samsung tossed it out of the park, including all the features like in its high-end smartphones. We have WiFi 6 with MU-MIMO, OFDMA and shared connection mode, Bluetooth 5.1 LE and 5G connectivity. We add A-GPS, Beidou, Galileo, GLONASS and GPS geographic positioning, as well as NFC connectivity for mobile payment.
Android 11 and One UI 3.1 with foldable features
The combination of Android 11 along with Samsung's own One UI layer in version 3.1. A rather versatile customization layer that never disappoints by providing a simple interface, yet extremely complete in terms of options and configuration.
This will ensure fluid navigation, fast application loading times and almost instantaneous multimedia content loading and playback, without any bugs at least in the version we are now. The customization section will be one of the most complete that we have on Android devices, keeping the quick drop-down access bar on the side, as well as its extensive "Always-on-Display" functions. For the main screen, and now for the secondary screen as well.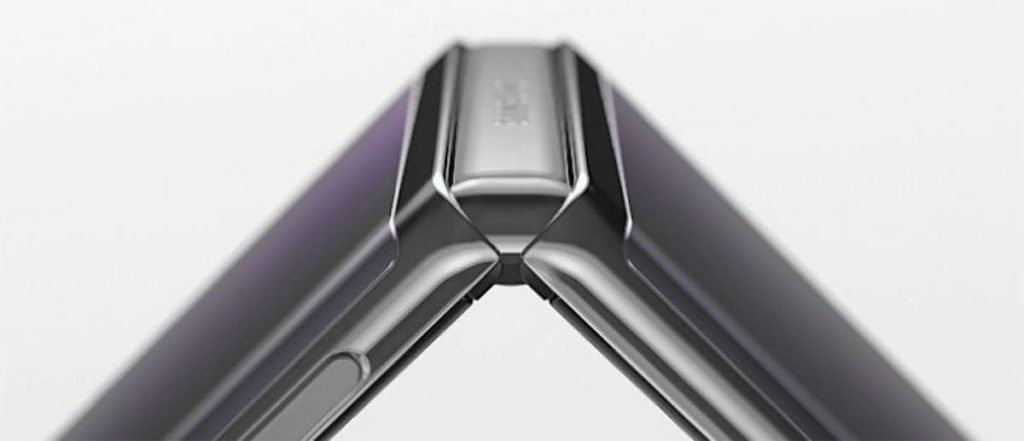 The operation and functionality have been integrated with the screen folding capabilities to its maximum. For instance, if we are working with the internet browser and fold the device at a 90° angle the content will be move to just one half of the screen giving us the option to have a double screen display.
The rear screen, although small, it has a very good resolution to display content such as notifications or weather information, among other things. Again, placing the device in a "sitting" position we can use the rear camera for selfies to be able to see ourselves on that small screen. Of course it will be one more element of battery consumption, a sensitive topic on this model.
Battery autonomy
This section will be one of the weakest aspects of the Samsung Galaxy Z Flip 3 5G compared to its line-up, because the fact of being foldable will also make it susceptible to a considerable reduction in space and therefore limitation to the battery capacity. In this case we will have a capacity of 3300 mAh, which would not be bad for an old phone model, however it is not enough for more modern models.
With a 21% battery we get 3 hours and 16 minutes of battery life. Very low metrics for a high-end smartphone on its price range. We believe that this aspect is key, since you cannot last a full day with just a single battery charge. If we limit the options to night mode, 60 hz screen refresh rate and checking emails every 15 minutes, we will improve a little, but still not enough.
There is another bad news: no charger will be included in the box, so we will have to find one ourselves or buy it original. This battery will offer a fairly fast charge of 25W, although on the other hand it is a very good thing to have 10W wireless and reversible wireless charging.
Camera and performance
We continue this in-depth analysis of the Samsung Galaxy Z Flip 3 5G with a strong point for this device: the cameras and their performance. In this case there are certain similarities with the Galaxy S21 / + in the use of sensors, and also certain limitations that may be important to highlight.
Rear sensors
This time we only find two rear sensors that will be:
Main sensor: It is a Sony IMX563 of 12.2 MP that has a CMOS-type lens with a pixel size of 1.4 µm, focal length f / 2.2 and a size of 1 / 2.55. This same sensor that performs the wide angle + macro function with the Galaxy S21 and S21 +, being in theory a little more advanced than the IMX555. We find it in other terminals such as the Sony Xperia 5 and the Sharp Aquos R3.
Wide angle: The second sensor will act as a wide angle at 123° in the case of a 13 MP Sony IMX258, also with a 1.12 µm CMOS type lens and a 1 / 3.06 size. In other devices this module is used as the main sensor, such as the Galaxy J5 or J7, already having a few years since launched.
The performance of the main sensor will give us very good results in general, and in addition to having a good angle, it also achieves very bright photos and excellent results at night. However, if we compare it with the main sensors of its high-end Samsung brothers, we obtain colors that are somewhat more saturated and sometimes with the typical watercolor effect when zooming in the image, due to those 12 MP.
On the other hand, the white balance and dynamic range resulted in a quite good and quality photos, with a striking result. With artificial lights at short and medium distance it works very well, just as in the S21 in wide angle mode.
At a software level we will have a large number of effects and modes for photography, which will give versatility and a better experience for social media content. The combination of the HDR and the AI mode will also be on our favor if we are looking for a more attractive and post-produced type of photography style. The behavior of the camera in night mode excels, working very well on the backgrounds to avoid the appearance of noise as much as possible.
The wide angle mode also benefits at a software level, and even being a relatively old sensor, it worths noting that it has served as the main driving sensor in many mobiles, seeing also excellent results both during the day and at night. It does not have as good aperture as the previous one to collect light, but its high resolution for panoramic photographs is greatly appreciated for the good detail it gives. With a wide viewing angle it will be inevitable to see a lot of warping at the fisheye style corners.
Clearly we are lacking a telephoto lens that gives us the functionality that is expected from a high-end device. The 12.2 MP of the main sensor will not be your best allies to apply zoom digitally, although it supports up to 20x zoom, we should not use it beyond a 3x.
As for video recording, we will have a maximum capacity of 4K @ 60 FPS and the possibility of recording in slow motion up to 960 FPS in 720p. The OIS optical stabilization system does an excellent job especially at 30 FPS, but thanks to a super stabilization mode at software level, we will be able to record at 60 FPS almost like professionals, as long as we have a good clear pulse. Again a zoom would be fabulous, but this downside get compensated with really good day and night photos and the ability to record audio from both far and near sources.
Front sensor
As for the front sensor, it will be basically the same that we have in the Galaxy S21. We are talking about a Sony IMX374 with a CMOS type lens, focal f / 2.4, 1.22 µm lens and 1 / 3.2 size to capture enough light.
In poor light conditions the good level of quality is maintained, and with the flash on the screen we can even achieve a fairly natural result. Obviously in dark conditions and night photos we will begin to find a background full with noise and a blurry effect will be more common if we don't have steady hands. With the effects available in the application, we will have a lot of play when it comes to taking photos for social networks and friends, with overlapping details or the bokeh effect for portrait mode.
Final words and conclusion about the Samsung Galaxy Z Flip 3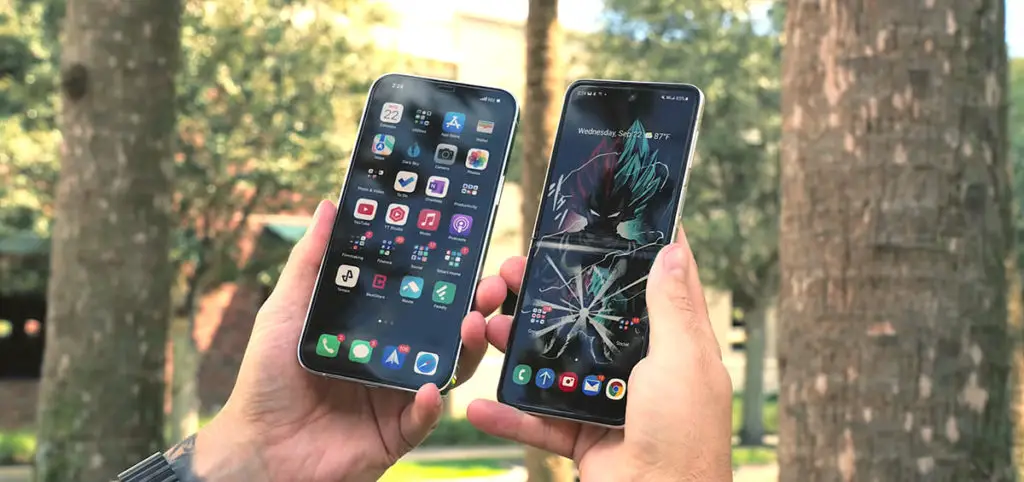 Now, to wrap up this analysis of the Samsung Galaxy Z Flip 3, judging from its characteristics, we are clear that it is a high-end with its Snapdragon 888 processor, its 8 GB of LPDDR5 RAM, 128 or 256 GB of internal UFS 3.1 memory and a 6.7-inch folding screen plus a very useful auxiliary screen, which It will help us to take selfies or read notifications quickly when the phone is closed.
However it has two big improvement areas for future versions of the Galaxy Flip series. The cameras are one step behind the competition. Although the color rendering is good, it is not perfect. The zoom is not the strongest selling point either.
The second drawback is the 3300 mAh battery, which makes this model fall short in autonomy. By having such a large flexible screen and a second auxiliary screen, we would expect a long-lasting higher capacity battery. One that can at least last a whole day.
In short, the Samsung Galaxy Z Flip 3 is focused on that user who seeks to have a high-end smartphone with a really small footprint and obviously the novelty of having a folding touch screen smartphone that actually works.
Its price ranges from $1,189.99 to $1,259.99 USD depending on the storage space. Not a very attractive price for a phone with still a few points behind in the score board.
---
More stories like this
---