---
You can also be interested in these:
---
The Amazon Fire TV Stick 4K is one of the most popular TV-Stick models on the market thanks to its complete list of apps and content for our favorite platforms. With just one click, we will have access to Netflix, Disney+, and even Twitch, in addition to certain tricks for viewing or downloading more features from the browser.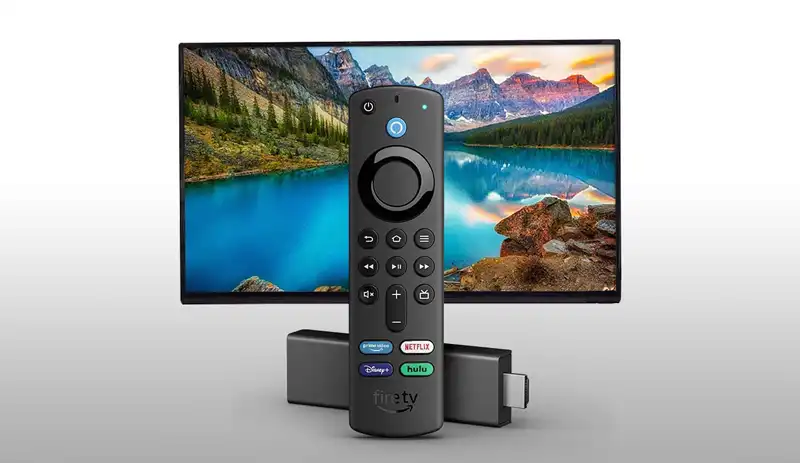 As expected, we have voice control with Alexa in a model that improves image quality to 4K resolution with HDR+ and Dolby Vision. Its small size and HDMI port make it suitable for any TV or monitor.
Design and connections
The design of this Amazon Fire TV Stick 4K is as simple as we could imagine, just a rectangular stick built in black plastic. Its dimensions of 99mm long and 30mm wide will allow us to connect it to practically any television or monitor without conflicting with the neighboring ports.
On one end, we have the aforementioned HDMI 2.0b connection supporting a maximum of 4K60 FPS, this means that on televisions that support higher refresh rates, we will have an obvious limitation. We can purchase an adapter-extender port to convert it to another interface or integrate additional Wi-Fi antenna to improve its wireless coverage.
On the side, we find the Micro-USB port which gives power to the device, which is strictly necessary to make it work. According to the manufacturer's data, it does not support power, but with a Micro-USB 2.0 OTG cable, we can increase this capacity to connect peripherals, for example, external storage units to expand its memory.
Continuing with wireless connections, we have Wi-Fi AC Dual Band 2.4/5 GHz 2×2 MIMO as a means of downloading and viewing live or on-demand content. It has a good range of coverage and enough bandwidth for this 4K resolution, but we recommend always using the 5GHz band to avoid problems. The next available level will be the Amazon Fire TV Stick 4K Max which already implements Wi-Fi 6.
We also find Bluetooth 5.0 LE connection for pairing or integration with other wireless devices such as speakers or soundbars. Finally, it has an infrared sensor for the remote control.
Remote controller
The Amazon Fire TV Stick 4K includes the latest version of the remote control available, which is based on infrared connection and works using two AAA batteries that are already included. Its dimensions are 140mm long, 38mm wide, and 15mm thick built in plastic.
The Amazon Fire TV Stick 4K is very easy to handle and key to the success of this device as it does not require a smartphone to manage it. The difference with previous versions is that it introduces 4 additional buttons with direct access to Prime Video, Amazon Music, NETFLIX, and Disney+.
A key element will be the button for interacting with the voice assistant Alexa, integrated into the remote control itself with the microphone on the upper edge to streamline internet navigation and content search outside of the usual platforms. On the lower panel, we will have the navigation wheel, buttons for accessing the different menus, video control, image source selection, and volume control for the television itself.
Hardware and Image Specifications
The Amazon Fire TV Stick 4K has an improved SoC composed of the Mediatek MT8695 Quad-Core CPU at 1.7 GHz and an IMG8300 GPU based on a 12 nm manufacturing process. We have not experienced any fluidity problems in the image, pixelation, or high start and navigation times on the applications.
The consumption is only approximately 4 W, and it only requires a 5V 1A USB port to function, and therefore we can use either the wall plug adapter or directly use a USB port on the television/monitor for it to work.
It uses a 1.5 GB DDR4 RAM configuration, sufficient for the system and image buffer, at least for the moment we have not had any problems. It has an internal storage of 8 GB, although 4 GB will be reserved for the operating system. Eventually, it can be expanded with external USBs and the appropriate OTG adapter, although the system does not support NTFS or exFAT.
It supports native resolution 4K60 FPS through HDMI 2.0b, compatible with HDR and HDR+ image, in addition to Dolby Vision and HLG. It is compatible with Dolby Atmos and surround sound 5.1, 7.1 or 2-channel stereo with some Prime Video titles. Its HVEC encoder supports 10-bit image, although this will be a demanding configuration in which we could experience some frame loss if the Wi-FI connection bandwidth is limited.
Operating System and Installation
It's time to connect our Amazon Fire TV Stick 4K to the television to see how the user experience is. We have the FireOS operating system in version 6.2.9.4 with the usual interface of other models based on a distribution of rows through which to navigate comfortably through the remote control.

First installation
The first time you start the Amazon Fire TV Stick 4K, it will take a few minutes, so we must be patient with it until we access the settings menu. We begin by pairing the remote control with the stick, for which we only hold down the home button. After selecting the language, we will choose the settings directly with the remote control to go faster, so we connect to our WiFi and the system will update to the latest available version.
Now we must take our PC or smartphone to log in to our Amazon account and associate the device with it, something we will always do with other products such as Alexa speakers. It is important to note that in the next section, the remote control will try to control the volume of the TV, something that it can only do if it has infrared, because for example it will not work on a PC monitor.
Practically everything would be finished, as we only have to select the applications to install (we can do it later at any time) and we will have the Amazon Fire TV Stick 4K ready to use.
Interface and settings
The navigation interface has been polished to give us the maximum possible information about the content, but respecting the distribution in sliding rows with rectangles to represent the different resources. The top banner is reserved for highlighted content, while a central bar separates it from the applications, taking advantage of it to insert different access to settings, App, Home, or our profile.
When we are over some content, it will automatically begin to play video and audio in the form of a trailer or preview, being a feature that we can deactivate from the Preferences menu > Highlighted Content. We find it more comfortable not to have this activated to search for content more calmly. Likewise, we can deactivate some privacy parameters that will make the experience a little more "private" and of course, we will have parental control.
We have a wide list of applications and the corresponding search engine to access some that we do not find at first glance. We will have almost all platforms included Twitch or YouTube, obviously with real-time TV guide, access to live and on-demand content, and control of the timeline, but we will not have HBO Max "officially". If at any time we detect that some App is a bit slow, we must go to the settings and list of applications to empty the cache of it; surely it will improve.
We highly recommend installing two applications: Internet, a web browser to access any content on the network that cannot be seen on the default apps, and Downloader, another extension that will allow us to download those apps through apk that are not available, for example KODI or the PLEX media server.
We should not forget that the Amazon Fire TV Stick 4K is a smart device, with a very powerful operating system and Alexa integrated. It may seem trivial, but there are many things we can do with it, of which we may not have been aware. The most basic is to use the stick as an Alexa speaker, as we can ask anything from the remote to give us not only information, but also image. Browse the internet, search for content, music, ask for the weather, news and see the movie schedule of the nearest cinema to our location. We can also create customized lists with the storage itself, add bluetooth speakers and more devices, control it from the smartphone or even play through a controller.
Final words about the Amazon Fire TV Stick 4K
The user experience has been completely satisfactory both in navigating menus and content as well as the playback itself. We will have all the most famous and consumed platforms in a single device capable of getting the best quality out of them by reproducing content in real 4K and HDR+. In this case it will all depend on the quality of the TV itself, and we will only have the limitation of playing at 60 FPS.
The app store is not as wide as Chromecast's and Play Store's, in fact it shines for its absence of HBO Max, but with some tricks like installing from APK and others we can expand the catalog in an unofficial way. In our case we have no complaints in this section, as we have not detected any fluency problems, just slightly slower loads when there is a lot of content.
The remote control is key for these devices to reach more audiences, as it is infinitely more comfortable than using the mobile and taking advantage of Alexa we will have everything in our hands literally. This model should update the charging/data port to USB-C as soon as possible, as even the Amazon Fire TV Stick 4K Max still comes with the outdated Micro-USB. We have no complaints about the Wi-Fi and the possibilities that Bluetooth gives.
---
More stories like this
---