---
You can also be interested in these:
---
The streaming platform service industry has long been saturated. Among the large list of companies that have opted to produce and serve digital media as a business model we will also count Amazon, which has the potential to become a real juggernaut in the streaming service ecosystem. The company's brand is Amazon Prime Video, one of the services that have evolved the most in recent years. Let's learn more about its value proposition and how Amazon is making things a little different.
In this article you'll have all the background about what Amazon Prime Video is, all the information related with its cost and frequently asked questions on the topic. On the other hand, we cover technical aspects, like how many devices you can link with a single account and if it is possible to watch a movie on Prime Video remotely with another user. Let's jump right in.
What is Amazon Prime Video?
Prime Video is the trade name of the new Amazon's streaming content service. Using it, users can play movies and series in an non-stop. Just like its competition, Prime Video has its own catalog. Hence the company makes sure it offers varied content for all types of users.
The history of Prime Video dates back to 2006. Therefore, it is a product that has been on the market for three decades. At first, it started with the name "Unbox". Its objective was to commercialize films in physical format and transmit live content. In the following decade the services spread throughout the world. Finally, on December 14, 2016 Prime Video was released worldwide, offering a platform very similar to the one we know today.
Prime Video is a paid service that is linked to the Amazon Prime subscription. The series and movies it offers also include content with additional payment, most of which are recent releases. Additionally, Amazon has several video projects produced by themselves, created in the different countries where it is available. On the other hand, they also offer content distributed under Amazon Exclusive. These are productions that are only available on Prime Video, in addition to the production television network's own platforms.
In short, Prime Video is one of the options that the consumer has when it comes to streaming video content. But how much does it really cost? It's free? Let's talk a little more about this.
I already have an Amazon Prime account. How much is Amazon Prime Video worth?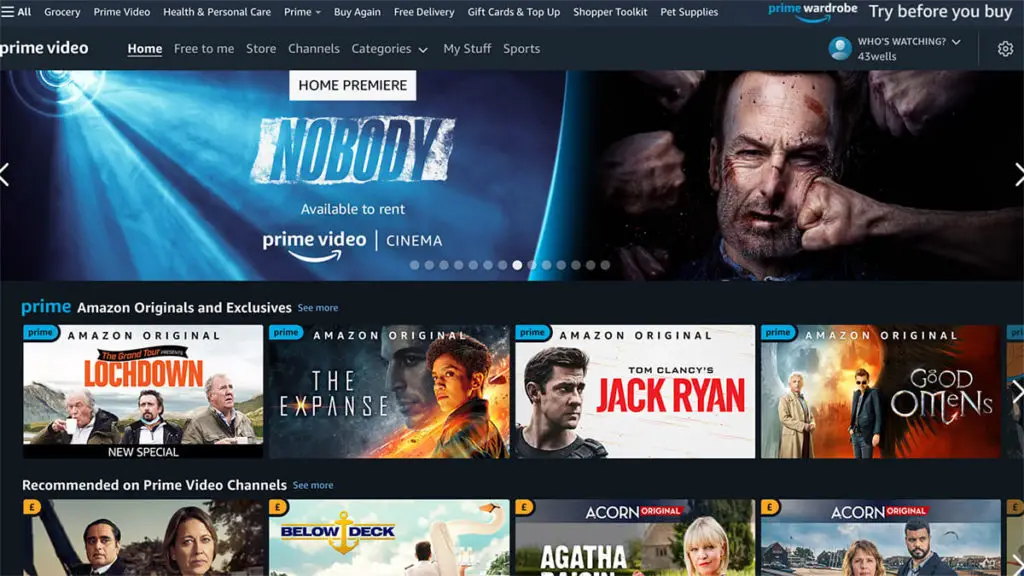 Prime Video is not a free service. It comes included with the annual subscription of Amazon Prime. With it, the user in granted as a bonus,
 free and unlimited access to the video platform's catalog, and 2 million songs on Amazon Music. The company also allows an unlimited number of photos to be stored at no additional cost on its Amazon Photos service.
If a user subscribes to Amazon Prime only to watch series and movies on Prime Video, he will be paying about $79 USD per year. As a consequence, the monthly payment of the service is $7.99 USD. This is a much lower price than other options, such as Netflix, which has a base price of $9.99 USD per month, or HBO, which comes out for $14.99 USD per month.
So why do many users say that it is free? This can be for a number of reasons. Perhaps they say so because they have used Prime Video without paying anything for 30 days, taking advantage of the offer to test the service. On the other hand, they may say that it is free because they subscribed to Amazon Prime in search of other benefits, such as free shipping. From that point of view, it is possible to see Prime Video as a free additional service, although the reality is that there is no way to use it without paying the annual subscription.
How much does Amazon Prime cost for 6 months?
Taking into account the observations made in the previous point, Prime Video costs about half the annual price for 6 months. However, sometimes the company launches promotions and makes it free with special subscriptions like Prime Student. In that case, all the services available at the time you become an Amazon Prime member are free for the first 6 months.
How many TVs can I watch with my Amazon Prime Video account?
Other platforms of media streaming services allows you to view content on more than one device screen at the same time. Is this the case with the Amazon option? Take a look at the following points to know the limitations imposed on Prime Video.
You can play three content simultaneously on different devices. Thus, it is possible to watch a series in the living room, a movie on the mobile and a tv show on a tablet, for example.
Amazon Prime Video is capable of creating and managing up to 6 profiles within the same account. This allows you to keep separate recommendations or the list of series and pending movies. At the same time, it prevents all household members from having to create an individual account.
How to watch a movie with another person remotely on Prime Video?
Does Amazon Prime Video allow you to watch a movie with a friend or family member remotely? This service has this feature built-in natively on its platform. This function is called "Watch Party", however it is only available on desktop computers. At the moment it is not possible to run it from the mobile or the Smart TV.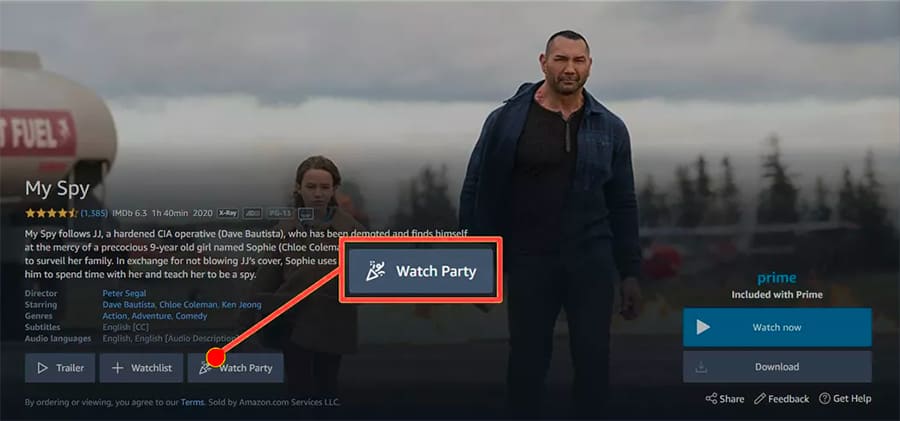 How does Watch Party work?
Here is how you can watch videos with someone else remotely:
First, go to the description screen of one of the compatible series. In the event that the watch party is available, you will see the corresponding icon. Click on it.
Then enter the name and click Create Watch Party.
On the next screen, use the controls to pause or play the content. On the side, check who has joined the video group. To invite other users, use the "Copy link" button. Then send it to your friends or family.
To finish, use the End Group Video button.

How to choose a specific episode on Amazon Prime?
If you want to start a series from the beginning, just use the play button. On the contrary, if you want to see a specific chapter, follow these steps:
Open the series tab.
Click on the seasons drop-down.
Choose the season you want to explore.
In the episodes field, choose the one you want to see.
When you finish viewing, the chapter will be marked as played. This method is similar on all systems where it is available.
How do i see my prime video purchases?
If you have bought any pay-per-view titles, there is one specific section you can go in your account management dashboard to access them. Here is how you can find them:
Open your Amazon Prime Video account menu and click on the "My Stuff" link. You will find the same menu item option in both the computer and the apps.
Choose "Purchases and Rentals" to see a list of the videos you have bought.
You will find on a few cases a shortcut directly located in the dashboard of the platform from where you can access without any other stop.
How to change the payment method on Amazon Prime Video
This process is rather easy to accomplish. You only need to have access to your account and follow these steps:
Once in your account, select the option "Your Payments"
In the next screen, you will have the possibility to do one of the following steps.
You can add a new payment method under any category available.
You can remove or modify and existing payment method.
How to have uncensored content on amazon prime video?
Using the "Restrictions" feature on Amazon Prime Video you have the ability to limit features on the playback of your service. It is really easy to set up, although you need to be the owner of the account to do so. The restriction rules will be only applied for the device on which they were set on. Also, parental control settings will only be available on:
Fire TV devices
Fire Tablets with FireOS 5.0 or latter.
Fire phones
Microsoft Xbox 360 consoles
In order to set restrictions on your Amazon Prime Video you should:
On a PC or Mac computer, go to Prime Video Settings.
Click on the section "Parental Controls".
Select an age restriction and the devices you want them to apply to.
Select the rules you want to apply for the age group. In the case you want uncensored content, just remove all the rules.
Click save.
---
More stories like this
---