---
You can also be interested in these:
---
Did you know that you can use your Mac to access photos, play audio, and watch videos from your iPhone? If you have macOS 12 or later installed on your computer, you can mirror your iPhone screen on your Mac. This is a useful feature for those who find the display on their phone too small for daily use.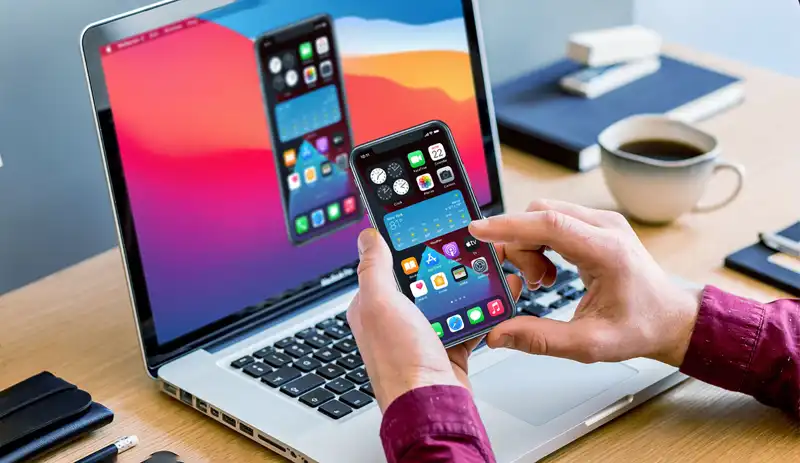 To mirror your iPhone to your Mac, you can use either the QuickTime app on your computer or the Screen Mirroring feature on your phone. Simply tap the AirPlay icon within an app or select the Screen Mirroring icon in the Control Center to start mirroring.
It's important to keep in mind that the AirPlay feature on Mac is only available on the following models: MacBook Air (2018 or later), MacBook Pro (2018 or later), iMac Pro (2017), iMac (2019 or later), Mac Pro (2019), and Mac mini (2020 or later). In addition, it's only compatible with iPhone 7 or later. In this guide, we'll show you how to use both the QuickTime app and the Screen Mirroring feature, as well as how to play audio from your iPhone on a Mac.
Using AirPlay to mirror your iPhone on a Mac
AirPlay is a unique Apple feature that allows you to wirelessly stream audio and video content from one device to another. With this feature, you can stream from your Mac, iPad, or iPhone to your Apple TV or any other smart TV that's compatible with AirPlay.
Streaming your iPhone to your Mac
Mirroring your iPhone to your Mac is a convenient way to enjoy photos, videos, and audio on a larger screen. To do this, you can use an app that supports AirPlay, such as Hulu, Amazon Prime Video, or Apple TV+. Another option is to mirror your entire iPhone screen using the Control Center.
Before you start, make sure both your iPhone and Mac are connected to the same WiFi network.
Setting up your Mac for AirPlay streaming
For macOS Ventura: Go to "Settings" from the Apple menu, select "General," then "Sharing" on the right, and turn on "AirPlay Receiver." Click on "Info."
For macOS 12.5 or earlier: Go to "System Preferences" from the Apple menu, select "Sharing," and turn on "AirPlay Receiver."
Choose one option under "Allow AirPlay for": "Current User" to allow only devices with the same Apple ID, "Everyone," or "Anyone on the Same Network."
If you want a password to be required for AirPlay, turn on the option and enter a password in the text field.
How to mirror your iPhone using AirPlay
To use AirPlay directly from within an app, simply start playing content, such as a movie or show, and select the AirPlay symbol (a rectangle with a triangle at the bottom) located in the upper-right corner of your screen.
If you want to use the Control Center, tap the Screen Mirroring icon.
After tapping either the Control Center's Screen Mirroring icon or the app's AirPlay symbol, a pop-up will appear asking you to choose the device to mirror to. Select your Mac's name.
Your iPhone may also prompt you to enter an AirPlay code. The code will appear on your Mac's screen and you just need to enter it into your iPhone's text box, then select OK.
The content playing on your iPhone will now be displayed on your Mac.
Mirroring your iPhone on a Mac with QuickTime
Connect your Mac to your iPhone using a Lightning to USB cable.
Open the QuickTime app on your Mac.
Go to File in the menu bar at the top of your screen.
Choose New Movie Recording.
Click the downward arrow next to the record button in the center-bottom of the screen.
Select your iPhone (or iPad) from the list of all available devices. If your iPhone isn't listed, try disconnecting and reconnecting it.
Your iPhone should now be mirrored on your Mac, showing an exact replica of your phone's screen.
Playing audio from your iPhone on a Mac
Launch an audio app such as Music or Podcasts on your iPhone, and select a piece to play.
Tap the AirPlay icon (a triangle in front of three circles) and choose a playback destination.
You can also choose the playback destination by tapping the AirPlay icon in the Control Center or on the Lock Screen.
---
More stories like this
---