---
You can also be interested in these:
---
Multitasking on an iPhone is something remarkably tough. There's very real screen real estate to use, and bringing up your keyboard takes up half of that. To somewhat alleviate these multitasking issues, developers have come up with little software tweaks that help out, and one of them is the clipboard.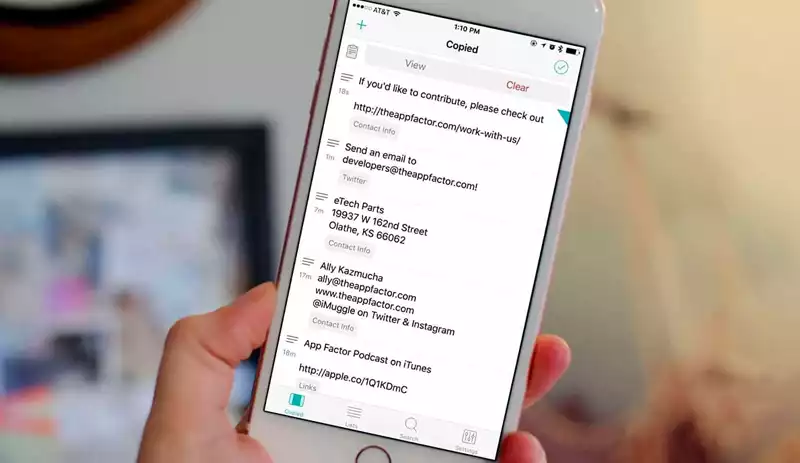 It's a versatile tool, but one that sees little use because so many users don't even know it exists! A shame, since a clipboard iPhone is essential to cutting down workloads on your device. So, to help you with your workflow, let's find out how to access clipboard on iPhone and the best ways to use effectively.
What exactly is a clipboard on an iPhone?
If you've never used the clipboard function on your phone before, you may be asking yourself what exactly it is and why it'd be useful for your day-to-day activities. Well, rest assured, we're here to give you the all important breakdown to tell you just why it's such a helpful tool.
The clipboard iPhone application works the same way a real life clipboard would in that it can hold notes, copied material and things like images, storing them in the device's internal memory for future use. When you need to use the copied information later on, all you need to do is bring up the clipboard and paste them where you need your information to be.
That's great, but how can a clipboard help my workflow?
Where clipboards shine is in how many things you can have saved for easy access at all times. Receipts, links, long strings of numbers or details can all be kept on your clipboard, and then removed when you no longer need them. They're effortless to use, but can be utilized in many ways to keep your workflow going smooth.
Clipboards also remove the need to go back and forth between applications just to copy something, and serve as an archive for all your copied data. they can even act as a safety net in case you you accidentally copy over an important line of text, since it'll all be saved in your clipboard. Versatility is the name of the game when it comes to clipboards.
How to access the clipboard on iPhone?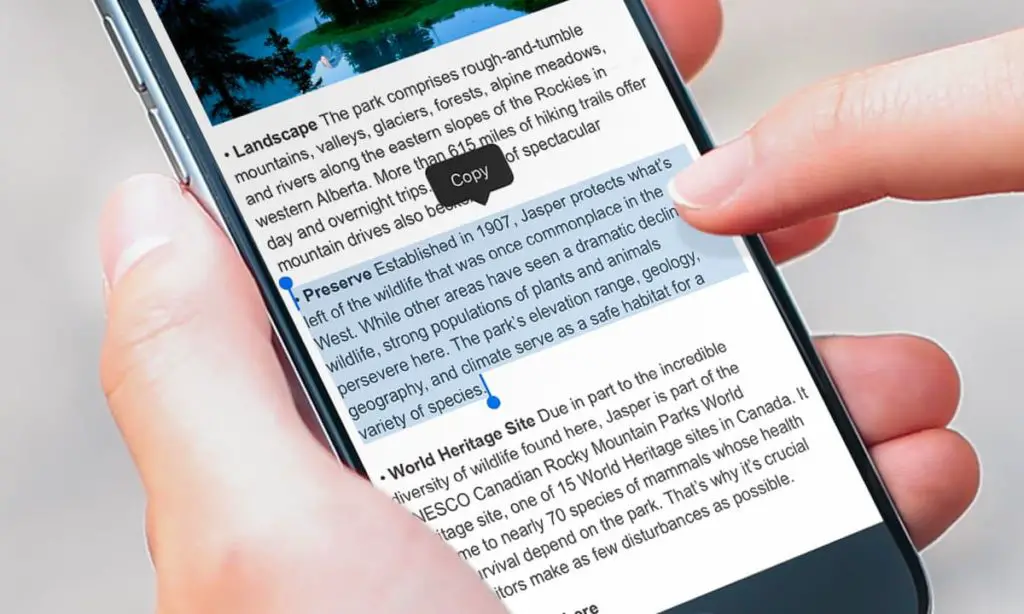 One big reason why you've probably never seen a clipboard if you're an iPhone user is because Apple smartphones does not have a native clipboard history application. It's only really capable of holding one copied item at once, and that's it. Thankfully, third party apps have us covered.
The Apple App Store is home to many clipboard applications that let you copy as much information as you want. It's disappointing that Apple themselves haven't given their users a built-in option for this, but at least there are solid options from third parties.
Now, it's easy to get overwhelmed by choice on the App Store. Choices are aplenty and it can be tough getting to grips with what you're looking for, especially when you're not sure what sets these choices apart. Not to worry though, we'll also give you a breakdown of some of the best clipboard apps available on iPhone as well as what sets them apart so you can make your own choice!
Best overall clipboard iPhone app: Paste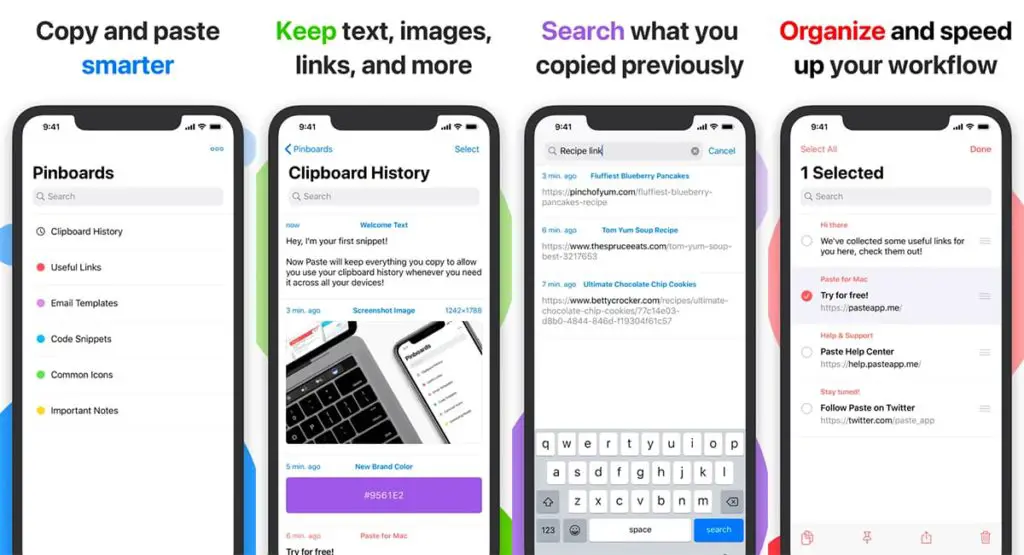 Paste is the first option on our list, and the defacto choice for many users. It has an excellent visual design that meshes seamlessly with the rest of iOS, and it's easy to use. With Paste, you can copy text, images, links, and many other different file types and store them on your Paste clipboard for easy access.
In case you've copied a lot of things and you're having difficulty finding something specific, Paste also has a search function to filter out everything else. On top of all this, you can also sort all your copied content into different sections called pinboards in order to keep things organized. There are a ton of great features on offer here.
But how do you pull it up when you're messaging someone in a different application? You do this through the Share Sheet, which lets you pull exactly what you need from your clipboard at any time. It even saves when you added the information, from where it was copied from and gives you a character count on any copied text.
Best of all, it has iCloud compatibility which means you can sync your clipboard with a Mac and pull information from both devices seamlessly. If you're someone who has a Mac workstation, this is a huge boon and something you definitely want to keep in mind.
The only downside of the Pasted app is that it costs money and uses a subscription model for payments. We say that, but it's really only $10 a year, so it's relatively affordable. Definitely give it a look.
Best free to use clipboard iPhone app: Copied
For those of you who'd prefer to not shell out money for a clipboard, the Copied app is here, and it does not cut corners in any noticeable way. It retains a lot of the functionality we saw from its competitor Pasted, but brings a slew of its own tricks to the table. In this case, Copied brings a whole suite of its own extras in the form of a keyboard and a browser.
The app's third party keyboard allows you to add copied information and access it instantly without ever needing to open the application itself. Everything gets saved as a clipping directly to the keyboard, and it speeds up your workflow tremendously.
Thanks to Copied's keyboard functionality, you can view and edit any of your clippings on the fly, or you can take it a step further and even reformat any text you've copied using the specific templates available. It's a wide range of features that offer you a huge amount of value considering the app is free to download and use.
Copied even has its own built-in browser that saves all data copied from a site and compiles it for you. From here, you can use the Share Sheet to go through them, save them to the app or even convert images into stickers that you can throw around in text messages.
Unfortunately, even Copied has some paywall involved. Features like saving and organizing your clippings in lists are locked behind a paywall, as well as iCloud syncing with other iOS devices. The bright side is that they're all one time purchases, so it's still a pretty small investment.
Best fully free clipboard iPhone app: Clipboard++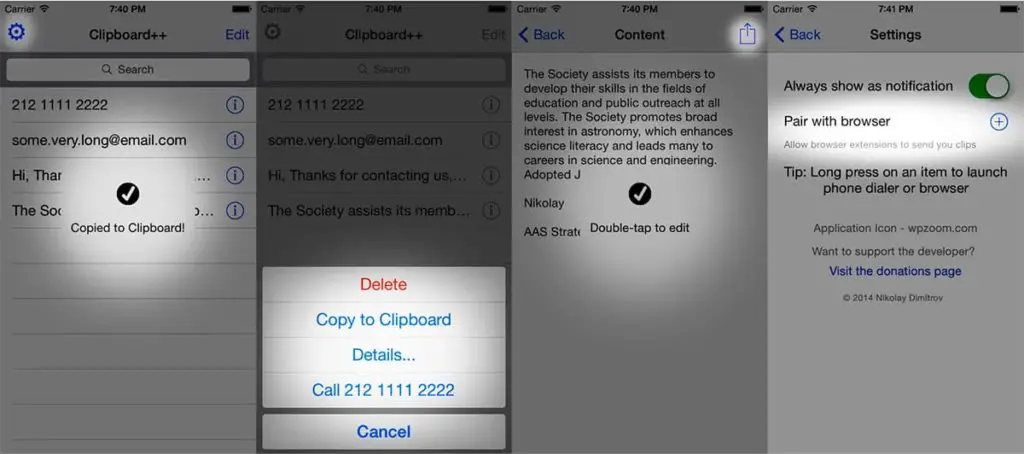 Let's say you're not fully sold on the idea of a clipboard, and are hesitant to spend any money to see how it can improve your workflow. We've got a completely free option for you here in Clipboard++, no in-app purchases or monthly subscriptions needed. It's an honest to goodness clipboard, though it's also a bit more barebones compared to others.
It doesn't have many of the bells and whistles you'd find on the prior two apps. Clipboard++ instead just saves everything you copy to an archive, and lets you search through them at any time. It has the ability to pair with your browser to make saving information as easy as long pressing anything and saving it. Outside of that, it doesn't do much.
The upside of having a small feature set is that Clipboard++ is deadly easy to use. Anyone can pick it up and get the gist of how it works in a short time. It's a fantastic option if you're just getting to grips with how clipboards work, or don't need any of the extras that come with the other applications.
Alternative clipboard iPhone app: Anybuffer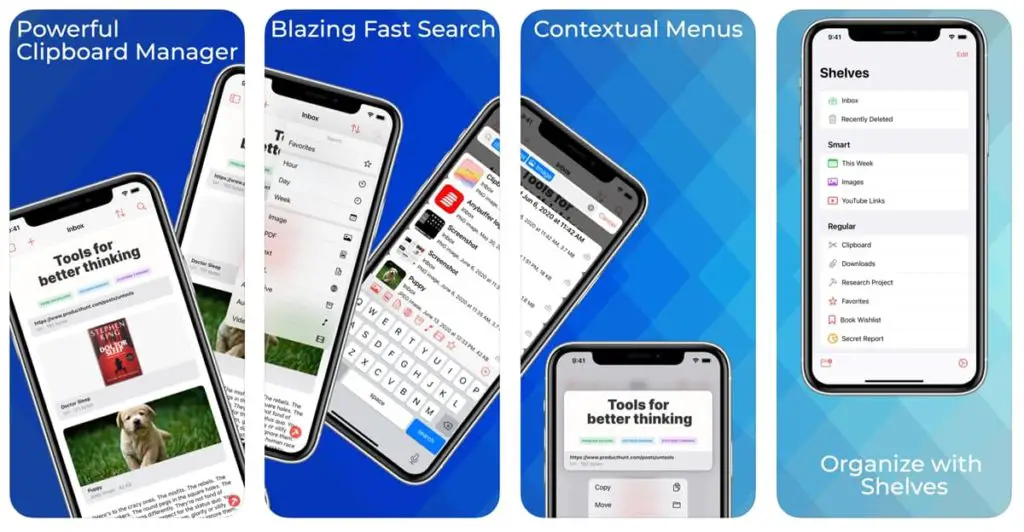 Anybuffer gets an honorable mention on this list for being a fan-favorite. It's been around forever on the App Store, and its robust functionality paired with its sheer simplicity make it worth mentioning on any list about clipboard applications. It costs a one-time payment of $4.99, getting you the whole experience with no limitations.
A lot of the things on offer here are similar to what we've already seen, with the ability to organize your copy, search for specific words and save any manner of information with ease. It even has its own custom keyboard for ease of accessibility like Copied.
Where Anybuffer sets itself apart from its alternatives is its ability to scan documents and sketches with its camera and add those to your archives. This simple addition makes it one of the most beloved clipboard on the App Store, bypassing the need for a physical scanner for documents. It makes sending physical documents in a message a cinch!
Anybuffer also gets Siri integration with its keyboard, opening up the door to voice typing and automation through voice commands. Not too many people will find these useful, but those who utilize Siri a lot will find a lot of value here. It's a great set of features, so it's no surprise that Anybuffer gets such great reception from its community.
I don't want to download an app for a clipboard!
Alright, let's say you really don't want to get an application. There's still a workaround for you, though it's not going to be as useful as any of the apps we listed above. For this, you'll want to open up your Notes app, paste anything important and save it as a note.
While it'll be lacking in features you'd see in a normal clipboard app, and also not very efficient, it's arguably the most simple thing to do on this list. Simplicity does not always make for a better experience however, and this method proves that without much doubt.
It's far slower than an actual clipboard, but if you're adamant about it then you're technically still getting the same functionality here. You can even search up specific copies in the Notes app, though we can't imagine it'll be too helpful. We don't recommend this, but it's definitely an option.
There are other clipboard applications on the App Store, what about those?
On the App Store, you'll find endless options when it comes to clipboard applications, and once you get used to using one it gets hard to stop. The ones we've listed above are some of the most reliable and well known on the App Store. They were all curated and tested by us, and we can vouch for their quality. That's not to say they're the only viable choices though.
If you want, you can try just about any of the many clipboard applications over on the App Store. The best thing about modern day smartphones is the sheer number of options available to us, and as such it only makes sense to find one that suits your needs the most. If you don't want to spend your time wading through an ocean of questionable clipboard apps though, our list is fairly solid.
The rest of you can take your time testing everything out. Talented developers are always adding more options and better features to their apps after all. Who knows when you'll find a diamond in the rough that works perfectly for your needs?
Conclusion
Hopefully, this article has illuminated you to the possibilities that having a clipboard application opens up to an iPhone user. We've given some practical usage applications, a rundown on what options are available to you and where to get them. The best part is, we haven't even scratched the surface of how useful clipboard applications can be for the end user, but we'll leave that for you to find out.
This should answer the question of where the paste clipboard is on an iPhone, as well as how to access clipboard on iPhone and how to manage your copy history. All that's left is to download some apps and see how the simple act of copying and pasting important information can speed up your workflow in a meaningful way.
---
More stories like this
---