---
You can also be interested in these:
---
Modern smartphones are a real achievement of civilization. A dozen years ago, it was impossible to imagine that our entire life would fit in one digital box. Today, you wake up and fall asleep with your iPhone or Android device, and it looks like you put your entire life there.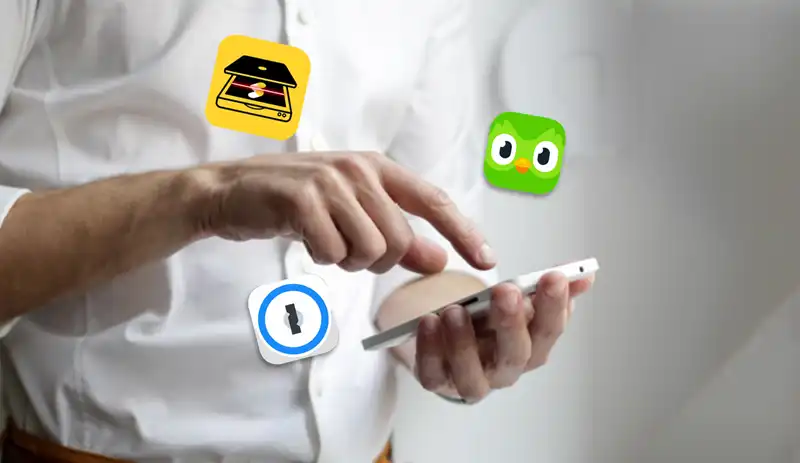 While technically smartphones are able to provide a lot of possibilities, you can take a step forward if you use cool apps. Customize your gadget for yourself and get the most out of using it. From smart alarms to password storing, from scanning docs to maintaining a water balance, from professional photo editors to meditation tools. Your App Store or Google Play abound with fantastic applications! 
Here is the list of the best tools that will make your private and business life easier. 
1Password 
If you're going to use various applications and services, you'll quickly realize just how many passwords you need to remember. The good news is that you don't really need to store them in your mind, just download an app that will store them for you. 
1Password remembers all of your passwords and helps you to generate strong keys for all your accounts. This tool also comes with a 2FA and a random emails generator, so you actually have a lot of ways to protect your privacy. 
Scanner App 
Have you ever thought that you can scan docs and format it  to PDF on the go? It is as easy as ABC, just download this application from the App Store, and make your device a small office. Not only does this best document scanner app scan all the documents and convert them to various formats, but it also comes with a ruler and counter features, a file management system, and different options for sharing and storing. You will have no issues with scanning big amounts of papers and editing. 
Headspace 
Speaking about the best apps to upgrade your phone, it is impossible to avoid such tools as Headspace. On the one hand, smartphones and laptops make our life busier, people spend days and nights looking at desktops. On the other hand, Headspace is an app that teaches you to meditate and breathe. It offers guided exercises to gain mindfulness skills, relaxing music, and much more for stress relief and coping, inspiration and productivity.
Fantastical
Toting around modern smartphones means you've got a computer in your hand, with all the opportunities that it implies. Is it easy to stay on top of your daily activities? Such applications as Fantastical make it possible.
Though it comes with the typical daily, weekly and monthly schedules, it shows upcoming events and appointments in the most convenient way. Manage basic events, add tasks, browse interesting calendars, and create alerts. There are also such features as weather reports, cross-device synchronization, video calls in different tools, and so on. 
DuoLingo 
Educational apps have a special place in the user rating because it is a clear proof that even complex disciplines can be very easy to learn. For example, Duolingo provides users with tutorials in over 35 languages, all in a playful format! With the help of mini-games and small lessons, you will expand your German vocabulary, improve your understanding of Japanese, become fluent in Spanish, and more. Of course, you should not expect the application to help you pass the international exam, but it will definitely be an inspiring friend on the way to learning foreign languages.
Alarmy 
When it comes to healthy waking up, Alarmy covers all the basic needs: multiple alarms, snoozing, and sound options. But what makes this tool really stand out among other apps are the "Challenges". 
If you're a deep sleeper and feel that you need an extra kick to get out of bed, you'll be asked to complete different tasks before you disable the alarm. A list of challenges is pretty wide, e.g. you'll have to solve a math problem, shake a phone, walk a certain number of steps, take a picture, etc. 
Wrapping things up
Obviously, there are many more different applications that were designed in accordance with modern users' expectations. Whether you want to make and edit photos, scan documents, take care of your plants, book trips, look for the best cafes around, learn foreign languages, or make investments, you can easily find an application that will meet your requirements. Read customers' reviews, try free trials, and enjoy all the benefits of digital progress!
---
More stories like this
---