---
You can also be interested in these:
---
Focusing on productivity at work, we brought you a detailed review on the MSI Modern AM242TP 12M, an all-in-one desktop computer that only needs one power cable to function. In a single device, we have the CPU and monitor, as well as wireless keyboard and mouse to minimize wiring to the maximum.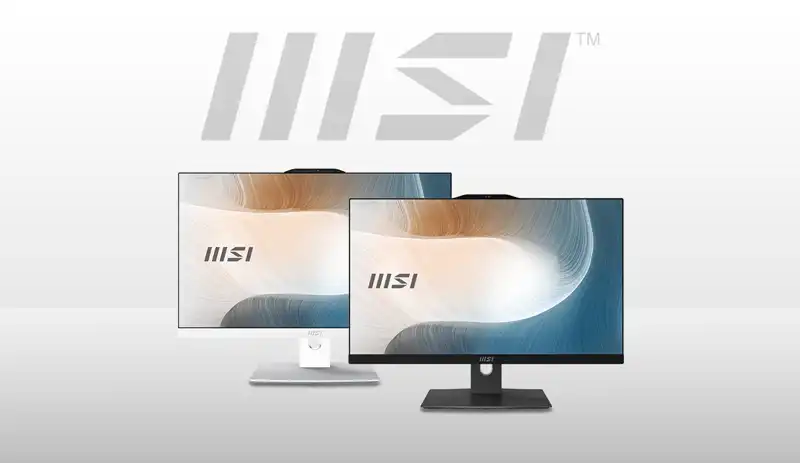 Design
First of all, the MSI Modern AM242TP 12M offers a simple and elegant design, perfect for professional office environments. It can go unnoticed with an extremely thin bezel screen, as these are minimal except at the bottom. With a minimalist design, it offers dimensions of 542 x 195 x 535 mm and a weight of only 6.16 kg, values that show good work to hide the unnecessary.
The back of the AIO is also elegant, with a design that combines a shiny area and another that mimics the polished aluminum finish, although both are made of plastic. In addition, the stand allows you to adjust the height by 130 mm and the tilt of the screen by 20º.
Screen Features
One of the distinctive features of the MSI Modern AM242TP 12M is that it has a 23.8-inch touch screen, with an IPS LED panel that offers Full HD resolution of 1,920 x 1,080 pixels. Therefore, we have a pixel density of 92.5 PPI, a very tight value that makes pixels visible, especially if you come from a 4K screen. Anyway, it offers an anti-glare surface and features MSI Anti-Flicker technology to avoid the harmful flicker of LED screens from previous generations.
In addition, at the top of the screen we find a FHD webcam compatible with Windows Hello, a very convenient detail for a computer where virtual meetings are likely to be held frequently.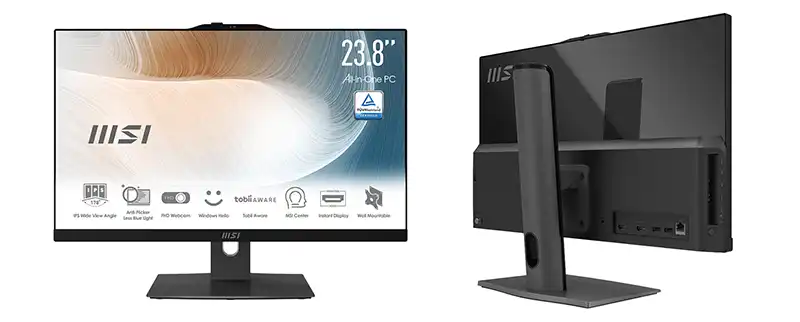 Connectivity of the MSI Modern AM242TP 12M
At the back of the MSI Modern AM242TP 12M, we have an HDMI 2.0 input and output that allows us to connect an additional monitor and also use it as a monitor from another image source. Alongside them, we find two USB 2.0 ports and an RJ-45 connector for the Realtek RTL8111H GbE network card, which is combined with an internal Intel Wi-Fi 6 AX201 that also offers Bluetooth 5.2 connectivity.
On the left side, we find the rest of the connectivity with two USB-C 3.2 Gen2 ports and two USB-A 3.2 Gen2 ports, all with speeds of up to 10 Gbps. Additionally, it has a TRRS jack connector that allows for combined headphone and microphone connection.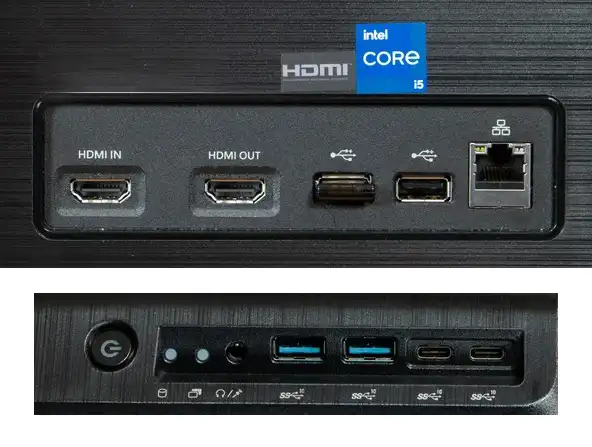 Hardware of the MSI Modern AM242TP 12M
Now we focus on its hardware, starting with its Intel Core i5-1240P processor. This is a 4 Performance core and 8 Efficient core model, which translates to 16 processing threads capable of reaching 4.4 GHz in the case of the former.
This processor is accompanied by 16 GB of DDR4 memory with a speed of 3,200 MHz in a dual-channel configuration, which is excellent. Additionally, the processor includes Intel Iris Xe graphics with 80 execution units and a maximum frequency of 1.3 GHz.
Storage
For storage, we have an M.2 PCIe Gen3x4 SSD, specifically a Western Digital SN540 512 GB. Additionally, we have an easy-to-access 2.5-inch port that allows us to increase the storage capacity in seconds.
Performance
The Intel Core i5-1240P processor offers outstanding performance in single-core tasks and acceptable performance in multi-core tasks, although it does not reach the high-end range. However, its integrated graphics offer limited performance, with a score of 1,500 in 3DMark. Time Spy indicates that only simple games or some competitive games can be played with minimum graphic quality.
In addition, we must mention its very low power consumption, with a maximum of 43W, making it truly power-efficient. However, temperatures rise to an average of 80°C with peaks of 90°C, although the cooling system is barely audible compared to background noise.
Conclusion on the MSI Modern AM242TP 12M
Upon finishing the review of the MSI Modern AM242TP 12M, we highlight its all-in-one design that minimizes wiring, as we will only need one power cable. It has a compact size and weight, making it ideal for a 23.8-inch touch screen with Full HD resolution.
This AIO is suitable for office and multimedia tasks, but it is not designed for gaming or content creation, where a dedicated GPU would be required. However, its power and performance make it ideal for increasing office productivity. The inclusion of a built-in FHD webcam and wireless keyboard and mouse, as well as its excellent USB 3.2 Gen2 and network connectivity, are points in its favor.
The MSI Modern AM242TP 12M is available starting at $800 for the 11th-generation processor model, while the model that was reviewed here costs around $1,400. These prices are in line with the type of equipment they offer, being very compact and fully integrated, although still higher than the prices of a conventional desktop PC.
---
More stories like this
---