---
You can also be interested in these:
---
Currently the new generation of laptops is identified as the twelfth. At the moment, only laptops with a 17-inch wide screen are receiving this new update in terms of Intel processors. Today it's time to thoroughly review the MSI Raider GE76 12U, a laptop with generous hardware features, which doesn't take away its harmonic and elegant aesthetic thanks to its 26 mm thickness. Let's jump right in!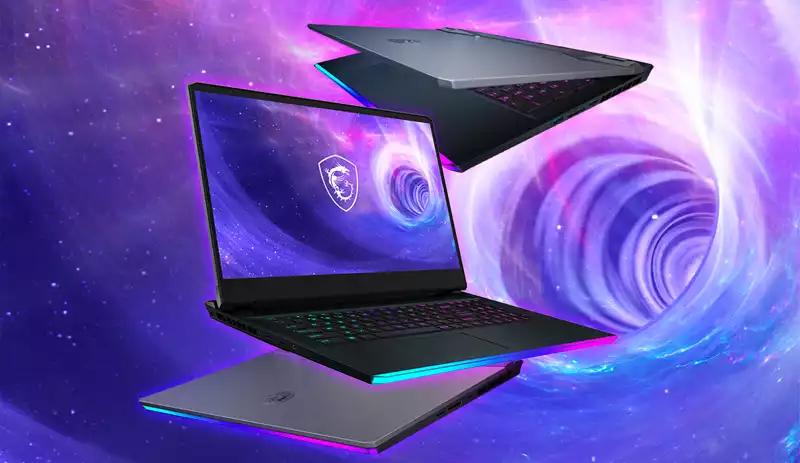 With a design similar to that found on 11th generation
The MSI Raider GE76 12U maintains its appearance compared to the last generation of laptops of this brand, however now it integrates an Intel i9-12900HK type processor (considered the most powerful Intel processor to date, and perhaps the most powerful in the market), of course, together with this type of processor, graphics performance cannot be left out, including an Nvidia RTX 3080 ti with fully optimized cooling system.
In the display department, a 360hz screen with FHD technology is included, so both streaming content in 4k and playing video games at full resolution will be child's play. The MSI Raider GE76 12U will allow you to play any video game competitively (eSports) without any problems.
This laptop is similar to the GS line, with an ultra-thin format thanks to its 26 mm thickness, of course, which makes it super portable. The processor includes Intel's Alder Lake technology.
To distinguish from any other similar equipment, this laptop includes an aluminum cover with blue touches, the corners are well protected in order to prevent the screen from being affected by any hit.
Although the lid is eye-catching, its matte finish may leave the occasional stain after touching. The sides of the MSI Raider GE76 12U are very resistant and with a solid construction, in order to prevent the screen from bending or breaking.
The front of this portable computer includes a light strip that will enhance the look and make it more appealing to the gamer needs. In addition, it jumped to our attention that this laptop has a small uneven surface that will allow the hands to rest perfectly and increase comfort when they have been given several hours of use.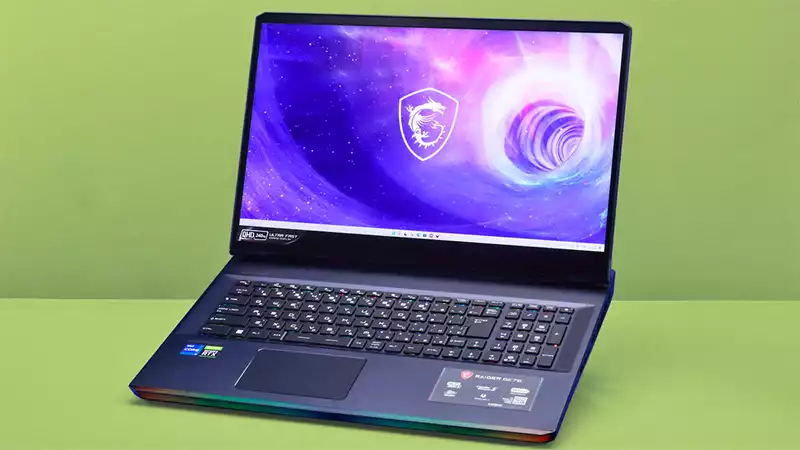 MSI Raider 12th Gen connectivity
In terms of connectivity, the MSI Raider GE76 12U will have about three zones with different ports located as follows:
Rear area:
1 HDMI 2.1 port
1 LAN RJ45 Ethernet port
1 USB-C Thunderbolt 4 port
1 mini-DisplayPort port
Right area:
2 USB 3.2 Gen 1 Type-A ports
1 SD card reader
Left area:
1 USB Type-A port
1 USB Type-C port with DisplayPort
1 3.5 mm audio and microphone jack
1 Kensington lock slot
1 LED charge indicator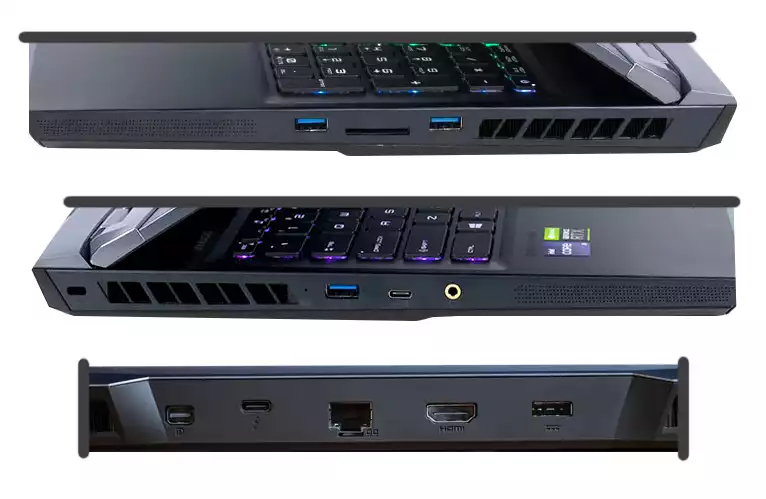 In total, this MSI Raider includes about five USB ports, which are not bad at all, however, one of them has Thunderbolt 4 technology, with an incredible transfer rate of 40 GB per second.
Of course, this equipment no longer uses the old VGA technology, but this will not be a problem since it includes an HDMI port and a Mini DP port.
If you have an Ultra-High-definition television, you will be pleased to know that the HDMI port of this MSI can deliver a resolution of up to 8k with 60 Hz and about 4k with 144 Hz. The best thing about the Mini DP port is that it will be possible to integrate up to three additional screens to the laptop, in case you have to visualize a project or game in several interfaces.
The SD card reader can perform data transfer between the computer and this storage device with a speed of up to 1 Gbps. The technology of the LAN port makes it possible to transfer information with up to 2500 Mbps while the WiFi with a 6E AX1675i network card provides the same transfer speed. Of course, the network card is capable of connecting to 2.4, 5 and 6 GHz networks, with a maximum transfer speed of 574 Mbps under the 2.4 GHz network.
Display compatible with competitive gaming standards
Of course, aside from the display modes we discussed earlier, the MSI Raider GE76 12U can support various pre-sets like UHD 120Hz, QHD 240Hz, and HD 360Hz. The screen itself is an IPS AUO LCD model B173HAN05, a little over 17 inches which, although it is a screen similar to the one used by other laptops of this size, it implements a completely innovative technology. In fact, the only notebook that has enough LCD power to stand aside is Sharp's LQ173M1JW12.
This screen offers an incredible contrast ratio of up to 1000:1, but the brightness is not as good as other equivalent laptops, sitting at 300 nits. However, the colors are sharp and vivid thanks to its sRGB technology, accompanied by a depth of 8 bits. We expect it to have a response time of 3 ms, a point that the manufacturer has not yet specified, but which is already a standard in this type of equipment intended for a gamer audience. In any case, this screen will have OverDrive technology, which greatly improves the response rate of the screen.
Sound of the MSI Raider GE76 12U
This laptop has two speakers that perform as if they were four thanks to its Dynaudio configuration, a system that allows two-sided speakers to have surround sound, however, this audio system had already been seen in previous generation laptops, so let's just say it works so well that they've decided to leave it as it is for this generation. The sound can be equalized and managed through the Nahimic application.
When increasing the volume, the audio quality is maintained up to 70% or 80%, leaving only the mids and treble if the volume is turned up to the max. The laptop has several audio outputs to strengthen the idea of ​​surround sound within a laptop PC. Another positive point of this multiple audio output configuration is that no matter the position of the laptop, you will always be able to hear the sounds clearly.
A decent webcam for a high-end laptop
The webcam includes two microphones, one dedicated to capturing the ambient sound and another directionally to capture the voice, they are capable of canceling the ambient noise with precision thanks to the hardware configuration and the artificial intelligence that is included through the MSI Center, the program that manages video and audio recording. In terms of video quality, it can capture HD video at 30 FPS, however, the lack of an infrared sensor for facial detection was noted, and just like other modern laptops in the same line this is a common method to unlock the device. Just like face detection, we also noticed it cannot be unlocked by fingerprint, since it doesn't include a fingerprint reader sensor for biometrics, a pity since this wastes the ability of Windows 11 to detect fingerprints.
Large touchpad and keyboard
Another feature that has not suffered any type of change compared to the previous generations is the keyboard and touchpad of this laptop, both of which have already been seen in previous models before, but this is not necessarily bad news, since they work very well and are very comfortable.
The area of ​​​​the keys is spacious, each one has 15×15 mm and they have a good separation between them, perfect if you are a person who usually types quickly and needs good precision.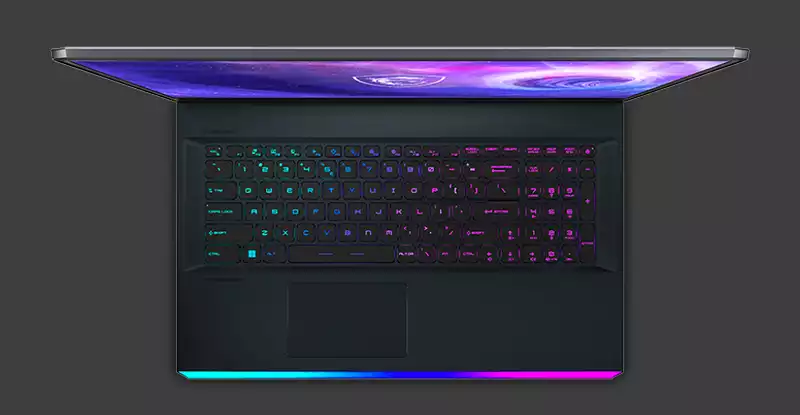 To give it a new generation touch, the keyboard of the MSI Raider GE76 12U has the ability to backlight with vivid colors, but what is really interesting is that you can change the color of the illumination of each of the keys, although you will not be able to mix colors as you would on any other gaming gear.
The Aurora panel can also be backlit in a custom way, giving a clear signal that it is a powerful device designed for heavy tasks in terms of graphics. Finally, the arrow keys can have a double function, in addition to having their row of "F" keys. The touchpad remains in a standard size compared to other laptops of the brand, being easy to use and with firm buttons.
Hardware of the MSI Raider GE76 12U
In terms of hardware and features that enhance this, we have nothing more to do than praise this powerful configuration and in such a compact body. Just by mentioning its i9-12900HK processor together with its latest generation Alder Lake 10nm architecture, you can get an idea of ​​the great calculation capacity it can reach. You have 6 main cores or P-Core running at 5 GHz, while the E-Core or power saving cores run at about 3.80 GHz, which is not bad at all. If you wanted a perfect laptop to carry out several tasks at the same time, this laptop will be the ideal for you, since it has a capacity to process 20 threads, with 24 MB of L3 type cache.
However, as incredible it might seem, the processor is not the element that steals the show, rather it is its NVIDIA RTX 3080 Ti graphics, an integrated graphics card for laptops that undoubtedly offers the best experience in terms of processing power of a GPU on the market. It features 58 SM and 7424 CUDA cores, 23 3rd generation Tensor cores and 58 2nd generation RT cores. It has a solo consumption of 175W that allows the internal clock to work at 1590 MHz, which can reach 1790 MHz thanks to the Boost that can be given virtually. This is 16 GB of video accompanied with a bandwidth of 512 Gbps and 16 Gbps effective.
As for the RAM, this laptop boasts of having DDR5 type and integrates two cards of 16 GB each, these have the same technology, for which they are synchronized to provide up to 4.8 GHz. To complete this wonder-of-a-hardware, two hard disks are integrated, type SSDs of 2TB each, for a total of 4TB of storage, although these have not been configured in dual mode (which can be done without problems).
How does such a powerful and compact computer cool down?
We have the most powerful processor and the most powerful graphics in a body that is just over 20mm. How did the engineers make this possible without this laptop turning into a grill? The answer is simple, and it's called Cooler Boost 5, a custom-built cooling system for the MSI Raider GE76 12U that does its job efficiently, but is a bit noisier than previous generation laptop coolers.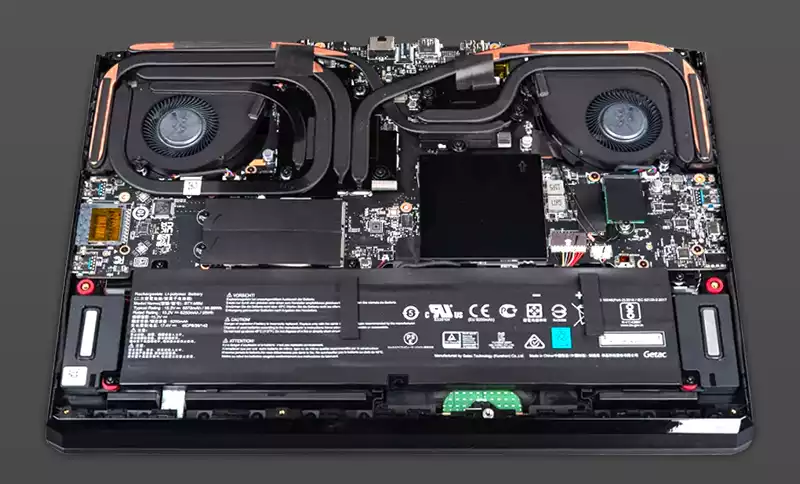 If you don't like noises, no matter how small, Cooler Boost will be a major problem, since even if you configure the RPM rate to be low or medium, you will still get a noticeable noise.
Cooling is done by two fans housed within an elaborate system of copper pipes that distribute air to all components prone to getting hot. The air comes out to the sides and to the back of the laptop. Special emphasis is placed on the GPU in terms of cooling. In total there are 6 wide and thick copper pipes that carry the hot air from the CPU and GPU out of the device. The copper does not make direct contact with the chips, but is instead are coated with silicone.
Conclusions about the MSI Raider GE76 12U
The MSI Raider GE76 12U is, without a doubt, the most powerful device we have tested to date in the field of notebooks. It is a high-end laptop on which you can play perfectly in competitive mode, in addition to supporting screen recording in high definition, which makes it perfect for people who like to perform live while they play or content creators or streamers alike.
To withstand the high temperatures coming from the processing chips, a new standard in cooling has been used, which is liquid metal thermal paste. This works very well to combine with the noisy fans and keep the laptop cool. The battery has a range of about 4 to 5 hours playing video in high definition while performing normal tasks that had to do with multimedia has lasted for nothing less than 6 hours and a half.
Its design appeals to a young audience and it is not a laptop that looks like an office computer, but it is not very extravagant either, especially following the same line to the rest of the MSI laptops.
The screen is another relevant aspect after the CPU and GPU, with the possibility of displaying images at a rate of 360 Hz, an experience never seen before that is worth taking advantage from while playing. The touchpad, on its part, is somewhat boring, we wouldn't mind having a little bit of color here.
The price will be a problem for some users who want to experience a new era in terms of laptop gaming, since $5,000 USD is a bit high for a laptop but considering that it is the most powerful laptop in terms of processing and gaming up to the date, it would be a small investment for long hours of happiness. If you want a somewhat "cheaper" version, you can purchase the model with an i9-1270H processor and say goodbye to 2TB SSDs, since this version only includes a single 1TB SSD.
The conclusion is simple. Do you have the budgetary strength available to test the power that the MSI Raider GE76 12U can offer? You can go ahead and buy it, you won't regret.
---
More stories like this
---