---
You can also be interested in these:
---
If you combine the best possible aluminum case design, maximum thinness and top-notch hardware setup and screen display you will end up with the MSI Creator Z16 A11UE. Competing with the MacBook and Asus ZenBook for the supremacy of ultra-light high-performance laptops niche, we have this MSI laptop boasting also gaming performance thanks to an i7-11800H CPU and an RTX 3060 GPU. One of its most impressive features is its 120Hz QHD+ display, also been implemented for designers with a 16:10 format. Let's dive deeper into this computer.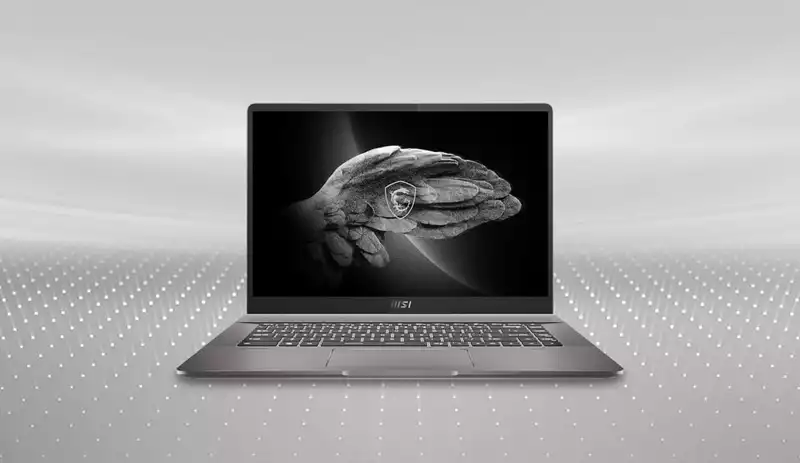 Machined aluminum case design and outstanding performance
Without a doubt a marvel to behold, this is how we can define the MSI Creator Z16 A11UE. The brand has used all its creativity to give us an extremely elegant device. Far from what we see for example in the gaming lineups and even the previous MSI Creator products, this new model has rounded edges, using a high precision CNC machining process for its chassis construction, made completely in aluminum.
This model has a MIL-STD-810G military certification, only seen in this type of products and also smartphones. These evaluations include tests of resistance, heat or humidity, which this devices has proven to withstand and therefore passed satisfactorily to be classified as resistant to very unfavorable conditions. In any case, the average user won't be putting this laptop under so much stress. The finish on the case it's worth to be mentioned, with its elegant Moon Gray color with flashes of a really cool metallic sheen, leaves few traces and fingerprints when touched but they can be wiped easily.
The MSI Creator Z16 A11UE is 15.9 mm thick, measuring 14 inches wide and 10 inches deep. The 16:10 screen ratio generates a wider appearance, especially with its 16 inches of diagonal length. These proportions make this laptop seem larger than it really is, the truth is, it's quite portable and lightweight weighing only 2.2kg.
The lid of the MSI Creator Z16 A11UE has a very smooth surface with micro roughness to allow a good grip. It is a mesmerizing mixed finish between metallic and matte, resembling the same finish used on Macbook Pros. It leaves few traces, which is not that bad. Finally, we couldn't miss the MSI logo embedded without any lighting.
The round corners are a rare novelty with the MSI brand, but a really nice addition to the overall design. These edges will end up with a flat finish on the side completing the unibody block it is built on. It is a fairly rigid screen for how thin it is, with only 4 mm.
In the back, there is an area at each end with visible heatsink vents. The right will be bigger as it has two fans installed. The hinges will be completely integrated into the body, opening the screen backwards to end up leaning on the ground. This will allow the laptop to be tilted forward slightly to improve usability and to allow more air to enter underneath.
The edges of the base will also be flat, coinciding with the ones on the screen, and with exactly the same curvature at the corners. In the front we have a cut to be able to open the screen from the center.
If we turn the device around, we see a fairly minimalist bottom area with smooth finishes made of plastic. Although this cover is divided into two apparently separate parts, this is not the case. We only have 4 non-slip rubber support points, enough to prevent the unit from sliding, with a large opening for the air intake towards the fans. We finish with the two lower openings for the quadruple audio output, using grilles.
Opening the lid of the MSI Creator Z16 A11UE we see its interior design, a roomy and well-distributed base with a wide keyboard layout thanks to its almost 17 inches monitor area. However, MSI preferred to have a more comfortable keyboard instead of including a numeric pad. The keys are matte black to match de design of the case, with a rather good and responsive feel to touch, and also RGB backlighting to see the keys in low light conditions. If you have greasy or wet fingers you will definitely leave a mark on them.

Above the keyboard there is a dotted mesh to dissipate the heat of the unit. Below it there is a fairly wide and shallow touchpad. We feel this could have been enlarged a bit, since there is space, and thus we would gain more precision. To the right of the touchpad there is a fingerprint reader.
As for the screen, we have a glossy finish achieving a more premium and striking finish. The screen panel frame has a thickness of 7 mm on the horizontal edges, 10 mm with integrated Webcam on the upper edge, and 25 mm on the lower edge.
Ports and connectivity
In this MSI Creator Z16 A11UE everything is fairly compact, but really powerful, specially on the sides. Part of these areas have been used for cooling vents, a common thing in Max-Q designs.
On the right side we have:
Micro SD UHS-III (XC/HC) card slot
1x USB-C Thunderbolt 4/DP
1x USB 3.2 Gen2 Type-A
And on the left side, we have:
3.5mm combo jack for audio output and microphone input
1x USB-C Thunderbolt 4/DP
1x USB 3.2 Gen2 Type-A
DC-In Jack for power supply

There will be a total of 4 USB ports available in this device. The 017ES variant is the only one that has two Thunderbolt 4 ports at 40 Gbps, since the rest have only a Thunderbolt 4 port and a USB-C Gen2. This interface also integrates DisplayPort 1.4 connectivity to connect high definition monitors, although nothing is mentioned regarding power delivery capacity. Something extremely important to be aware of: This is one of the few Windows laptops that doesn't have an HDMI port, a small disadvantage having such a powerful graphics card, the RTX 3060, and being unable to use it to the fullest.
As for network connectivity, we won't have an Ethernet connector, so we will have to rely fully on its top-of-the-range Wi-Fi card. We are talking about a Killer Wi-Fi 6E AX1675x with Tri-band capacity by integrating 2.4, 5 and 6 GHz. This card is compatible with 1024QAM and 160 MHz to give us a maximum bandwidth of 2.4 Gbps in 6 and 5 GHz, and 574 Mbps in 2.4 GHz. As usual, we will have a TPM 2.0 chip to give us native Windows 11 support, which we can update when we deem appropriate.
120Hz QHD+ screen display
The screen that comes in the MSI Creator Z16 A11UE will be one of the signature features on the Creator series, as it maintains a high color performance just like previous models, with an even larger profile, in addition to increasing its refresh rate as well. Additionally, there is a new 16:10 image format specially useful in creative design applications, which will give us a wider desktop thanks to a 16-inch diagonal. MSI will have a touchscreen version available, but this is not the case for this specific model we are reviewing.
The screen uses an IPS LCD panel with a native QHD+ resolution of 2560 x 1600p, perfect to take advantage of the power of the Nvidia RTX 3060 graphics card included. In addition, it will give us great desktop width and incredible screen sharpness by delivering almost 190 dpi density. If we add to this a refresh rate of 120Hz with Adaptive Sync, we obtain great fluidity not only business and education application work, but also in games, although the focus of this laptop is not the latter.
The model of the panel is the B160QAN02.P, manufactured by AUO. The color capacity has been greatly enhanced, since this is a 400 nits brightness (without HDR Display) and 100% DCI-P3 color coverage rated screen. Each unit will be individually calibrated and verified by Calman, ensuring a Delta E <2, considered ideal for design. Just to have an idea on its fidelity, the human eye won't able to distinguish between a real color and the one represented on the screen.
With such features, MSI's True Color software couldn't be left out. This will allow us to manage the panel configuration. Factory installed, it has several modes of color representation in the main spaces (sRGB, Adobe RGB, DCI-P3 and P3), as well as other predefined modes. We are allowed to modify parameters such as brightness, contrast or color temperature. Also calibrate the panel with a colorimeter, among other things. Extremely necessary and interesting to get the most out of the screen as if it were a separate monitor.
In this case, we have a mirror-like glossy finish on the screen, an important difference from the rest of the brand's gaming products. It will give a more striking or premium appearance, although on outdoor settings or with a fairly illuminated environment you will get enough reflections to make you want to go to the closer coffee shop. Regarding the viewing angles, they will be spectacular, exceeding the 178° of the IPS panels, without loss of brightness or color. Hands down, this is one of the best screens we have seen in laptops, so this is a very good job by MSI.
Impeccable audio system with 4 speakers
The MSI Creator Z16 A11UE raises the audio quality to what is really expected for a high-end notebook designed for creators. There will be 4 integrated high quality speakers. The distribution is striking, because they have placed them in pairs with woofer and tweeter attached, taking advantage of the same output per pair.
It is refreshing to finally see a laptop capable of matching top adversaries in this field such as the Asus ZenBooks, which to date, it is the point of reference of top-notch audio. The MSI Creator Z16 A11UE audio system considerably increases the presence of bass at the output, with wider and punchier speakers that give us a great experience viewing videos and movies. It has a high power in terms of volume, without distorting the bass or exceeding too much in the treble.
Therefore, the presence of Dyaudio as an optimization system is noticeable and appreciated from this model, however this won't be the only breakthrough in audio boost, because the Speaker Tuning Engine tool has also been implemented through MSI Center and management from Nahimic Audio. With the MSI software and the AI-based technology feature we can enable noise cancellation in the speakers to improve the sound experience, as well as noise cancellation in the microphone to increase the recording quality of the notebook.
Webcam
Moving on with the Webcam, this offers a standard HD resolution of 720p with recording at 30 FPS. At least they had the detail of implementing IR camera for facial recognition, thus having two biometric authentication methods in the laptop is a great inclusion. The dual-mic array with far-field recording offers good performance, enhanced by noise cancellation and Nahimic Audio filters.
Keyboard and touchpad
Now let's play a little more with the keyboard and touchpad of this MSI Creator Z16 A11UE. Both elements are at a fairly high level as expected. We have a successful compact design without a numeric pad, leaving wide margins on the sides and adopting a central position. This keyboard definitely improves the work experience.
SteelSeries is the company behind these peripherals, as they have always been for the MSI range of products. Its island-type design with 15 × 15 mm keys is very intuitive, with excellent smoothness, quiet feedback sound and increased key travel. The central area is very firm and without sagging, and the robust aluminum base is noticeable here.
The personality of the MSI Creator Z16 A11UE keyboard is unparalleled, with modern, wide and slim style font. By having a matte black surface and white characters, or rather, translucent to make it shiny for backlighting, they will be perfectly visible both day and night. The only small drawback that we see in the key design is that the matte surface will be easily stained with the grease of our own fingers and our fingerprints, leaving the typical shine that ugly while we use it.
From the SteelSeries Engine software, we can manage the MiniLED Per Key lighting system of the keyboard, with different predefined effects and a fixed mode to customize the color of each individually. Maximum versatility in this regard, although still below the possibilities that Razer Chroma gives us, even not being a fair comparison. This keyboard also allows customization of functions in all its keys, as well as creation of macros.
As for the touchpad, we have a panoramic or ultra-wide design with measures of 120 x 60 mm, with a perfectly installed trackpad. We still feel this could have been extended a little more, this it is not bad as is. The integrated buttons with little travel, soft and low noise click are also very well implemented.
MSI Center Software
In this MSI Creator Z16 A11UE we will be able to configure even more functionality aspects than ever thanks to MSI Center, the brand's management software. The latest version has been updated and now it integrates a lot more functions using a white skin in the pure Creator style.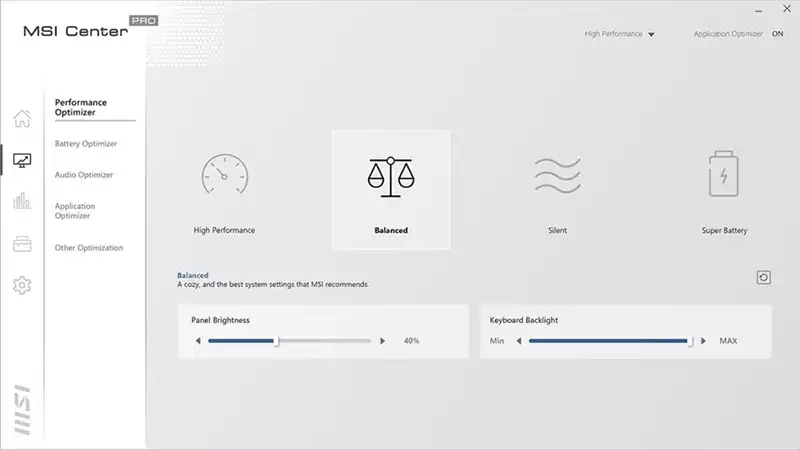 We are welcomed with a list of laptop specifications with the record and history options to this first section. We will see here optimization tools with performance modes, battery charge profile, audio, SSD and application optimization.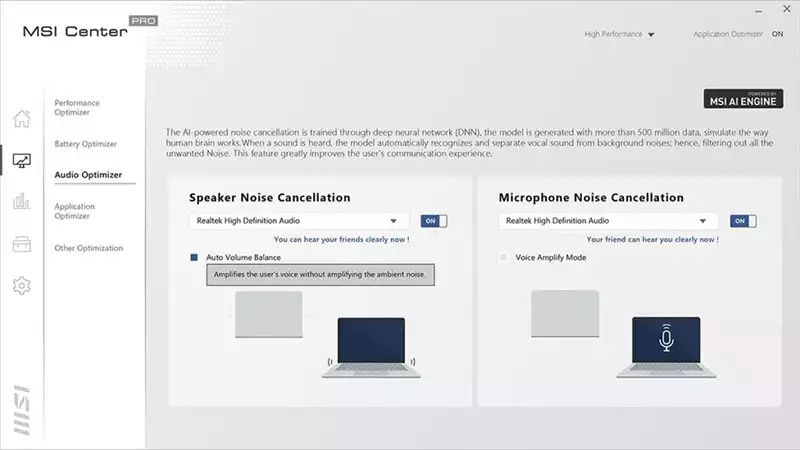 A specific section has been added for computer performance analysis, to evaluate the status of our laptop and operating system. Here we will find the restore mode or 1-click optimization for RAM and SSD.
Internal and hardware features
This MSI Creator Z16 A11UE will have a hardware worthy of a gaming laptop, something increasingly common in these models designed for creative production. Obviously its ultra slim design will affect the pure performance and temperatures a bit. We have the components such as CPU or GPU located out of the user's view, and we will not see much of the heatsink either. The M.2 and SO-DIMM slots will also be on the hidden location, posing an extra problem for the user to upgrade.
Inside we find an Intel Core i7-11800H processor with 8 physical cores and 16 threads under a 10 nm SuperFin manufacturing process that allows to considerably improve the IPC and consumption. Its boost frequency is set at 4.6 GHz, along with a 45W TDP configurable to 35W, ideal to save battery life. The L3 cache is increased to 24 MB, while the L2 cache will be 1.25 MB for each core.
The second key element will be the GPU, being an Nvidia RTX 3060 with TGP lowered to 65W, packing a Samsung 8 nm chipset with Ampere architecture. In this model we will have a base frequency of 817 MHz and a boost of 1282 MHz. Although its TGP has been adjusted a lot, it does not stop offering an acceptable frequency range, the same for example as 75W variants.
Inside we will have 30 multi-processors that will add 3840 CUDA Core, 120 3rd generation Tensor Core and 30 2nd generation RT Core, generating 48 ROPs and 120 TMUs. We will have 6 GB GDDR6 of VRAM memory, working at a frequency of 1500 MHz (12 Gbps effective). Its bus width will be 192 bits and the bandwidth of 288 GB/s.
The RAM memory configuration this time will be 32 GB, conformed by two Samsung DDR4 modules with an effective frequency of 3200 MHz, taking advantage of the Dual Channel mode for games. The Resizable-Bar feature will be enabled in the computer BIOS to take advantage of the Nvidia GPU capabilities. The storage capacity consisting of a Samsung PM9A1 PCIe Gen4x4 SSD with a 1TB capacity that generates transfers of 5000 MB/s in file reading. We have options for future expansion with a second M.2 Gen4x4 slot, which leaves room for improvements in both RAM and storage.
Cooling system

The company tried to give us the best possible heatsink for the MSI Creator Z16 A11UE. It is the Cooler Boost Trinity+ model, which has three fans to maximize air flow in a compact space as tight as this device. Two of them sit on the right to effectively cool the GPU, while the left one is dedicated to the CPU. These fans have blades that are just 0.1mm thick.
There are a total of 5 heat pipes, which are distributed between the two sockets, while a smaller one runs around the periphery of the GPU to cool the GDDR6 memory chips.
Battery and autonomy
This MSI Creator Z16 A11UE 017ES version features a 4-cell 82 Wh capacity lithium polymer battery. It is one of the characteristics that differentiates the three models, since the 020XES variant improves this to 99.9 Wh to giving us superior autonomy.
With a full charge we can have an autonomy of approximately 5 and a half hours performing text editing tasks, browsing at 40% screen brightness and saving profile in MSI Center. If we manage to stretch it to the maximum, we will possibly reach about 6 hours that would cover most of the study or workday, but always carrying out light tasks. In this regard, the 99.9 Wh version will surely increase its autonomy for the most demanding.
Final words and conclusion about the MSI Creator Z16 A11UE
There will be many who will fall in love at first sight, surely with the most refined design that MSI has made for this Creator series. All-aluminum chassis, impeccable CNC-finished with curved corners and edges, and only 16mm thick. This metallic gray with blue or violet reflection is highly original, as well as a successful 16:10 screen layout ideal for design tasks and office multitasking.
We believe that the second key to its success is the screen, and we could say that in general its multimedia capabilities. The QHD+ panel is a marvel in color and performance, as it has great sharpness, 400 nits of brightness and very precise calibration. Those 120 Hz of refresh rate will give the best fluidity to our tasks and games. The sound section with 4 speakers raises a lot of level, matching the ZenBook and giving us a great listening experience.
This is a rather secure device with its TPM 2.0 features compatible with Windows 11, two very valuable aspects in conjunction with a great security section thanks to the fingerprint reader and IR camera with facial recognition. In the connectivity department, double Thunderbolt 4 and double 10 Gbps USB, however they failed on including an HDMI port for desktop monitors, as there are still few that carry USB-C.
With an Nvidia RTX 3060 card, i7-11800H CPU, 32 GB RAM and Gen4x4 SSD, the hardware of this unit give us outstanding performance. Your biggest problem will be the temperatures in heavy tasks like 3D rendering or gaming. The battery autonomy obtained gives us guarantees to achieve an almost complete workday, as long as we do light tasks and keep its powerful hardware under control.
The MSI Creator Z16 A11UE will be available for a price of $2,999.99 USD, a figure that could certainly be more competitive when finding laptops of similar performance for less price. However, we understand that it is a fairly premium design, which totally worth it.
---
More stories like this
---