---
You can also be interested in these:
---
This MSI product is unlike anything you have seen before, that we can guarantee. Imagine just taking every single aspect of a motherboard component and taking it to an extreme, doing honors at its name Godlike, it is almost as it descended from heaven. We can arguably say this is by far the best motherboard you can possibly get for the Z690 socket on the market today. This model offers an exquisite design with its large form factor, full of heat sinks, cover plates and RGB zones. Just wait until we talk about the integrate LCD touch screen and BIOS voice notifications, your mind will be literally blown away.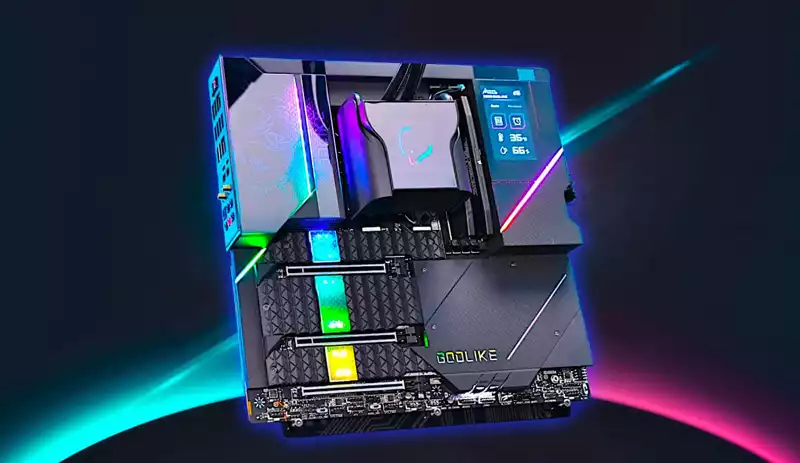 The MSI MEG Z690 Godlike is truly a beast, with 20 + 2 phases of 105A each, 6 integrated M.2 slots, dual Thunderbolt interface and the largest number of USB ports we have seen on a modern motherboard for an optimal peripheral connectivity. USB 2.5, 10G LAN + WiFi 6E and high-range sound card, this will be without any doubt, a purchase for years and years to come.
Design and technical specs
The first thing that shocked us while reviewing the MSI MEG Z690 Godlike was its size. This motherboard goes beyond the standard E-ATX motherboard format, having 305 mm height and 310 mm width. Therefore, you will need a full-tower case to house this beast. MSI has implemented a larger number of expansion connectors and data channels, hence the need of more PCB surface.
The culprit of its large size is the module on the top right corner, which contains a fairly large M-Vision LCD touch screen to interact with the motherboard setup, a complete revolution in innovation and definitely a feature we will see in upcoming motherboard models, with different setups to display and even voice integrated BIOS notifications. For some, the voice notifications can turn into a nightmare quickly, since error notifications will be repeated over and over again. Luckily this is a feature you can turn off anytime.
In a more-detailed look, this motherboard is made of a fairly rigid plastic with a glossy-like finish on the top surface, reflecting gracefully the light from its RGB lighting band. The BIOS display module is serving two purposes, besides the one we have already discussed it also acts as a cover, encasing all the ports located on the right edge of the board.
It is a good thing MSI has decided to orient all these internal headers in a 90° angle. We can access this panel comfortably and connect all the cables from the back of the motherboard. Here we can find USB expansion ports, SATA, fan connectors and an ATX header. On this arrangement, only the 2 USB type C connectors have the standard upright orientation. Here we can also find the Debug LED module and an additional unit to check the voltage manually.
On the MSI MEG Z690 Godlike, from the LCD screen heading towards the left, we see an immense passive cooling heatsink for the VRM, made of two Shield Frozr blocks joined together by a copper heat pipe. On top of this a glossy finish cover has been added with integrated RGB lights. On the top-most part of the motherboard there are notches on which an included external plate can be mounted, screwing it in the slots and then covering with a case using magnets.
In the middle section of the board, the absolute whole area is covered with aluminum heatsinks with an interesting grey matte finish. There will be 3 thick blocks covering the 6 available M.2 storage slots with double-sided high-performance thermal pads.
To gain access to the M.2 slots, we first need to disassemble the plate that covers the chipset area, also with a great looking matte finish and integrated RGB lights. Once revealed, we find a passive heatsink, access to an additional SSD slot, accompanied with the Reset and Power buttons on the motherboard. The lower section of the board is dedicated to peripheral connection. There is a second plate that can be used to cover the middle and lower parts of the motherboard, just as we have explained earlier on the top part.
We will also find on this board the traditional Clear CMOS bridge, although there is already a dedicated button for this functionality. There are two BIOS systems within this board, and we have a switch to select one or the other. There is also a switch to toggle all LED lighting on the board on or off. Additionally, we will have 4 connectors for external lighting strips: 2 5VDG headers for A-RGB, 1 header specifically for Corsair lighting strips and 1 header for 12VRGB Rainbow. The back of the MSI MEG Z690 Godlike is completely covered.
The most powerful VRM on the market
The MSI MEG Z690 Godlike stretches the limits of what we thought it was possible packing a 20 phases Vcore VRM and 2 additional phases for SoC. Having such a powerful VRM comes with the price of a larger motherboard size. To supply power to the whole assembly, 2x 8-pin EPS connectors are integrated with steel encapsulation. We don't have extra PCI power connectors in this unit and the Thunderbolt support a power delivery rate up to 15 W.
This motherboard has 20 Renesas RAA 22010540 with a nominal capacity of 105A for the DC-to-DC conversion on the VRM, the most powerful setup that has ever existed as of now. Besides these we have 2x MPS2212 / MP87992 MOSFETS with 70A capacity present in most modern Z690 motherboards. The Vcore uses a direct phase configuration without duplicators, managed by a Renesas RAA 229131 controller, also commonly seen on this configuration.
In the signal smoothing stage, we have a total of 22 + 1 3rd generation titanium chokes and polymer capacitors so that the energy signal reaches the CPU in perfect condition and without latency. We therefore see that electrolytic capacitors are not being used for this stage, indicative of the quality and performance that the MSI MEG Z690 Godlike can achieve.
Memory, chipset and socket
The MSI MEG Z690 Godlike, as we know it, will be compatible with 12th Gen Intel Core, Pentium and Celeron processors. It is not yet entirely clear which socket Raptor Lake will use, although we really hope there could be some sort of integration between the two. The LGA 1700 socket will be in charge of connecting our Intel Core 12900K, which is larger in size and has a new anchoring system that is safer and easier for the user.
The Z690 chipset present on this board expands its capacity to a total of 12 PCIe 4.0 lanes, 16 PCIe 3.0 lanes, support for up to 8 SATA 6 Gbps ports and a new DMI 4.0 Chipset-CPU interface with a capacity of 128 Gbps for each of its 8 lanes. Added a capacity of up to 4 USB 3.2 Gen2x2 (20 Gbps), or 10 USB 3.2 Gen2 / 1 (10 Gbps), or 16 USB 2.0. A PCIe lane will be allocated for the Ethernet network connection, and optionally, 10 Gbps Ethernet LAN can be also implemented. Last but not least, there will be native support for Thunderbolt 4, Wi-Fi 6E and high definition audio.
The limits for the DDR5 Ram capacity granted on this motherboard is, as it would be expected, the maximum capacity available for MSI: It supports 128 GB with maximum speeds of 6666 MHz in dual configuration. Also, it boasts having the flagship MSI Memory Boost technology and support for XMP 3.0 profiles, with 3 default ones set by the manufacturer and ready to be used, and an additional 2 that can be set by the user. As with the rest of the models, an SMT (Surface Mount Technology) welding system is used, which consists of sinking the back welds into the PCB itself to provide better electrical insulation and resistance to wear and tear.
Out of the ordinary storage and PCIe configuration
Having such a large storage capacity is unprecedented for motherboards currently. The MSI MEG Z690 Godlike has the largest amount of integrated M.2 slots on the market with up to 6 available spaces, all protected with heatsinks. To this, it is also important to add the efficiency in the lane distribution in tandem with the expansion slots and additional connectivity. We also have an additional 6 x SATA 6 Gbps ports located at the right-hand side of the board. All storage connections, both M.2 slots as well as the SATA, support RAID 0, 1, 5 and 10, although only the M2_2, 4, 5 and 6 slots support Intel Optane Memory.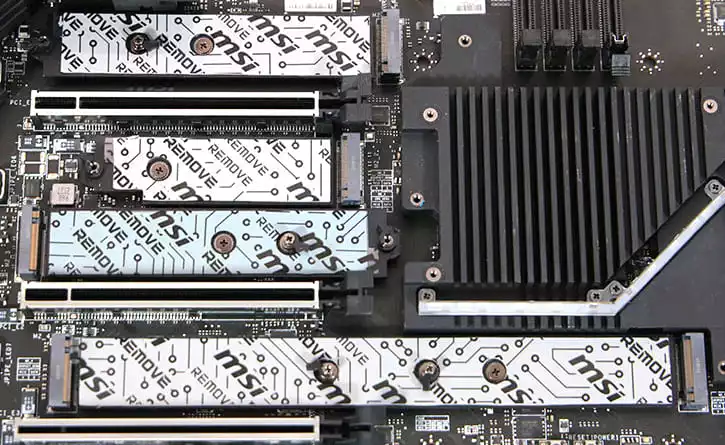 5 of the 6 slots are placed on a conventional horizontal orientation, while the 6th of them is located vertically between the chipset heatsink and the SATA ports, going unnoticed in most of the cases. You can use either use a quick install option for the SSD with a rotating latch or use the traditional screw mounting as you please.
What are the operating conditions per each slot?
M2_1: This slot supports formats up to 22110, operating on the PCIe 4.0 interface as it is exclusively connected to the 4 lanes of the CPU.
M2_2: Supports formats up to 2280, being connected to 4 PCIe 4.0 lanes of the chipset without sharing bus.
M2_3: The third slot in order of location is connected again to the CPU, more specifically to 4 lanes of PCIe 5.0. It is the only board that has a slot with the ability to natively use next-gen PCIe 5.0 SSDs (as we perceived). It shares the bus with the PCI_E2 slot, being disabled if we use that slot at its maximum capacity.
M2_4: Supports 2280 formats and is connected to 4 PCIe 4.0 lanes of the chipset, also supporting SATA SSD. This slot shares the bus with PCI_E3, leaving the slot disabled when we install an SD SATA in it. In case of installing a PCIe SSD, M2_4 will work in x2, while PCI_E3 will work in x1 mode if they are used simultaneously.
M2_5: Supports 22110 formats and is connected to the chipset in 4 PCIe 4.0 lanes, sharing the bus with the SATA7 port. Therefore, the SATA port will be disabled if we use that slot.
M2_6: The last M2 slot supports 2280 formats and is connected to 4 PCIe 3.0 lanes of the chipset. It does not share a bus with any other lane, being a highly recommended slot for the use of PCIe 3.0 SSDs.
In respect to expansion card slots, we have a total of 3 in x16 format, although not all of them will work at maximum capacity. The two main ones support MultiGPU Nvidia SLI and AMD CrossFire, and all of them have a steel reinforcement for increased resistance.
In the case of PCIe, the operating conditions go as follows:
PCI_E1: It is considered the main slot and the only one that has its 16 PCIe 5.0 lanes connected to the CPU.
PCI_E2: The second slot shares a bus with PCI_E1 as it is connected to 8 PCIe 5.0 lanes of the CPU, but at the same time it also shares a bus with M2_3 as we have seen before. The two PCI_E slots at the same time will be able to work in x16 / x0 or x8 / x8 mode.
PCI_E3: This slot is connected to 4 PCIe 4.0 lanes of the chipset, and as we have seen before, it shares the bus with M2_4, taking into account the above-mentioned operating conditions.
it comes to our attention the use of many of the storage slots is subjected to certain conditions to be met by the way all shared lanes are structured. The most practical case scenario under these circumstances is having only a GPU in our main PCIe slot, so we can use all storage slots at the same time.
Sound card and network connectivity
On the MSI MEG Z690 Godlike we have an impressive network configuration. It consists of a triple interface, having an Intel I225-V LAN interface with a bandwidth of 2.5 Gbps, and another interface with an Aquantia AQC113CS chip with a bandwidth of 10 Gbps. For this to take into effect and in order to get the most out of this configuration we would need of course a 10G internet connection. However, the benefit of having this setup can be noticeable no matter what.
In the WiFi section this board comes armed with an Intel Wi-Fi 6E AX210 card, which enables us to use the 6 GHz frequency (up to 7.125 GHz). In this type of connections channels are added for a stronger linkage in areas where 5 GHz and 2.4 GHz are saturated. For 5 and 6 GHz it has a bandwidth equal to 2.4 Gbps, whereas for 2.4 GHz it has a bandwidth of 574 Mbps, including a third SSID exclusively for 6 GHz. It also integrates support for OFDMA, MU-MIMO, BSS Color, frequency of 160 MHz with 1024 QAM and Bluetooth 5.2 interface.
In the sound department this board brings a Realtec ALC4082 codec, supporting 7.1 channels of high-definition audio, which increases the audio performance compared to the immediate inferior model. There is a connection for professional-grade headphones with 600 Ohm of maximum impedance and the best Japanese Nippon capacitors on the market with the module ESS ES9218PQ DAC. The rear panel has 5 analog interfaces and an optical S / PDIF port for digital high-definition systems.
I/O back ports and internal connections

Now let's examine at a glance all the connections, both internal and external the MSI MEG Z690 Godlike has, for peripheral interfaces. Starting from the rear panel, we can find:
Flash BIOS button
Clear CMOS button
2x 2T2R outputs for Wi-Fi antenna
8x USB 3.2 Gen2 Type-A (red)
2x USB-C Thunderbolt 4
2x Mini DisplayPort 1.4
2x RJ-45 2.5 + 10 Gbps Ports
5x 3.5mm Jack
1x S / PDIF for digital audio
A whooping 8 USB ports with 10 Gbps capacity working seamlessly to ensure the best connectivity ever, also adding 2 Thunderbolt 4 ports at 40 Gbps. The company is not fooling around when it comes to this rear panel connectivity, adding a fair amount of PCIe lanes for these. The Thunderbolt and DisplayPort interfaces will share the bus, supporting resolutions up to 8K and 15W (5V / 3A) power delivery.
And as the internal connectors we have at our disposal the following:
10x Headers for fans (1 specific for CPU FAN and 1 for AIO PUMP)
2x 20 Gbps USB 3.2 Gen2x2 Type-C Headers
2x USB 3.2 Gen1 connectors (supports up to 4 ports)
2x USB 2.0 connectors (supports up to 4 ports)
4x Headers for RGB strips (2x 5VDG ARGB, 1x 12VRGB Rainbow and 1x 5V Corsair)
AAFP front audio header
2x connectors for System Panel
TMP 2.0
2x Headers for external 2-pin temperature sensors
Connector for water flow sensor
Connector for external controller
In terms of cooling capabilities, we are covered in the MSI MEG Z690 Godlike with 8 + 2 internal connectors available. Most of them are located on the right side of the motherboard, right under the LCD screen. We can also find a few of these connectors scattered all around the board. They are joined together by two temperature sensors that are included in the board, pretty useful for monitoring the temperature of the GPU exterior, memories and any other component installed directly on the motherboard.
There is a control tool integrated in the MSI BIOS, with which we are able to customize the PWM / DC fan profiles of the installed devices. It has a small configuration wizard to teach us the basics on the BIOS, to automatically adapt the RPM of the profiles to the type of heatsinks / RL installed on the board. Some of the options on this configuration will also be present on the MSI Center tool.
On-board LCD touch screen
One of the distinctive features of the MSI MEG Z690 Godlike is the integrated LCD screen that, as strange as it might sound, can be controlled by touch. However, this is nothing like the responsive functionality we see in mobile screens. For some, the sensitivity of the touch screen might be a little harsh. In it we will have two different modes for basic and advanced settings, although for the latter we will need to have MSI Center installed in a version that is compatible with the board.
On the main screen we have information about the Debug LED, screen temperature and humidity. Under the two tabs to select the control mode, we have a button to access the configuration options and a timer. Within these settings we are able to modify the base clock frequency of the CPU, first configuring the Direct OC Button option within the BIOS. Below we have other important functions such as Clear CMOS, Safe Boost or OC Retry.

This screen will also display BIOS error codes, notifications for BIOS updates, weather info, date and time, or any image or GIF that we setup from the App, up to 800x480p. As we already pointed out, it includes a voice notification system for BIOS events and errors. We have to recognize it is a fairly innovative feature, but the truth is it will get old pretty quickly when repeating the information over and over again until we run out of patience.
Conclusions about this MSI MEG Z690 Godlike review
To finalize this analysis on the MSI MEG Z690 Godlike we have to say this motherboard is among the best 3 we have seen currently on the market for the Z690 socket. Its stability with the i9-12900K is impeccable, with really balanced temperatures for its 22-phase massive VRM and in the overclocking settings through the BIOS.
This board goes way beyond the scope of the casual or even the dedicated gamer, because it provides with tons of customization options for professional "overclockers" and use of LN2 or custom systems. The integration of a large touch screen on the board is quite nice and a great innovative addition, which allows us to even modify the CPU frequency without entering BIOS, monitor performance parameters or interact with the system through MSI Center.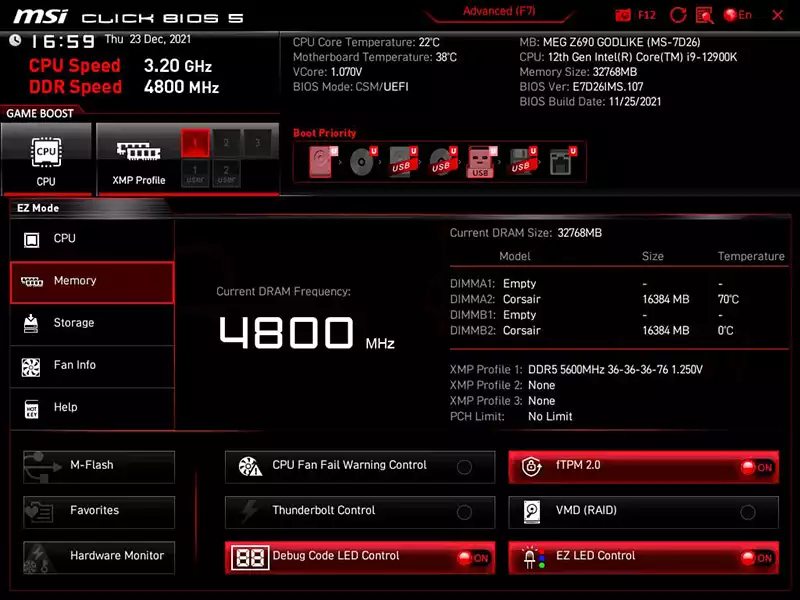 On the other hand, another strength we must mention is the magnificent integrated connectivity, being the board with more storage slots, with 6 M.2, one of them PCIe 5.0 for next generation SSD, and 3 expansion slots with Multi-GPU support. We cannot leave aside the double Thunderbolt 4, triple network connectivity with LAN 2.5G, 10G and Wi-Fi 6 E, or double USB-C Gen2x2 headers for front ports. The lane-splitting work is fabulous as well.
Its width of 310 mm, making it a real juggernaut, almost certainly requiring a full tower chassis, with the help of the included couplings. This is a blessing and a curse, since the aesthetics are sublime, full of RGB, aluminum heatsinks and such, but with the price of its form factor. The estimated price will be approximately $2,000 USD, however, take this amount with a grain of salt because of how changing the prices of these components have become lately.
---
More stories like this
---