---
You can also be interested in these:
---
This time around, MSI's approach for a mid-range gaming motherboard comes in the form of the MSI MAG Z690 Torpedo EK X, this unit includes a custom cooling system and better pricing than the CARBON EK X high range model while also carrying the latest Z690 chipset and a 16+1+1 duet rail power system with a 70A Smart power stage. DDR5 compatibility is included on this model, as well as four M.2 slots, three PCIe ports and USB Gen 2×2 ports.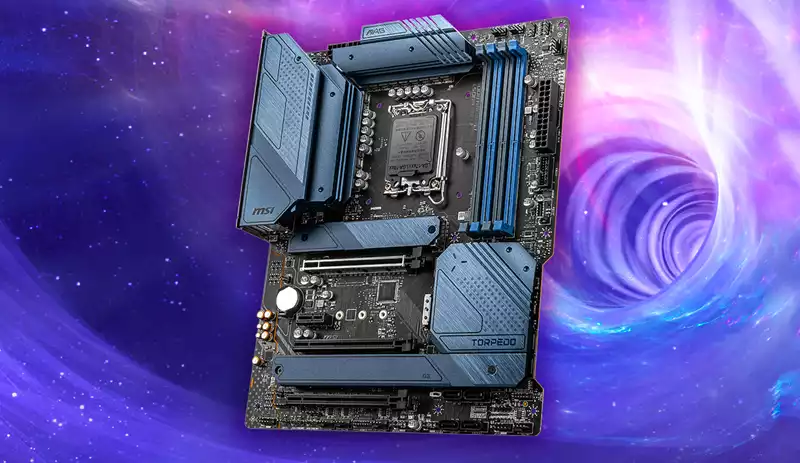 Package contents
Right out of the box, we can assess all the elements present for this model including: the motherboard MSI MAG Z690 Torpedo EK X in itself, the EK-Matrix7 custom cooling block, thermal pads, SATA cables, flash drive with drivers, instruction manual and registry card, installation screws, some included stickers and a metallic plate with MSI's logo on it. 
Design
To some level, the level of aesthetics for this new entry of MSI's is distinct from other models, the most notable contrast being the lack of Wi-Fi support and the slanted edge that matches next to the chipset heatsink. Another great decision for this design was the color palette. We really like the dark blueish gray details on top of the dark PCB, to make the accent colors light gray and blue seems to be a great way of visually organizing the elements not only for the users but for the distribution of components. 
Another difference we have encountered is the flat zones that normal models do not include, which correspond to the cooling system and pads that will regulate the entire phase/zone. We have also noticed the lack of a LED debug panel or power on buttons, instead just found a normal POST panel. As for the bottom panel, we also notice how the bottom half does not really allow the cooling system to make contact with the M.2 slot, which will be cooled by a normal passive aluminum block, however the lower slots seem to have their own cooling block side, surprisingly leaving the central panel exposed. 
Cooling system
The EK-Matrix7 adds a new dimension to the cooling systems we know, as it is constructed on a perfectly polished copper and nickel lower block in order to cool the CPU and VRM effectively, and an upper methacrylate cover with the corresponding circuit that will follow the water at its inlet and outlet. The circuit will run the entire VRM and central zone. Another surprising factor is the fact that the sockets are out of the CPU's range. Despite this, you will be able to run the cooling system in any direction you please.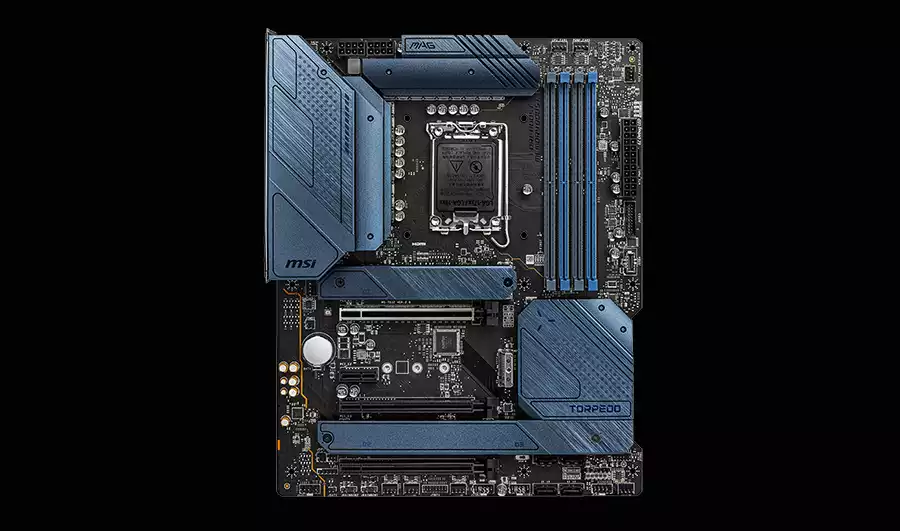 VRM
The MSI MAG Z690 Torpedo EK X VRM is constructed with 16 Vcore phases + 1 vccgt phase + 1 vccaux. This will be powered by two 8+8 pin EPS headers, using a DC to DC conversion with a nominal capacity of 70A, composed of DrMOS MPS2126/MP87992 MOSFETS manufactured by Monolithic Power Systems. The Vcore section is configured as Duet Rail, emitting a single signal every two phases without the presence of signal duplicates implemented through a MPS2120/MP2960 controller. 
New technology compatibility
Offering compatibility with the 12th Gen Intel Core, Pentium and Celeron 12th Gen CPUs thanks to an LGA 1700 socket, the MSI MAG Z690 Torpedo EK X Chipset – CPU interface is updated to DMI 4.0, increasing the bandwidth to 128 Gbps for each of its 8 lanes. This allows for the chipset Z690 to expand its capacity up to 28 rows, offering 12 lines for PCIe 4.0 and 16 for PCIe 3.0 to greatly increase the storage ports. Added into the mix are 8 SATA entry ports, 4 USB 3.2 Gen 2×2 or 10 USB 3.2 Gen2/1. The unit supports thunderbolt 4 and Wifi 6E, LAN 2.5G through an expansion card. 
I/O ports and internal connections
Considering the distribution for rear and internal connectivity ports on the MSI MAG Z690 Torpedo EK X will be the same as in normal models, we should mention this is an aspect that doesn't really change that much between units, for which we are somewhat used to. The ports will include: a Flash BIOS button, two USB2.0, two USB 3.2 Gen1 Type-A (blue), three USB 3.2 Gen2 Type-A (red), one USB 3.2 Gen2x2 Type-C, one RJ-45 2.5Gbps port, a DisplayPort 1.4, an HDMI 2.1, five 3.5mm jack and one optical S/PDIF for digital audio.
For internal connections, the list is as follows: eight Fan headers (one for CPU_FAN and one for AIO_PUMP), one USB 3.2 Gen2 Type-C connector, one USB 3.2 Gen1 connectors (supports up to 2 ports), two USB 2.0 connectors (supports up to four ports), four RGB strip headers (three 5VDG A-RGB and one 12V RGB RGB), AAFP Front Audio Header, Headers for boot panel, Header for Tuning Controller, TPM module and one Thunderbolt expansion card header. 

Benchmarking 
After some test runs and stress tests on the board with an Intel Core i9-12900K, we noticed that the BIOS on this board will be as complete as the high-end Z690 models, only changing the physical configuration of the VRM and internal control. As for temperatures, we were able to check that the performance on the cooling setup is similar if not the same as the one included in the Carbon EK X model, with just a slight improvement on the VRM temperatures. 
When it came to overclocking from the bios, it did in fact cost us a bit to adjust the parameters to achieve stability using our known 12900K and the same parameters as other analyses. However, we could say that since there was no thermal throttling during the benchmark, in which case the scores ended up being a bit better than those obtained on other boards when reaching 11000 points in Cinebench.
Our thoughts on the model 
We must admit this board is quite the unit, as it includes several mid-range components but also offers the custom liquid cooling system, over a price that sets it under the estimated amount of any high-range build, which makes it much more attractive since by its performance, the whole unit holds itself well. The setting price is mostly its greatest advantage, as we are left with some requests to be fulfilled for the board to be completed in our opinion, even when the VRM integrated into the cooling system is a great approach, the missing heatsink on the M.2 slot is hard felt. Overall, this will be a great board for flashy rigs and the cooling system works wonders, but we cannot omit the missing connectivity and the tardy overclock stabilization that was barely obtained. 
---
More stories like this
---