---
You can also be interested in these:
---
Exceptional Bluetooth speakers and genuine wireless earphones are produced by Tronsmart. Even better, the majority of them don't break the bank without sacrificing audio quality. One such Bluetooth speaker that was built for outdoor use while keeping portability and toughness in mind is the Tronsmart Bang. These uses are also considered in other specifications.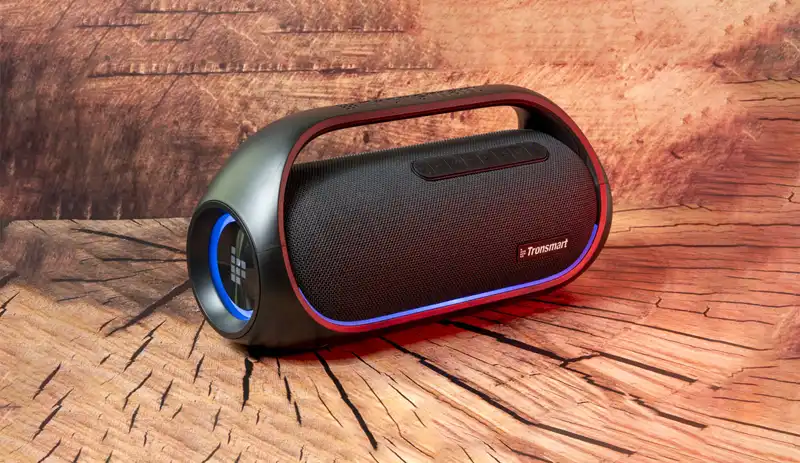 The multi-color light strip integrated into the Tronsmart Bang plus a few other characteristics set it apart from most inexpensive Bluetooth speakers. The cost of this enormous speaker, which produces incredibly loud sound for about $110, is perhaps what will excite you the most. The Tronsmart Bang is a strong option if you're looking for a great party speaker that won't compromise your budget but will withstand a few splashes in the pool.
Design
The Tronsmart Bang speaker has an appealing design that takes the shape of a cylinder speaker with a built-in plastic handle. The all-black appearance is stylish, however, we should point you that it can be challenging to see the buttons in low light.
There is a slight learning curve because the layout isn't simple and the buttons are confusing. The icon doesn't indicate that Tronsmart includes a button that enables you to connect the gadget with other Tronsmart speakers. The one-touch equalization button also doesn't make a lot of sense.
A wonderful touch is the Tronsmart Bang's integrated LED party lighting. It can also be disabled if you don't like it or would prefer not to utilize it. Additionally, you may connect smartphones or other small electronics via a built-in charging connector. The speaker is also fairly water-resistant, as seen by its IPX6 classification. It should therefore be capable of withstanding hanging out poolside, the rare downpour, or even chilling out in the shower if that's your style. However, you shouldn't submerge it.
Camping vacations by streams or riverbanks, beach hangouts, or pool parties are all appropriate places to use the Tronsmart Bang Bluetooth speaker's IPX6 waterproof classification. It weighs 6.79 pounds, which is also quite light compared to other outdoor speakers and roughly half as much as its main rivals. The audio equipment is quite portable thanks to the handle's matte texture, which feels smooth and improves grip.
There are several ways to play music, including Bluetooth, NFC, and 3.5mm headphone jacks. The packaging box from Tronsmart comes with an aux cable, which is quite kind of them. You may use the Tronsmart Bang as you like, even without a companion smartphone. Want to keep your phone's battery charged? Instead, purchase a USB hard drive or microSD card and use that to play music.
Tronsmart  Bang Bluetooth Speaker Sound Performance
Tronsmart produces precisely the sound you want from such a loud outdoor speaker. Although the 60W Tronsmart Bang is extremely loud, the best thing is that neither clarity nor crackling occurs. The Bang speaker will still give you smashing tunes with exactly the right amount of bass, clear vocals, and overall audio quality that is beyond satisfying even at maximum volume. Within the software, there are eight acceptable equalizers presets. With the help of Tronsmart's exclusive TuneConn technology, you can pair and synchronize up to 100 Bang speakers, which will all pump out full, bassy music simultaneously.
At lesser volumes, it does, however, fall a little short. Additionally, we found that while playing audio at less than 15 percent volume on the speaker, particularly when listening to a podcast, the audio occasionally sounds muddled.
Pairing
The Tronsmart Bang can be paired in one of two ways. The first method involves pressing and holding the device's power button for around three seconds to get it in pairing mode. Without much difficulty, we were able to associate the speaker with an iPhone, an iPad, a Mac, and a Windows PC. The speaker can also be paired using the NFC chip built right into it. Owners of an iPhone, however, probably wouldn't be able to benefit from this functionality because the iPhone doesn't enable NFC pairing.
The speaker has a 60-foot distance from the device it is paired with thanks to Bluetooth 5.0 technology. We didn't need to be closer than 60 feet from the speaker, of course, but we were able to do so and still maintain a connection at a distance of around 40 feet. The fact that this speaker can connect with up to 100 additional Tronsmart Bang speakers is one of its more intriguing features. Flexibility may not be hugely useful for an individual, but it can be advantageous for some enterprises.
Battery life
The battery life of any speaker is mostly influenced by how loud the audio is being played. The battery life decreases with increasing audio volume. A further drawback of this speaker's embedded LED lighting is that it can shorten battery life if left on. With the LEDs on, we were able to acquire close to 13 hours of playtime throughout three sessions at a volume of around 30%. According to Tronsmart, you ought to be able to obtain up to 15 hours of use of the LED off and the loudness at 50%.
There is undoubtedly some room to improve in Tronsmart Bang's battery department. The Tronsmart Bang's most viable alternatives will be examined shortly, and that will clarify this. The majority of comparable outdoor speakers have a 24-hour battery life rating. At bigger volumes, they do not truly survive as long, but they measure up.
Conclusion
It's undoubtedly a desirable option for companies that might wish to acquire more speakers than simply one or two. What you won't find in other speakers of a similar sort on the market are lighting features that vary to the music and support for USB and SD card playback.
In our opinion, this compensates for the slightly shorter 15-hour battery life. Nothing significant is being lost, and the Tronsmart Bang's extra features are very cool. This outdoor Bluetooth speaker is a fantastic purchase because it offers so much at a reasonable price.
---
More stories like this
---