---
You can also be interested in these:
---
The HP OfficeJet 3830 is an all-in-one model of printer that utilizes a touch screen and seems to be one of the better cost-effective printers out on the market. Since it is all-in-one, it boasts the ability to print, fax, scan, and copy documents. It's a wireless printer that has a USB port for document printing and is decently sized for easy movement. However, as with most products, there are pros and cons to this model of printer. We'll be giving you our most  honest HP OfficeJet 3830 review of the printer itself, how it holds up to similar models on the market, what the quality of its features are, and if it's truly worth the money.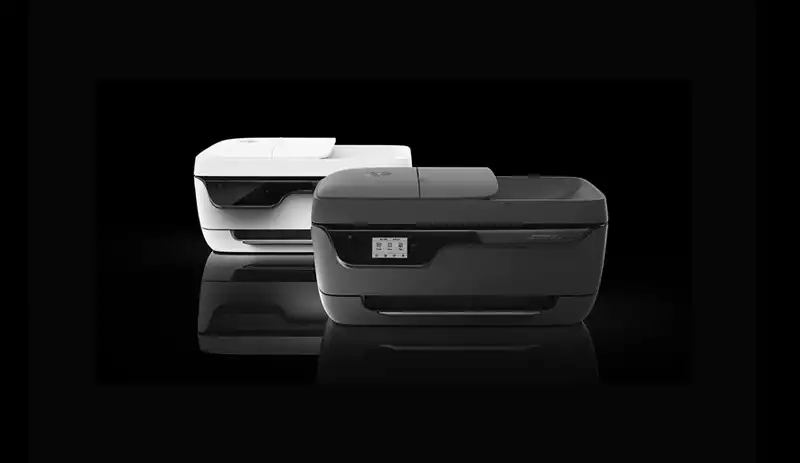 Schematics of the HP OfficeJet 3830 review
The HP OfficeJet 3830 is one of the smaller all-in-one printers currently on the market. Measuring in at 8.5inX17.2inX14.3in and weighing around 12.4 pounds, it's light enough that it can be moved easily throughout a dwelling, but not the most ideal for someone who is looking for a travel printer. Getting it set up is easy and doesn't require any special knowledge, so it's an ideal printer for those who might not be the best with technology. Its touchscreen is utilized for basic functions and allows for clear indications of what is being performed. The printer has ports for USB devices and has the capacity to link up to several apps for printing out of saved documents and through the Cloud. Unfortunately, the printer cannot connect through a computer to the internet; all of its printing needs to be done wirelessly. All in all, there's nothing exceptionally unique regarding its functionality or design. All of its functions are standard and those who purchased it found that no one particular aspect of its all-in-one features outshone the others.
How Well the HP OfficeJet 3830 Prints
In regards to its printing ability, the HP OfficeJet 3830 isn't as precise as laser printers, but as an inkjet, it prints better than its competitors do. There is a noticeable line through the text in some fonts that print out, so this might not be the best model if you're attempting to have professional looking documents. It doesn't have any of the fonts get blotchy or run together, a minimum expectation for a printer. It also prints very slowly compared to other all-in-ones, averaging at about seven pages per minute. Unfortunately, the HP OfficeJet 3830 also cannot print double-sided documents. Purchasers would either need to be content with having their documents printed out on one side of a page or place the already printed pages back in the printer in order for the other side of the page to be utilized. In fact, its paper capacity of about sixty sheets is far lower than the average of other printers on the market, which average about 100 sheets.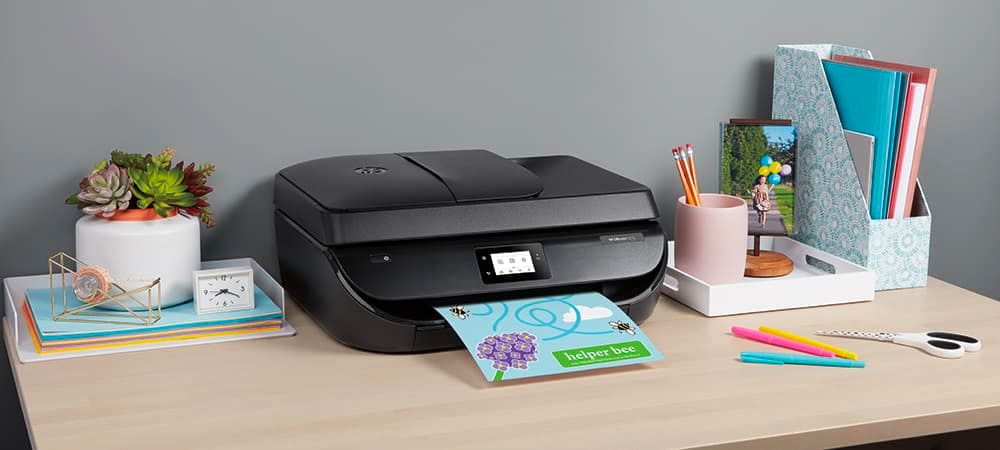 However, the HP OfficeJet 3830 excels in printing out photos or graphics. There's no blur or blotching of the ink and it can stand against some of the better photo-based printers on the market without much trouble. The printer does well with photo paper too. Ideally, the HP OfficeJet 3830 would be used for low-volume print jobs that require more graphic based printing instead of document printing.
As with most wireless printers, connectivity issues can be a problem, so it's important that you have a wifi connection that the printer is able to access without issue. The HP OfficeJet 3830's copying and faxing capabilities are standard and are on par with the other all-in-one printers on the market. The fact that it's able to scan and copy documents into the Cloud is useful, but since it doesn't have the capability to hook up to a computer and provide the same feature, having a secure wifi connection is critical for its success.
Cost Effective or Not?
Where the HP OfficeJet 3830 both succeeds and falls flat is in regards to its cost. It's one of the cheapest models on the market, its cost ranging from just under eighty dollars to a little over $150 at certain retailers. Getting a model that only prints wirelessly might not be ideal for some situations, but it's still an affordable printer to have that capability. Having a printer that can fax, scan, and copy as well as print for that amount should allow it to pay for itself after a few months' time.
However, the real cost comes from getting the replacement ink cartridges. When being put to the test against its competitors, the HP OfficeJet 3830's ink cost rounded up to about $0.09 a page. To put this in perspective, many office supply stores offer printing services for $0.10 a page. The costs of getting the standard size cartridges average out to about thirty dollars and doubling the amount of ink in the XL refills doubles the price. When first buying the printer, purchasers are given an option of signing up for HP's Instant Ink program, which sends ink directly to your address as soon as your printer indicates that its levels are low. The free trial can last for up to three months, so it's the best way of making sure that you're getting the most out of your printer's capabilities without breaking the bank. Even after your trial period is up, utilizing HP's Instant Ink program can assist with the costs of refills, but if you're printing constantly you'll need to be prepared to still spend more money more often.
Conclusion
Different printers can be utilized for different needs. If you want to get the most out of this printer, the HP OfficeJet 3830 is best for limited use in a smaller household. It's best when used for printing photos and for its other functionalities than as a fully utilized printer. It does its job for the price that you pay, but be prepared for high replacement cartridge costs. Take advantage of the features and trials it comes with when you first purchase it, as this can assist with bringing the cost of ink down. As the conclusion from this HP OfficeJet 3830 review, it is a good printer to have if you absolutely need one with all-in-one functionality and for its price, it doesn't disappoint.
---
More stories like this
---