---
You can also be interested in these:
---
HP have been in the printer game for so long that they're established themselves as one of the most trusted companies in the space. They've got a printer for essentially every price range, including today's topic of review, the HP Envy 6055 Wireless All-in-One Printer.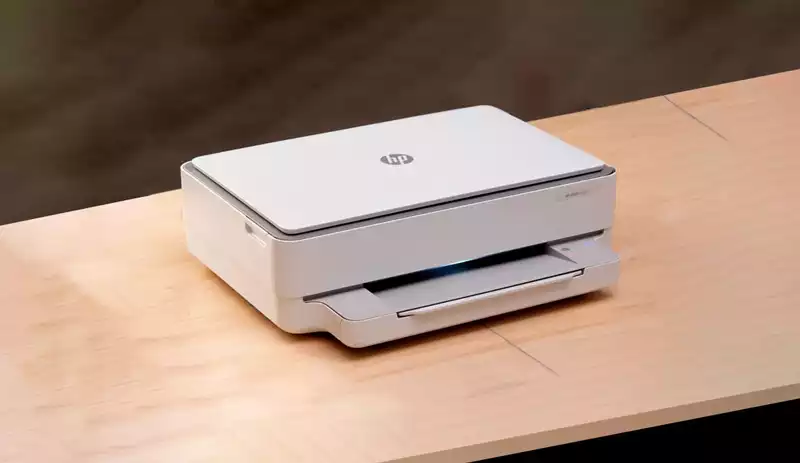 At $139, it's not exactly the most affordable all-in-one printer on the market, but it comes with a slew of nifty features that add a lot of value to it and allow it to stand out from other printers in its price range. The question is, do all these additions really make the extra you pay worth it? And does it perform well as a basic printer in the first place? Read on to find out more in our HP Envy 6055 review.
Design
In terms of design, the HP Envy 6055 is quite sparse and simple, placing priority on function over form. Instead of going crazy with colors or odd form factors, the printer stays compact and small, making it an excellent choice for people who don't have too much space to spare. Just keep in mind that you'll still need some space to be able to lift the scanner lid up.
Over on the front of the printer, you'll find five backlit touch buttons and nothing other than that, since most of your interactions will be done via the printer's app. It may seem a bit difficult for some users, but the application is surprisingly intuitive and easy to use, and it allows the front of the device to remain mostly clean and clutter-free.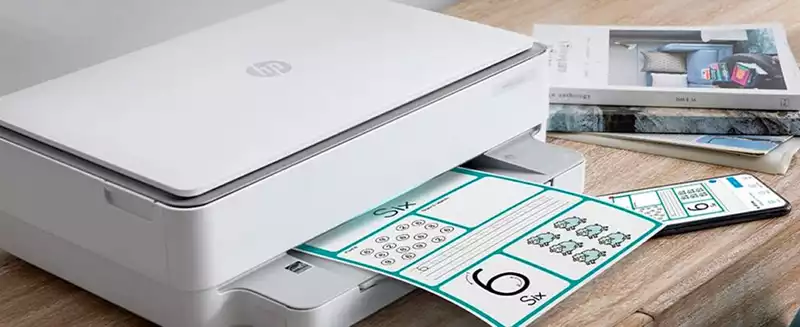 It's also a solid little box, which is good. While it isn't made from metal or anything too durable, the choice of plastic here is solid and not at all cheap feeling. At 11.5 pounds, it also has some decent heft to it. Every single outlet here is detachable, which means you can swap out and replace any of the stock cables as you see fit.
Printer Quality
While it's not going to outperform some of the best, the HP Envy 6055 still manages to offer some quite good print quality. The color print quality is great, with images coming out punchy and well defined. The colors come through clearly, there's a lot of detail retained, and it all works quite smoothly for an all-in-one printer.
That's not to say everything here is perfect, however. Sometimes, images can appear to be a little bit washed out, and blacks can lack some of that desirable depth. On very close inspection, it's even possible to make out some light banding on grayscale prints, though for most it will simply go unnoticed with how minor it is.
Another point of criticism is the print speed, which isn't exactly bad but also nothing that blows your socks off. At average, you'll be seeing about six grayscale pages per minute, while color pages are a bit slower at four images per minute. Overall, it's not really anything too bad, but definitely something to keep in mind. Now, let's move on to the feature set on show.
Extra Features
If there's one aspect that sells the HP Envy 6055, this would be it. One of the great features here must be the HP Smart app, which allows you to setup for ink, paper and Wi-Fi all done with a simple step-by-step guide. It makes the setup process very simple and easy, but what else does the printer have to offer?
Perhaps the most important standout feature however is the ability to print what you want from anywhere at all as long as you're connected to the internet. This is once again done through the HP Smart application, which is available on Android, iOS, Windows and macOS which means it's all very accessible.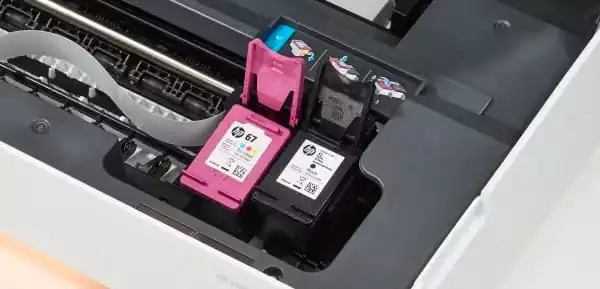 What you'll want to do is open the application and make a one-time connection through your local network. Once that's done, all you need to do is send the documents over to the printer over the internet and you'll be printing documents from other rooms in no time. When everything's been setup, it's all relatively hassle free and works effortlessly, which is nice.
Another nice feature is the scanner included. It's in the nature of an all-in-one printer to have a dedicated photo scanner, but there's no denying how useful it can be. On top of that, the scanner in the HP Envy 6055 is pretty good in terms of quality and speed, being able to copy up to eight grayscale pictures per minute, or four colored images per minute.
The HP Envy 6055 offers a 1200 x 1200 dpi black and white resolution, as well as a solid 4800 x 1200 resolution for color prints. It utilizes a two ink cartridge configuration, with one for color and the other for black. It's not exactly the most cost effective option if you're printing one specific color a lot, but it's definitely makes things easier to swap and convenient to use.
Conclusion
Overall, the HP Envy 6055 All-in-One Printer is a solid affordable printer. It performs well for its $139 price tags with some decent quality prints and all-round excellent, fuss-free performance. The included scanner is a good selling point, the compact design makes it easy to fit into an office and it definitely helps that the printer still manages to look good despite its simplicity.
While there are definitely some other options around this price range that have comparable print quality, what you don't get with those are the HP exclusive features. From being able to print pictures from anywhere, to the relatively simple setup process and ease of use, the HP Envy 6055 wins big points in terms of usability.
Regardless, the HP Envy 6055 is a solid option for just about anyone, it's a flexible device that doesn't specialize in anything while doing everything decently well. We give the printer a hearty recommendation, especially if you're looking for something easy to setup and convenient to use.
---
More stories like this
---