---
You can also be interested in these:
---
Gaming has actually become a regular term nowadays with the sudden popularization of dedicated video game gear, video games and the rising content creation community in the forefront of technology advancements and new releases. Streaming platforms and the gaming field influencers have also aided in the fame. For gamers, the equipment and its quality is truly everything, but so is to get a fair pricing on each tool; as many parts, components and even modern consoles tend to be a bit pricier -most right after launch too-, but when it comes to monitors, we have come a long way since we needed to shell out hundreds of dollars for just one high performance monitor set.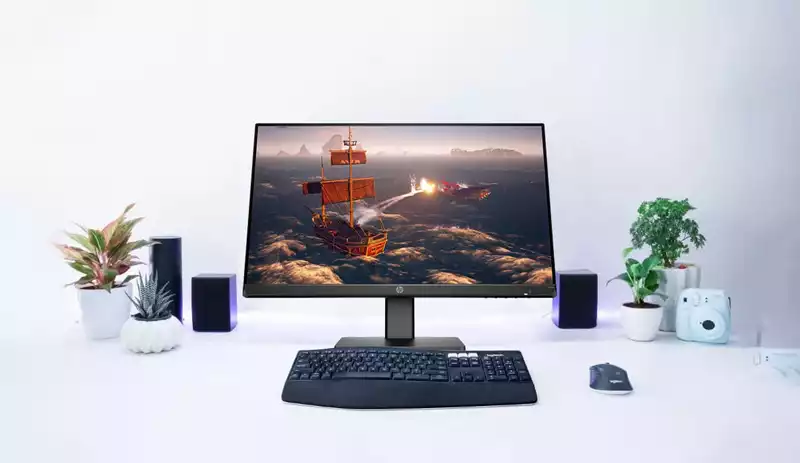 That reality has since turned for the better with the gaming trend, as many computer manufacturers are having more and more demand for gaming products, they respond in tune with their own selection of specs and pricing to match said need. Hewlett-Packard, the long-standing computer and electronic devices industry giant, has been known to cater for gamers with a wide offering of high-performance gaming monitors to choose from, and still on budget. It has created a name for itself in the demanding and unforgiving gaming scenery, and one of its monitors, the HP x24i gaming monitor, has been an affordable and sought out option for many users. 

When looking for a new gaming monitor, there are lots of things to look for. Since hardware alone will not provide you with the whole experience, a combination of internal features plus external commodities will be the balance to bring you an excellent gaming journey. The HP x24i gaming monitor has many good features to offer along with its price, from a quick refresh rate with native FreeSync, to IPS panels for wide viewing angles that suit co-op gaming. However, among these features are some that keep it from being the best option out there yet, so we will review the major aspects for you to have the complete intel before buying. 
Image quality 
When referring to quality of visuals, the HP x24i gaming monitor provides the three C's: clear, correct and consistent colors that go through the entire sRGB spectrum. Thanks to its IPS panel and technology, the aforementioned is possible along with wide viewing angles that prevent any major changes in the image quality aspects despite the angle in which you can gaze upon the screen. 
Some unexpected IPS drawbacks that may occur, and we should be definitely mentioned are the visuals of some colors, predominantly black, in dark rooms, as it can look sort of gray; and the appearance of glowing in the corners, a consequence that is the product of the IPS technology. Fortunately, these types of issues can easily be worked around, to get a better visual content performance and just takes a few adjustments to the brightness and color settings on the source devices.  
As for resolution, the Full HD setting will allow a great pixel density which means a good deal of screen slate as well as sharpness in the image details or text definition making it easy to read through. And although its entire 24 inches combined with the 1080p resolution is not the ideal set for a gamer looking for a true and actually immersive experience, it offers a great alternative of 27 inches monitors with a better image quality output. 

Performance 
One of the best highlights for this product is its impeccable performance run. Thanks to the 4nms low input lag, any possible delay that you might experience while gaming turns virtually null. It also handles great pixel response timings that come with four different overdrive levels to choose from, but in our opinion, you should keep away from the last two as they seem too aggressive and cause way too much pixel overshoot. 
Depending on your GPU, the HP x24i gaming monitor is also compatible with variable refresh rate with AMD's FreeSync (or Nvidia's G-sync, although this monitor has not been officially certified for it), which basically helps the monitor shift an adapt the frequency to the frame rate the game -or program- is displaying currently. For example, if your game is running at 60 FPS the peripheral's refresh rate will set to 60Hz and so on. 
Features 
This display holds quite a few interesting features that add to the comfort and usage experience when handling it. The most noteworthy of said features are the provided presets for picture, a tracking log for the refresh rates used, crosshair overlays, a filter for low-blue light and the fact that the menu and on-screen display hotkeys are very well distributed and organized. Another factor worth including in the additional features is the fact that this monitor does not use Pulse Width Modulation, making it flicker free and easy to use for prolonged periods of time without having to worry about headaches or eye soreness. 
Design
What stands out the most for the HP x24i gaming monitor is the tilt only stand, with a -7° to 22° incline range, which constricts it a tad, but in the other hand, it is made with the thinnest bezels at the sides, providing a great alternative for multi-monitor setup. Adding the anti-glare coat as well to the screen, makes it so reflections are not noticeable, and it doesn't compromise image quality. 
Overview, abridged 
As much as we loved the specs for the HP x24i gaming monitor, it is proper to mention that the device is missing a few non-essentials that would possibly make most gamers shun away from it. Also, the low contrast ratio is a big turn off for some users that lean on dark rooms to play and want a crisp image quality when gazing into the enemy. But this does not take away from the other wins the gadget offers such as its refresh rate and VRR support, the incredible response results while providing smooth flow and most importantly the low input lag that ties it all together for the better.
---
More stories like this
---