---
You can also be interested in these:
---
The company Krom Gaming has gone a long run in doing every effort to make the new Krom Klaim gaming headset as striking as possible without sacrificing good quality in manufacturing materials and sound. On this new model we now have a double bridge headband with RGB, extremely comfortable ear domes with thick pads, also with RGB lights.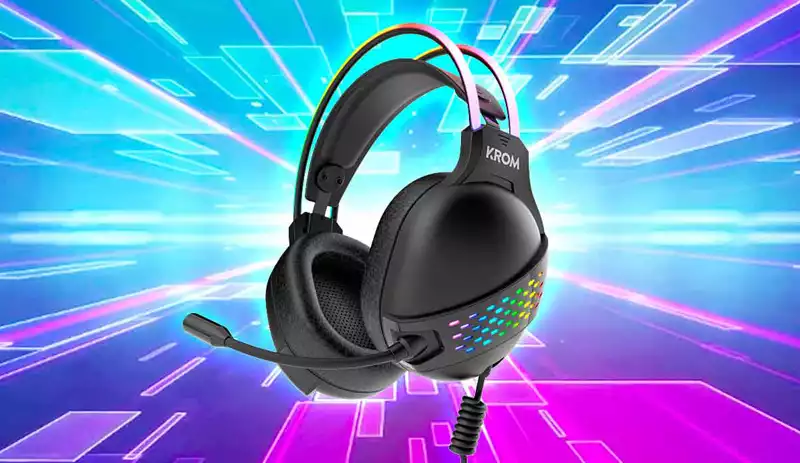 Its 50 mm drivers ensure a good sound fidelity with powerful bass and wide nuances through its 3.5 mm analog jack connection. This headset features a detachable microphone, never seen implemented before in other gaming sound gear, which is not usual in this price range. The Krom Klaim gaming headset is available for a price of $35 USD.
The eye-catching design of the Krom Klaim is really an attention magnet
In a non-expensive headset, what tends to drive our attention to these is how colorful and noticeable they are, being a common feature for all gaming gear used nowadays in a low-light environment, not to mention in competitions, where the ambient light can be very scarce. The Krom Klaim gaming headset are designed to offer comfort to most users thanks to its double bridge headband system. It is based on a plastic chassis and metal rods, strong and at the same time light, weighing only 330 grams to give us the most comfort after long hours of use.

The headband bridge
The bridge of the headband is surely the most striking element of the set, which uses internally two metal elements to provide rigidity and a suitable casing to prevents damage in case of falls. There is an outer layer protecting the headband made of transparent plastic in a cylindrical form, which also will serve as an original RGB illumination device around the entire circumference.
This lighting system is integrated at both ends of the headband, perfectly glued to the plastic to distribute the light over the entire surface. This means that there is no strip runing through the headband, in turn, there are 4 LEDs generating the RGB effect. Unfortunately, we don't have the possibility of customizing the effect, neither by means of an integrated button nor by software, so we will only have the rainbow color pattern effect on them.
The head support
Under the bridge we find the flexible headband that will be on our head. This is made of synthetic leather and has a little padding, although it adapts and accommodates very well to any user. There is a wire that runs internally in the main body to add rigidity and  prevent excessive extension and breakage of the unit. This flexible headband has a maximum extension of almost 40 mm on both sides.
Speaker domes
Now we move on to the speaker domes, which feature a large chamber covering the ear completely. This particular element is manufactured with a rigid plastic casing, closed for the most part. There is a protruding stripe going through the speakers made of the same material with an interesting and pleasant grid revealing the integrated lighting pattern. This lighting is more subtle, but considering we also have other elements emitting light in the same headset, it is a good balance.
On the inside we find wide and soft foam pads with an outer synthetic leather coating. They are removable, although due to their square form factor with round corners it will result difficult to find other compatible generic ones. They are built to be durable and withstand a considerable amount of time, considering its price tag. A padded textile mesh covers protects the earpiece area.
Volume wheel and other features
Conveniently integrated in the same head piece we can find a volume adjusting wheel. Quite discreet and easily accessible, it will provide a fairly smooth and progressive fit. Near this same location, we will have the analog jack connection for the removable microphone. Twisting the microphone adapter plug we will be able to lock or unlock the rod for its removal in a very simple way. This is a unique feature for this model in particular, only seen in a higher tier headsets in the market these days.
The microphone
The microphone is a very flexible metal rod in the shape of a caterpillar that allows free orientation. It is 5 inches long and has a plastic coating for insulation and protection. At the tip of the rod we will have the microphone with a rigid plastic encapsulation and an RGB light. It is long enough to reach our mouth, although it is not  necessary because of its good audio capture range.
Ergonomics
The union of the headband with the speaker domes will be totally fixed and with no mobility or rotation available. This will provide a little less ergonomics, but an understandable attempt in reducing manufacturing costs. In any case, they still fit the ears quite well, and the type of headband will allow the Krom Klaim gaming headset to be adjustable in height. The padding will do the rest of the fitting work. It supports a large opening more than enough for bulky heads, and in other small ones it will grip quite well avoiding accidental movements and falls.
Technical specifications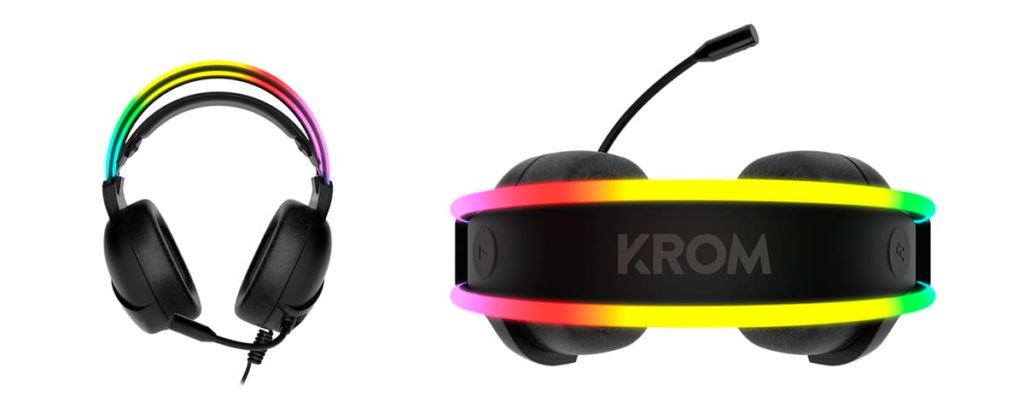 Regarding the sound experience, the Krom Klaim gaming headset has excellent drivers with a diameter of 50 mm, although the type of magnet is not specified. However it guarantees of good depth of bass due to their size. In addition, they ensure a frequency response of 20 and 20,000 Hz, thus covering the entire audible range of the human sense. According to the sound quality settings it should be outstanding, as it has a low impedance of 16 ohms, and consequently, a high sensitivity of 119 dB.
These headphones only support analog connection and of course, they will bring separate jacks for microphone and audio. The USB port included in the wire will only serve to power the RGB lights.
The listening experience with a good integrated sound card like the Realtek ALC1220 is going to be quite positive for the low price of these headphones. The maximum volume certainly lives up to what is said on the paper, provides great power, and best of all, virtually no distortion. The bass sounds quite clear, only having a slight loss of sharpness in the middles and highs.
If we lower down the volume near the recommended levels for our hearing, the balance in frequency is very good. The bass maintains a good resolution for listening electronic music, or enjoying playing games. In the media department we can identify a little loss of performance as we decrease the volume.
We can certainly perceive the excellent level in sound quality, and in high-resolution clips with a good sound card is where this headset shines and performs amazingly. Obviously we can't reach the levels of quality and clarity of more expensive headphones in the market, but it is not the niche where they compete either.
The Krom Klaim gaming headset microphone has an omni-directional pattern for audio capture. In other words, a cardioid microphone, as it eliminates much better the sounds coming from the back. This integrated microphone has a wide frequency response of 50 to 10,000 Hz, enough for use in chats by adjusting well to the frequency range of our voice.
---
More stories like this
---