---
You can also be interested in these:
---
The Onn Smart TV Box is one of the latest products from Asda/Walmart that has slowly been looking to get into the global electronics market with its own branded products sold at relatively affordable prices. The first Onn products introduced were at first domestic appliances such as fridges, washing machines and TVs. For the past few months, we have been researching the Onn Smart TV Box based on others Onn TV reviews to see if it is worth our time and money and we are delighted to share our thoughts.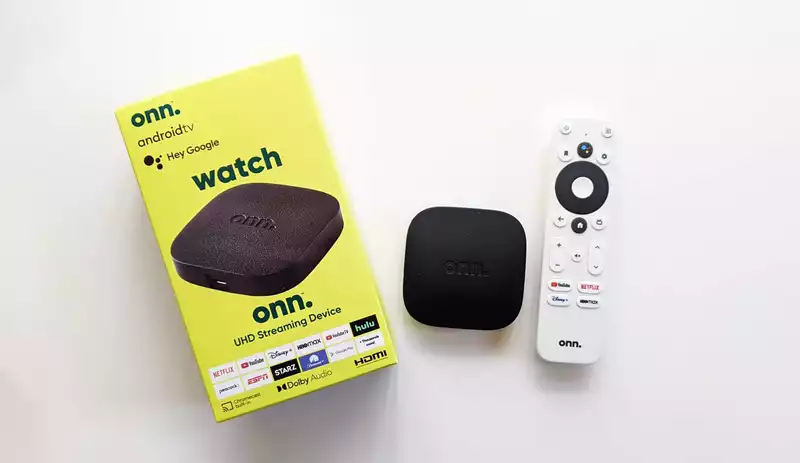 Manufactured by Durabrand, Onn has been slowly building a name for itself in Asda and Walmart stores the last couple of years by producing highly affordable appliances, consumer electronics, set-top boxes and TVs with more features than you can shake a stick at.
The Onn Smart TV Box
The Onn Smart TV Box at less than $30 is a new streaming box that looks similar to Google's ADT-3 development box. Using Android TV 10.0 it has been produced to take on the likes of Amazon Fire TV Sticks, low-end Roku devices and Google's Chromecast. Additionally Onn also sells a line of Smart TVs with the streaming service already built-in on them.
This small device has many features including a 1080p 4K Ultra High-Definition resolution and Dolby Audio Support, but what makes it so great? Let's take a deeper look at the Onn Smart TV Box and see if it will meet any of your needs.
Onn TV reviews positives
First of all the Onn Smart TV Box from Walmart is easy to set up and within less than 10 minutes will enable you to not only stream your favourite TV shows and movies from Netflix or Hulu Plus but will also allow you to experience them with subtitles thanks to an easy-to-use English subtitle search. What's more, is that you can even use your mobile device as a remote control just like with the set-top boxes or other smart TV boxes.
The device is small and unobtrusive (2.75″ by 2.75″ square) and comes with Android TV 10.0, 4K Ultra High-definition resolution, Dolby audio and is really easy to install and use with a remote control powered by 3 AAA batteries. The remote is responsive and has Youtube, Netflix, Disney+, HBO Max quick buttons.
As it uses the Android TV 10.0 OS, you can also easily access all the apps available from Google including Youtube, Netflix, HBO Max, Disney+, Prime and many other streaming services such as HBO Max, Apple TV, and Peacock. Sadly, the Onn Smart TV Box doesn't come with Chromecast or Airplay nor can you stream media directly from your Android or IOS devices.
The Onn Smart TV Box runs on a 1.8 GHz quad-core Cortex-A53 CPU and Mali-G31 GPU and comes with 2GB of DDR3 memory and 8GB of internal storage. With this in mind, we can see that as a streaming box for movies and shows the product is likely to struggle when compared to some more powerful units on the market. It does support HDR10, Miracast and H.265 encoding for video and does not support H.264/MPEG-4 AVC video output.
We tested it with a number of smart TVs including Samsung, Sony, Panasonic, Philips with no problems, however, once or twice it did freeze up and we had to reboot it.
As it uses a standard version of Android TV, we can see that it makes sense for the Onn Smart TV Box to use a standard 1.0 USB port rather than the 2.0 you would find on some models. It comes pre-installed with YouTube, Netflix, Hulu, Prime Video, HBO Max apps and can be paired with Bluetooth-enabled devices for wireless media streaming. It also has access to the Google Plays store to add an assortment of apps, which is very similar to many of the other notable brands including Google's own Chromecast.
The Onn Smart TV Box also comes with social media access including Facebook, Twitter, YouTube and Google+.
Additional features include:
Android TV 10.0
4K Ultra High-Definition resolution (supports 60 Hertz 7.2 channels)
Dolby Audio support
HDMI, USB 2.0 and Ethernet ports
Up to 2 hours of battery life
Rechargeable remote control with 3 AAA batteries included.
Remote control is perfect for media streaming from your Android or IOS device.
Youtube app allows you to search for videos and the English subtitle option will allow you to get the full experience without having to understand which language they are in.
We were really pleased with the performance of the Onn Smart TV Box from Walmart. We have been using it for a few months now and it has proven to be very reliable and stays online even when our internet service provider is having problems. While there is a lack of built-in storage, most users will simply use an external hard drive or flash drive to store their media in any way.
Onn TV reviews negatives
Before you consider whether the Onn Smart TV Box is right for you, let's take a look at some of its negatives. Usually, the product is let down by its design. It is powered by a micro USB connector on one side and has a single HDMI connector on the front which makes it less than ideal to sit under your TV or media cabinet. It also has no USB port, microSD card slot or LAN connector for Ethernet.  It also has some image quality on occasion and not enough display options.
Conclusion
If you want a cheap Android TV device that's easy to install and use with an excellent picture/sound then the Onn Smart TV Box from Asda/Walmart might be just for you. It's not the fastest or best looking on the market but it does have a simple UI, supports 4K and can give you all of the options you need to watch streaming media. We recommend this Android TV box if you're looking for a cheaper alternative to Amazon Firestick, Chromecast or Apple TV because it offers tons of features at half of their cost. It is a good streaming box for less than $30 but lacks power when compared to some of its rivals.
---
More stories like this
---