---
You can also be interested in these:
---
Samsung KS8000 TV is one of the best HDR TVs Samsung offers. It is a great performer and will make your movies, sports games, TV shows look amazing. The native contrast ratio of KS8000 is much higher than the Vizio P Series 2016. Samsung KS8000 TV has deep blacks that provide rich shadow details in dark scenes without making them too dim or greyish looking. The picture quality and motion handling of KS8000 is also excellent, making it a great all-around performer.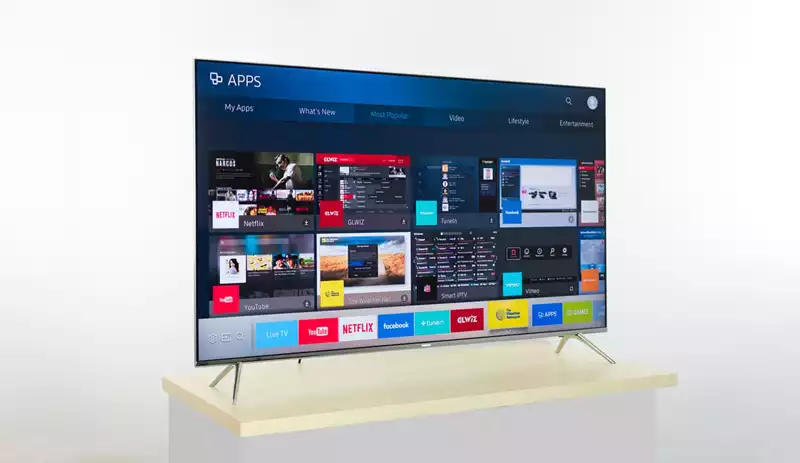 With many settings available on Samsung KS8000 TVs, finding the best settings for your specific viewing needs may be difficult. Whether you want to set up your TV for gaming, binge-watching Netflix, or just watch your favorite cable shows, we will help you out. This article will go over all of the available options and help you choose the Samsung KS8000 best settings for your home entertainment system.
Picture Mode
To get the best viewing experience, we recommend setting up the Picture Mode on your Samsung KS8000 TV. Each viewing mode has a unique set of color temperature characteristics and image adjustments meant to be used in specific situations. You'll need to adjust the Picture Modes for each environment you use them in.
Selecting your desired environment will automatically adjust the settings to provide deep blacks, accurate colors, and a good contrast ratio. To do this, from your Home Screen, simply navigate the options and select "Settings." From there, select "Picture" and further select "Picture Mode."
A list of Picture Modes will be displayed. Select the mode you are currently in or the environment you will be using your TV for, and it will adjust the picture settings accordingly.
Standard: This mode is suitable for regular TV watching, such as live television shows or sports games. The image is bright and vivid, making colors look more natural.
Dynamic: This mode is suitable in bright viewing environments, such as a living room with plenty of windows. The image is more luminous, and the colors are more saturated. This mode can be too intense for some viewers and may cause eye fatigue over time.
Natural: The Natural Mode reduces eye strain by optimizing Contrast and Sharpness for a more comfortable viewing experience. This is especially useful for late-night TV watching.
Movie: This mode provides accurate colors and enhanced shadow details for dark scenes. This is best used when watching movies or video content since the picture quality is more immersive than other modes.
Special Viewing Mode
There are also some Special Viewing Modes that you can use to improve the viewing experience in different environments. These are more specific than the Picture Modes and are tailored to particular situations.
To access these modes, navigate to "Settings" on your Home Screen, select "Picture," and then choose "Special Viewing Mode". There are two different Special Viewing Modes:
Game Mode: This mode is designed to provide a low input lag for faster action. This is best used when playing video games on your Samsung KS8000.
Sports Mode: This mode is designed for watching sports programs on broadcast channels with a lot of movement and fast-paced scenes. It's handy when your favorite team has just scored an epic goal.
Both modes are optimized to reduce the input lag, making them excellent options if you're into gaming or viewing action or sports shows.
Samsung KS8000 Best Settings
For more immersive viewing, we recommend using the "Movie" mode. From there, fine-tune your viewing experience even further by accessing the Expert Settings on your Samsung KS8000 TV. To do this, navigate to "Settings" on your Home Screen, select "Picture," and then choose "Expert Settings."
A window will show the options for the Expert Settings, and we will go over each one.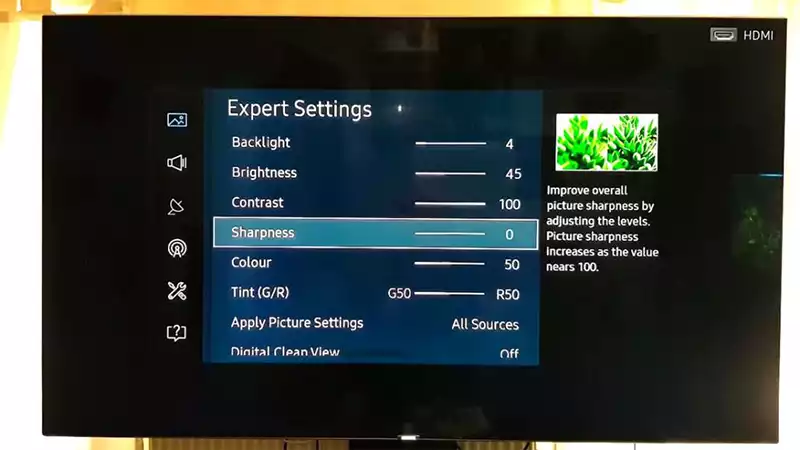 Backlight and Brightness
This option adjusts the Brightness behind your TV, which can help bring out more detail in dark scenes. If you are watching movies or video content at night, this is a great way to ensure that everything looks crisp and clear.
To get the most of Samsung KS8000 best settings, set the Backlight to 4 to adjust the Brightness to 45.
Contrast and Sharpness
These two options help improve the clarity and contrast of the image on your screen. Contrast affects how dark or light the different parts of an image are, while Sharpness affects how clear or blurry objects appear.
We recommend setting Contrast to 100 and Sharpness to 0. This will give you the most precise possible image without any added blurriness.
Color
This option adjusts the image's color saturation on your screen. A higher setting will make colors look more intense, while a lower setting will look more natural.
We recommend using a Color setting of 50 for the most accurate and immersive colors.
Tint (G/R)
This option adjusts the balance between red and green in your image. For Samsung KS8000 best settings, it's best to leave this setting at its default, G50/R50.
Digital Clean View
This option can be used when watching low-resolution content, such as older DVDs or non-digital broadcasting. If you're watching HD content, we recommend turning this off.
Auto Motion Plus
This is the setting that helps to improve image sharpness for fast-action scenes. This is why it's typically recommended for gamers but can also be used while watching sports or other action/adventure programming to get the most immersive experience possible.
But for casual or movie watching, we recommend turning this setting off for the best overall image quality.
Smart LED
This option controls the screen brightness to increase contrast in specific regions automatically. For Samsung KS8000 best settings, set this to High.
Dynamic Contrast
This feature makes bright and dark areas of the image appear more distinct. Leave it Off for a good balance between smoothness and contrast.
Color Tone
This option adjusts the overall color temperature of your screen. Warm1 adds a soft pink hue to the colors. Warm2 adds a solid pink shade to the colors. We recommend using Warm2 for a more natural look that's easier on your eyes over time.
Gamma
This setting adjusts the image's transitions between dark and light areas. We recommend using the default gamma value of 0.
RGB Only Mode
This feature ensures that each color channel (Red, Green, and Blue) is treated separately. For Samsung KS8000 best settings, set this to Off for the most accurate image quality over time.
Color Space
Whether the TV has a wide color gamut is determined by the Color Space option. The Native setting will produce more vivid colors, but we recommend using Auto for automatic adjustment based on the source.
Final Words
Samsung KS8000 has many great features, and it can be challenging to figure out the best settings for your viewing experience. We've put together this guide to overview some recommendable pictures, modes, and other settings you should consider when setting up your new TV.
While we hope that our recommendations will give you a good starting point, don't forget that everyone's preferences are different; take time to adjust these settings until they feel right for you.
---
More stories like this
---