---
You can also be interested in these:
---
Does your computer have an ASUS motherboard and you want to make sure if you will be able to install the new Microsoft Windows 11 operating system without any issues? Following this guide you will be able to know if your PC is compatible, and if you still don't own an Asus motherboard or are considering buying one, here we also include a list of Microsoft's Windows 11 compatible ASUS motherboards so you can purchase confidently.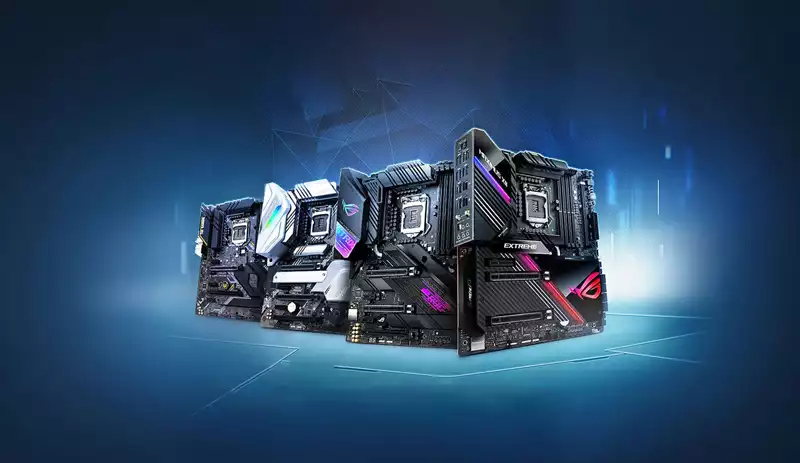 Just to get this out of the way, ASUS is one of the companies that produces the TPM (Trusted Platform Module) the new Windows 11 requires, so in theory, you should not have compatibility problems trying to install it. However, there are a few exceptions and unfortunately not all Asus motherboards will be able to have it (more on that further ahead).
You shouldn't have any problems installing Windows 11 on an Asus computer
Computers produced even a few years ago, like the ASUS ROG GL552VW gaming laptop, has support for TPM 2.0. ASUS has integrated a TPM 2.0 module in most of these models since a long time ago. However, this module is not part of the minimum specifications from this manufacturer and this doesn't mean your ASUS laptop is not capable of running Windows 11 directly.
In the event that you have an Asus desktop PC, it is likely that it has a standard motherboard included, and therefore you have the TPM integrated. Unless the TPM module has been removed manually or is faulty, you shouldn't have any problems installing and using all the functions of the Microsoft Windows 11 operating system.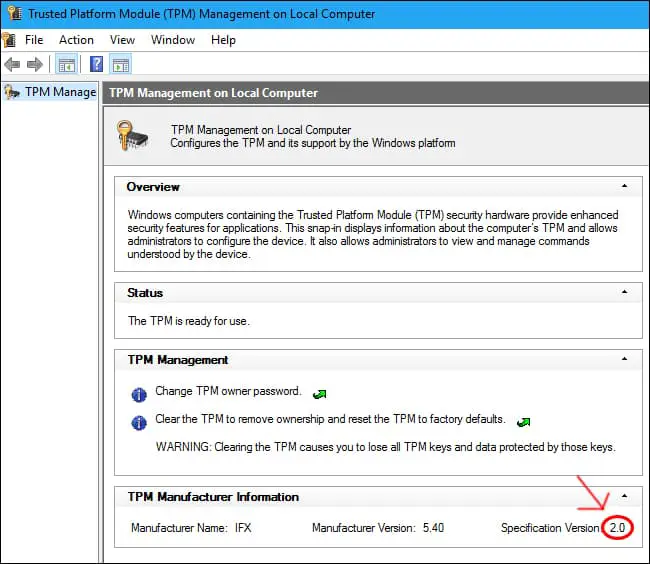 If you want to check if your TPM module is active, you just have to follow the following steps:
Press the Windows and R keys simultaneously, the Windows key bears the operating system logo and is usually found between the CTRL and ALT keys to the left of the keyboard.
Once this is done, a dialog box will open in which you must write tpm.msc in it, this will invoke the TPM configuration program.
If you have the TPM installed, you will get another window with an layout just like the image above. In the event that the TPM 2.0 is not in the system or is incorrectly installed, you should see something like the image that appears below.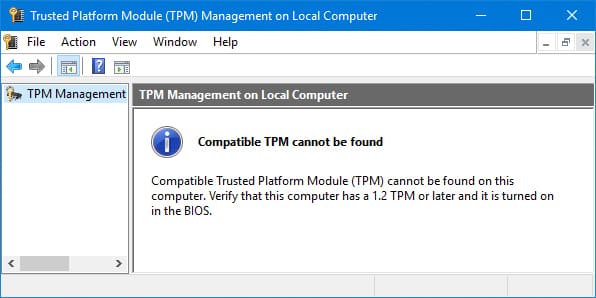 What should I do if I can't find the TMP installed in my Asus computer?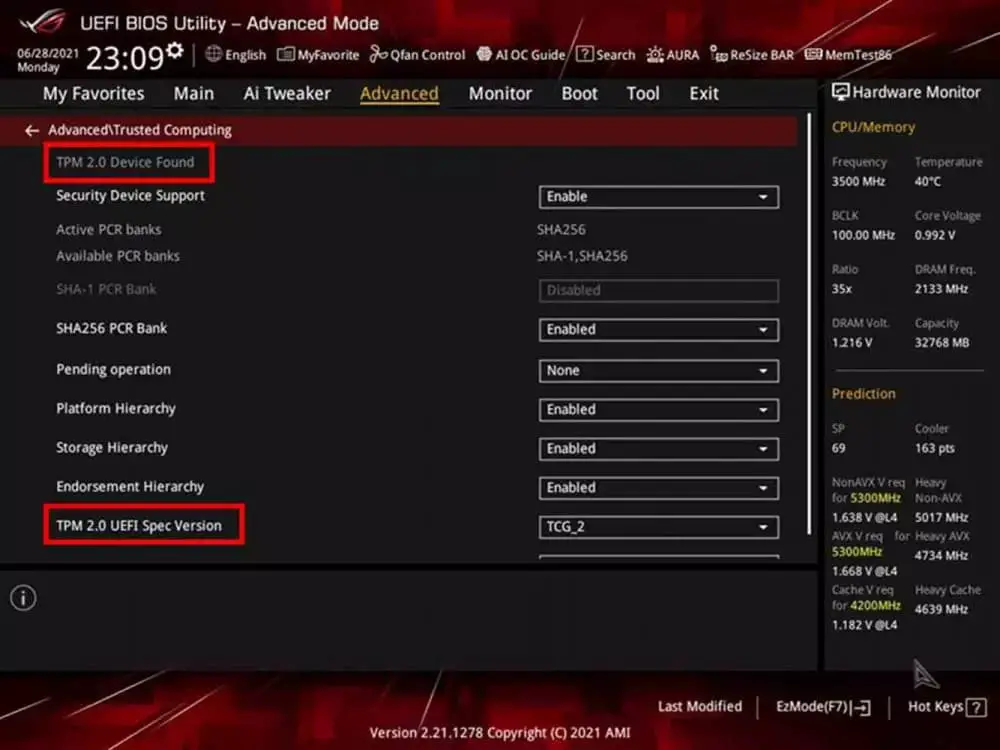 It is also likely that the hardware vendor has made a series of adjustments in the BIOS and has disabled this function from there. So it will be necessary to go to the Asus BIOS, check this and in the case it is turned off, to activate it again. To do this, you have to press the DEL key on the keyboard, when the ASUS or ROG logo appears in the boot-up sequence. Once inside the BIOS, go to the Advanced tab and from there select Trusted Computing. You should get a list of security options which will tell you if the TPM device is present on the board, as well as its specification.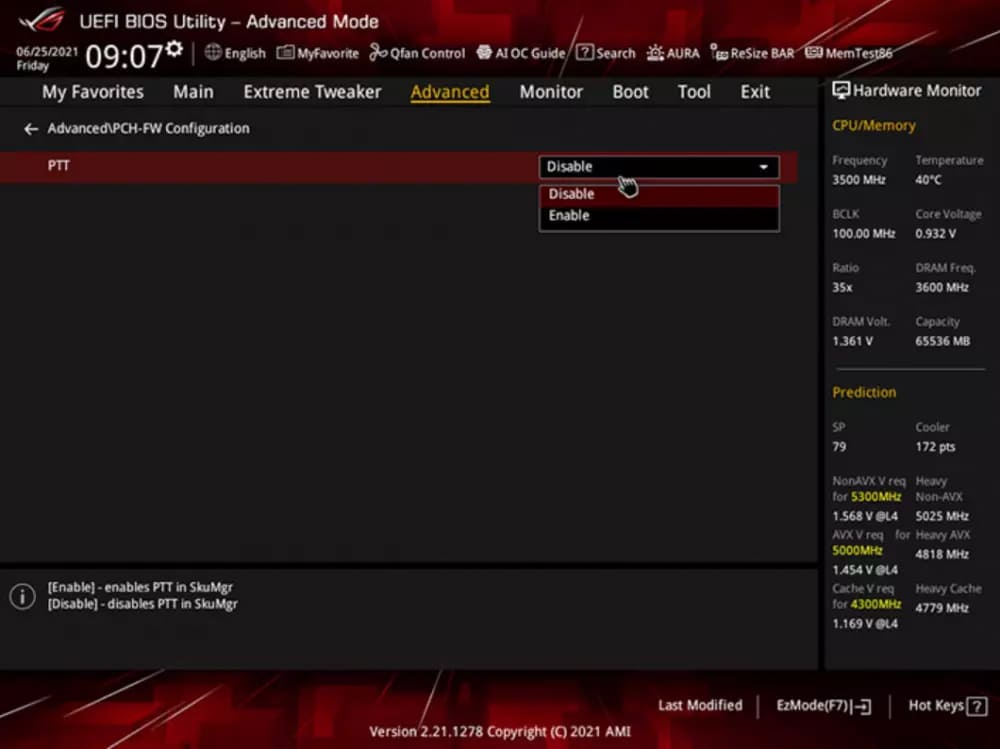 In the case that you have an Asus motherboard with an Intel processor you can also use the Intel PTT as a substitute to perform the functions of the TPM chip, you just have to go into the BIOS to Advanced and from there to PCH-FW configuration and set the PTT option to Enable. This Intel technology does the same functionality as a TPM chip, but it is less secure while storing keys and sensitive information than a TPM module. It will still be useful for installing Windows 11.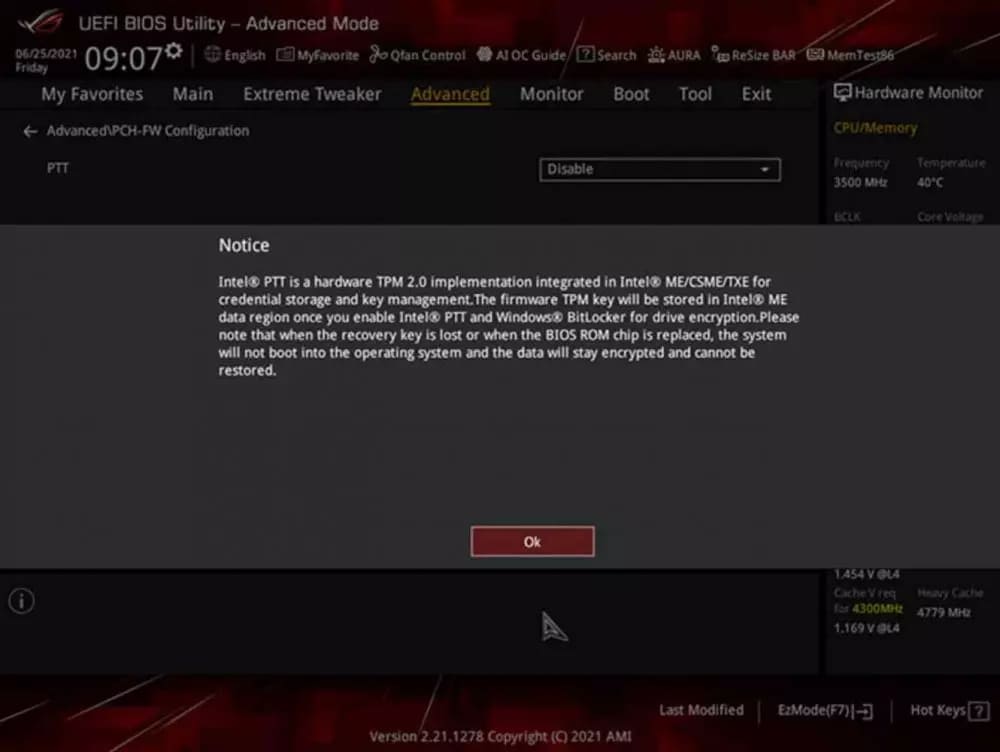 When you have activate it, the following message will appear, reminding you that the keys will be stored in the same memory space as the BIOS firmware.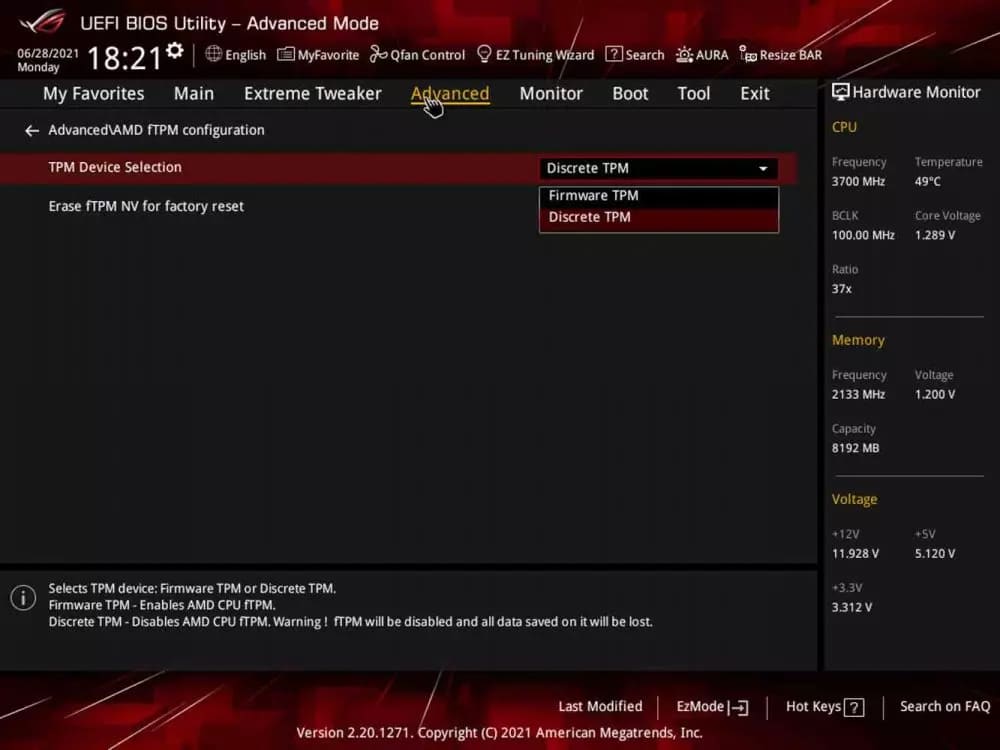 What happens if you have an AMD CPU? Well, here you can activate the TPM firmware or fTPM technology, likewise going to the BIOS, through Advanced and then AMD fTPM configuration. From there they will let us choose what type of TPM we want to activate. If it is a TPM module we must select Discrete TPM, if we do not have it physically installed then we must select Firmware TPM.
How do I know if my Asus motherboard is Windows 11 compatible?
First of all, the brand recommends updating the BIOS firmware to avoid problems when running Windows 11 on our PCs with an ASUS motherboard. If you have followed the steps above there is almost 100% chance you will be able to install the OS. Below you will see a list of all Windows 11 compatible Asus motherboards, so if you see yours on the list, make sure you have the latest version of the BIOS installed.
Full list of Windows 11 compatible Asus motherboards
Windows 11 compatible Asus Intel X299 chipset
Pro WS X299 SAGE II
ROG RAMPAGE VI EXTREME ENCORE
ROG RAMPAGE VI EXTREME OMEGA
ROG RAMPAGE VI EXTREME
ROG RAMPAGE VI APEX
ROG STRIX X299-E GAMING II
ROG STRIX X299-XE GAMING
ROG STRIX X299-E GAMING
WS X299 SAGE/10G
Windows 11 compatible Asus Intel Z590 chipset
ROG Maximus XIII Extreme Glacial
ROG Maximus XIII Extreme
ROG Maximus XIII APEX
ROG MAXIMUS XIII HERO
ROG STRIX Z590-E GAMING WIFI
ROG STRIX Z590-F GAMING WIFI
Z590 WIFI GUNDAM EDITION
TUF GAMING Z590-PLUS WIFI
TUF GAMING Z590-PLUS
PRIME Z590-A
PRIME Z590-P WIFI
PRIME Z590-P
PRIME Z590-V
PRIME Z590M-PLUS
Windows 11 compatible Asus Intel Q570 chipset
Pro Q570M-C/CSM
Windows 11 compatible Asus Intel H570 chipset
TUF GAMING H570-PRO WIFI
TUF GAMING H570-PRO
PRIME H570-PLUS
PRIME H570M-PLUS
Windows 11 compatible Asus Intel B560 chipset
ROG STRIX B560-E GAMING WIFI
ROG STRIX B560-F GAMING WIFI
ROG STRIX B560-A GAMING WIFI
ROG STRIX B560-G GAMING WIFI
ROG STRIX B560-I GAMING
TUF GAMING B560-PLUS WIFI
TUF GAMING B560M-PLUS WIFI
TUF GAMING B560M-PLUS
TUF GAMING B560M-E
PRIME B560-PLUS
PRIME B560M-A
PRIME B560M-A AC
PRIME B560M-K
Pro B560M-C/CSM
B560M-N
B560M-P
B560M-T
EX-B560M-V5
Windows 11 compatible Asus Intel H510 chipset
Pro H510M-C/CSM
Windows 11 compatible Intel Z490 chipset
ROG MAXIMUS XII EXTREME GUNDAM
ROG MAXIMUS XII EXTREME
ROG MAXIMUS XII FORMULA
ROG MAXIMUS XII APEX
ROG MAXIMUS XII HERO(WI-FI)
ROG STRIX Z490-E GAMING
ROG STRIX Z490-F GAMING
ROG STRIX Z490-A GAMING
ROG STRIX Z490-H GAMING
ROG STRIX Z490-G GAMING
ROG STRIX Z490-G GAMING(WI-FI)
ProArt Z490-CREATOR 10G
Z490-GUNDAM (WI-FI)
TUF GAMING Z490-PLUS (WI-FI)
TUF GAMING Z490-PLUS
PRIME Z490-A
PRIME Z490-P
PRIME Z490M-PLUS
Windows 11 compatible Asus Intel W480 chipset
PRO WS W480-ACE
Windows 11 compatible Asus Intel Q470 chipset
Pro Q470M-C/CSM
Windows 11 compatible Intel H470 chipset
ROG STRIX H470-I GAMING
TUF GAMING H470-PRO (WI-FI)
TUF GAMING H470-PRO
PRIME H470-PLUS
PRIME H470M-PLUS
PRIME B460M-A R2.0
PRIME H410M-K R2.0
Windows 11 compatible Asus Intel B460 chipset
ROG STRIX B460-F GAMING
ROG STRIX B460-H GAMING
ROG STRIX B460-G GAMING
ROG STRIX B460-I GAMING
TUF GAMING B460-PRO (WI-FI)
TUF GAMING B460-PLUS
PRIME B460-PLUS
PRIME B460M-A
PRIME B460M-K
B460M-BASALT
B460M-KYLIN
B460M-N
B460M-P
EX-B460M-V5
Pro B460M-C/CSM
Windows 11 compatible Asus Intel H410 chipset
PRIME H410M-A
PRIME H410M-D
PRIME H410M-E
PRIME H410M-F
PRIME H410M-K
PRIME H410M-R
PRIME H410M-CS
Pro H410M-C/CSM
Pro H410T/CSM
EX-H410M-V3
Windows 11 compatible Asus Intel Z390 chipset
ROG MAXIMUS XI EXTREME
ROG MAXIMUS XI FORMULA
ROG MAXIMUS XI CODE
ROG MAXIMUS XI APEX
ROG MAXIMUS XI HERO (WI-FI)
ROG STRIX Z390-E GAMING
ROG STRIX Z390-F GAMING
ROG STRIX Z390-H GAMING
ROG STRIX Z390-I GAMING
WS Z390 PRO
TUF Z390-PRO GAMING
TUF Z390-PLUS GAMING (WI-FI)
TUF Z390-PLUS GAMING
TUF Z390M-PRO GAMING
TUF Z390M-PRO GAMING (WI-FI)
PRIME Z390-P
PRIME Z390M-PLUS
Windows 11 compatible Asus Intel Z370 chipset
ROG STRIX Z370-E GAMING
ROG STRIX Z370-F GAMING
ROG STRIX Z370-G GAMING
ROG STRIX Z370-G GAMING (WI-FI AC)
ROG STRIX Z370-I GAMING
TUF Z370-PRO GAMING
TUF Z370-PLUS GAMING II
TUF Z370-PLUS GAMING
PRIME Z370-A II
PRIME Z370-A
PRIME Z370-P II
PRIME Z370-P
PRIME Z370M-PLUS II
Windows 11 compatible Asus Intel H370 chipset
ROG STRIX H370-I GAMING
PRIME H370-PLUS
PRIME H370-A
PRIME H370M-PLUS
Windows 11 compatible Asus Intel Q370 chipset
PRIME Q370M-C
Windows 11 compatible Asus Intel B365 chipset
TUF B365M-PLUS GAMING
PRIME B365M-A
PRIME B365M-K
PRIME B365M-C
B365M-BASALT
B365M-DRAGON
B365M-KYLIN
B365M-PIXIU
CSM PRO-E3 R2.0
EX-B365M-V
EX-B365M-V5
Windows 11 compatible Asus Intel B360 chipset
ROG STRIX B360-H GAMING
ROG STRIX B360-G GAMING
ROG STRIX B360-I GAMING
TUF B360-PRO GAMING (WI-FI)
TUF B360-PRO GAMING
TUF B360M-PLUS GAMING S
TUF B360M-PLUS GAMING
TUF B360M-PLUS GAMING/BR
PRIME B360-PLUS
PRIME B360M-A
PRIME B360M-K
PRIME B360M-C
B360M-BASALT
B360M-DRAGON
B360M-DRAGON S
B360M-KYLIN
B360M-PIXIU
B360M-PIXIU V2
CSM PRO-E3
EX-B360M-V
EX-B360M-V3
EX-B360M-V5
Windows 11 compatible Asus Intel H310 chipset
TUF H310M-PLUS GAMING R2.0
TUF H310M-PLUS GAMING/BR
PRIME H310M-A R2.0
PRIME H310M-A
PRIME H310M-AT R2.0
PRIME H310M-AT
PRIME H310M-C R2.0
PRIME H310M-C/PS R2.0
PRIME H310M-CS R2.0
PRIME H310M-C
PRIME H310M-D R2.0
PRIME H310M-D
PRIME H310M-E R2.0
PRIME H310M-E R2.0/BR
PRIME H310M-E
PRIME H310M-E/BR
PRIME H310M-K
PRIME H310M-K R2.0
PRIME H310M-R R2.0
PRIME H310-PLUS R2.0
PRIME H310I-PLUS R2.0
PRIME H310I-PLUS
PRIME H310T
PRIME H310T R2.0
PRIME H310T2 R2.0 D3
CSM PRO-E1
CSM PRO-E1 R2.0
EX-H310M-V3
EX-H310M-V3 R2.0
H310T-A R2.0
PRO H310M-R R2.0 WI-FI
Windows 11 compatible Asus AMD X570 chipset
PRO WS X570-ACE
ROG CROSSHAIR VIII FORMULA
ROG CROSSHAIR VIII DARK HERO
ROG CROSSHAIR VIII HERO(WI-FI)
ROG CROSSHAIR VIII HERO
ROG CROSSHAIR VIII IMPACT
ROG STRIX X570-E GAMING
ROG STRIX X570-F GAMING
ROG STRIX X570-I GAMING
TUF GAMING X570-PRO (WI-FI)
TUF GAMING X570-PLUS (WI-FI)
TUF GAMING X570-PLUS
TUF GAMING X570-PLUS/BR
PRIME X570-PRO
PRIME X570-P
Windows 11 compatible Asus AMD A520 chipset
TUF GAMING A520M-PLUS II
TUF GAMING A520M-PLUS WIFI
TUF GAMING A520M-PLUS
PRIME A520M-A
PRIME A520M-A II
PRIME A520M-E
PRIME A520M-K
Pro A520M-C/CSM
Pro A520M-C II/CSM
Windows 11 compatible Asus AMD X470 chipset
ROG STRIX X470-F GAMING
TUF X470-PLUS GAMING
PRIME X470-PRO
Windows 11 compatible Asus AMD B450 chipset
ROG STRIX B450-E GAMING
ROG STRIX B450-F GAMING II
ROG STRIX B450-F GAMING
ROG STRIX B450-I GAMING
TUF B450-PRO GAMING
TUF GAMING B450-PLUS II
TUF B450-PLUS GAMING
TUF GAMING B450M-PRO II
TUF GAMING B450M-PRO S
TUF B450M-PRO GAMING
TUF GAMING B450M-PLUS II
TUF B450M-PLUS GAMING
PRIME B450M-GAMING/BR
PRIME B450-PLUS
PRIME B450M-A II
PRIME B450M-A
PRIME B450M-K II
PRIME B450M-K
B450M-DRAGON
Windows 11 compatible Asus AMD X399 chipset
ROG STRIX X399-E GAMING
PRIME X399-A
Windows 11 compatible Asus AMD X370 chipset
ROG STRIX X370-F GAMING
ROG STRIX X370-I GAMING
PRIME X370-PRO
PRIME X370-A
Windows 11 compatible Asus AMD B350 chipset
ROG STRIX B350-F GAMING
ROG STRIX B350-I GAMING
TUF B350M-PLUS GAMING
PRIME B350-PLUS
PRIME B350M-A
PRIME B350M-E
PRIME B350M-K
B350M-DRAGON
Windows 11 compatible Asus AMD A320 chipset
PRIME A320M-A
PRIME A320M-K
PRIME A320M-K/BR
PRIME A320M-E
PRIME A320M-F
PRIME A320M-R
PRIME A320M-C R2.0
PRIME A320I-K
Pro A320M-R WI-FI
Pro A320M-R2
CSM PRO-A3
EX-A320M-GAMING
---
More stories like this
---