---
You can also be interested in these:
---
Unlike PC Health Check, Whynotwin11 is a simple-to-use, user-friendly and free software that will be a lot more useful to know whether you can install Windows 11 on your computer or not. Let's find out more about this software and discover, once and for all, if your computer is Windows 11 compatible, despite all the misinformation about the requirements.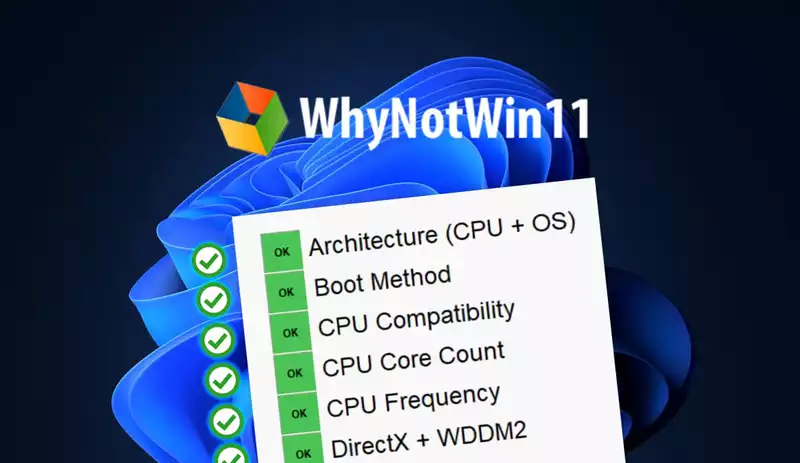 Up until this time, there was only one way to find out if your computer was Windows 11 compatible or not: Running a check in the PC Health Check software (will start the download). In theory it does its work, however it is not very conclusive. It seems that things are now moving in the right direction, and it has started to emerge an array of new tools that elaborates on the functionality of those legacy programs.
What is Whynotwin11?
It is a verification tool that helps the user to know if their computer is compatible with Windows 11 or not, in a very precise, detailed and fast way. The official Microsoft application for this purpose is PC Health Check, but it seems not quite able to handle flexible verdicts, the conclusions can be somewhat ambiguous.
What differentiates Whynotwin11 is that it will give us every detail of why our computer is not compatible with Windows 11, or on the contrary, why it is. To do this, it has all the Windows 11 requirements assessed and it verifies if your components pass the "fire test" through a checklist system:
Red: does not comply and is incompatible.
Yellow: unclear and likely, but not an impediment.
Green: it complies with the requirements of the system.
You will see that the interface is super simple and direct, having 11 criteria that represent requirements to be met:
Boot type.
CPU architecture.
CPU generation.
Core count.
Frequency.
DirectX support.
Drive partition (GPT).
RAM.
Safe start-up.
Storage.
TPM.
Basically Whynotwin11 is an application that extends in detail what PC Health Check teaches us: instead of limiting itself to just telling us whether or not it is compatible, it details why.
There is nothing to install, we just have to download Whynotwin11 and run it. Then it will check each requirement by itself and assign a color to it depending on its compatibility.
If it fails any critical verification (like CPU, for example) we will get a pop-up message that will alert us. What's more, it will tell us that we can get assistance using a Discord button, which will redirect us to the official Whynotwin11 channel where we can share our question so that they can solve it for us.
On the PC Health Check software if your CPU is not on the Microsoft compatibility list it will come out as not conclusive, but this shouldn't be a reason you then have to deal with restrictions due it Microsoft's inability to keep its data base updated. For instance, in computers using Ryzen 5 1600, you will get a "not compatible" assessment, nevertheless, Windows 11 runs perfectly on them, even without update restrictions.
Reasons to choose Whynotwin11 over PC Health Check
There is a vital fact PC health Check omits, and it has to be said: "If most of the hardware is supported, it probably won't stop Windows 11 from installing." This is something crucial that maybe many people didn't know, but one that changes completely the rules of the game to the users' favour.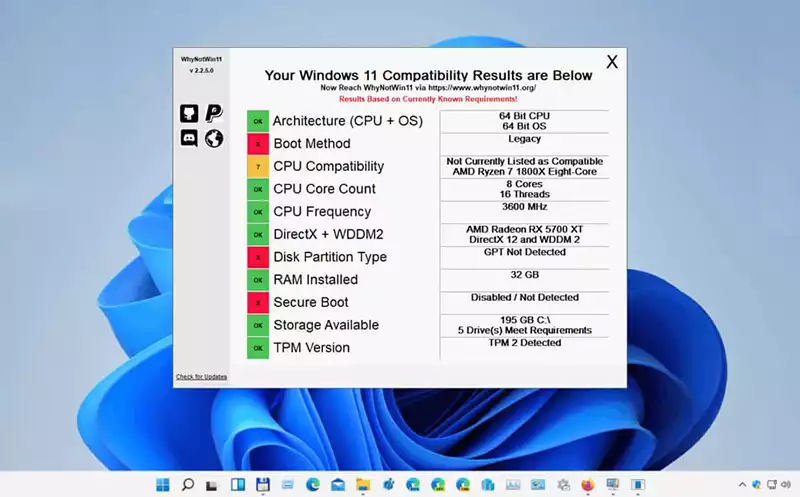 The reason would be in the statements coming from the same creators of Windows 11, who assure that installing the operative system with an incompatible system surely implies limitations when it comes to enjoying the updates. In other words: if your PC is incompatible, it could not receive the official updates Microsoft will be releasing.
But fear not, it is not the time to panic, at least not yet. This was just an announcement from Microsoft, it remains to be seen if it is true that they will handicap the system for those incompatible computers, especially when you bought a Windows 11 key. Will they offer a refund  if for some reason my Windows 11 get restricted due to incompatibility? We don't think so.
Thanks to the detailed diagnosis of Whynotwin11, we can reliably know what we need to update or improve on our PC to obtain a full green pass and know that we can update without hesitation or "what-ifs".
I installed Windows 11 on a non-compatible computer. Will I receive updates?
According to the requirements of Windows 11, and after and despite all the controversy these Microsoft directives have brought, many computer owners that haven't passed the compatibility verification are now benefiting from all the updates Microsoft has published.
With this being said, we can conclude Microsoft has not yet rolled-out these policy. We have not yet felt the consequences of the implementation of these rules. Windows 11 is a little behind the schedule on. this aspect. With Windows 10, Microsoft did not take long to say how much the Home and Pro version would cost, but in this Windows 11 introduction they've lagged behind the schedule.
---
More stories like this
---