---
You can also be interested in these:
---
The company Lenovo has gained a significant market share in such as competitive consumer technology sector thanks to its range of Ideapad laptops. This line of computers offers cutting-edge technology, endowed with outstanding capabilities to perform entertainment and multimedia related tasks at a very affordable prices unlike other sector brands.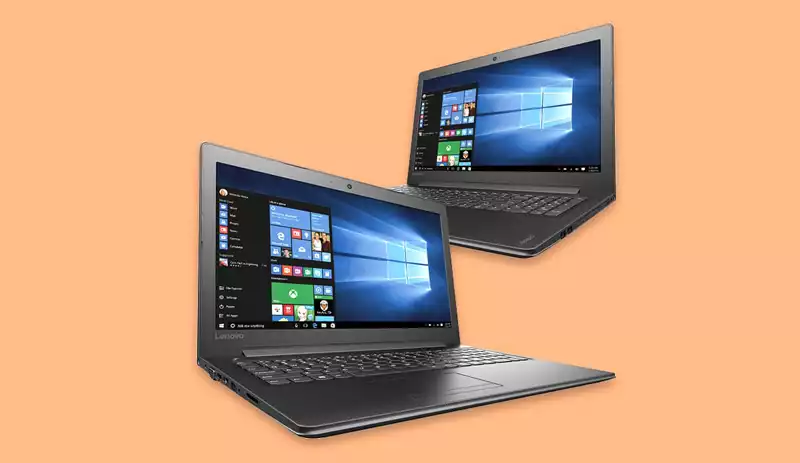 The Lenovo Ideapad 310-15ABR is an all-terrain laptop that doesn't disappoint in offering a superb multimedia experience. Anyone would think that this can only be achieved by high-end, high-budget computers. The truth is that this device doesn't lag behind others with better performance, even in higher segments, due to its display characteristics, graphic processing capabilities and sound, which takes us on the right track in our daily content consumption needs.
Screen panel and layout
The Lenovo Ideapad 310-15ABR has a modern and resistant design, composed of a solid and polished aluminum cover, very commonly used by the brand in other notebooks on its portfolio. It boasts having a rather convenient form factor and lightweight, weighing only 2.2 kilograms with the battery included.
On the screen, the panel has a LED backlighting and a maximum resolution of 1366 x 768 pixels that translates into standard HD image quality in its 15.6-inch length. In addition, it has the AccuType keyboard with flatter low-raised profile and slightly curved keys to improve comfort and precision while typing on the laptop.
Processor and RAM memory
The processing department, an AMD A10-9600P CPU is in charge of driving the high-performance tasks of this device. It integrates 4 processing cores 2.4 GHz frequency. It is meant to maintain a good performance in basic office tasks, whereas when in more demanding multitasking applications it will run at a turbo frequency of 3.3 GHz.
AMD has come a long way when it comes to research and development. We can say it is on par with Intel in processing requirements (for those who are not familiar with the brand). AMD has gained notoriety for its supremacy in graphics processing, which comes in handy when the main offering is multimedia performance. It is fair to say the Lenovo Ideapad 310-15ABR processor is comparable to a sixth generation Intel Core i5.

The AMD A10-9600P CPU included in this laptop is a versatile processor capable of responding fluently to all kinds of situations, no matter how demanding they might be.
As for its RAM memory of the Lenovo Ideapad 310-15ABR, this becomes one of the strongest selling points of this device. It integrates a DDR4 type memory with a capacity of 12 GB that, apart from offering exceptional performance for daily use tasks, it also consume less power resources than other types of memory.
If watching online series and movies, reading content online, browsing the web or dealing with text and spreadsheet documents are your thing, you won't have any problems with this laptop, nor you will find a task that the Lenovo Ideapad 310-15ABR cannot execute smoothly.
Graphic processing
The Lenovo Ideapad 310-15ABR also integrates a graphics processor from the aforementioned AMD brand, the Radeon R5, with 2 GB DDRL3 RAM memory that will offer a responsive experience when playing multimedia content on the laptop as well as casual not-so-demanding games and digital editing programs at an amateur-intermediate level, in a fluid way.
The graphics processing module comes integrated with the motherboard, and therefore it is not suited for the needs of the most demanding users for this matter. If you have a game title that requires too much processing power, it won't run smoothly. This is something we need you to know straight and without hesitation: This is not a gaming laptop.
For more demanding tasks, gaming needs and what not, we can recommend the Gigabyte Aorus 17G XD Laptop. This piece of equipment is adapted to the needs of the most gamers, packing an amazing processing power and really good display options.
Storage and Battery
Going back to the Lenovo Ideapad 310-15ABR, regarding its storage capacity, the laptop has a SATA-type hard disk with 1 TB and a reading speed of 5400 rpm, ensuring large space, optimal program execution and data transfer locally within the computer.
Moreover, the non-removable 2-cell battery offers the Lenovo Ideapad 310-15ABR autonomy of about 5 hours of web browsing via Wi-Fi or while working with any of the office applications.
Autonomy may vary depending on how you use the laptop. This is a relative concept and therefore we cannot guarantee 5 hours of autonomy to see a movie at full brightness, or connected to an external monitor. For more demanding tasks connecting the computer to the power supply would be advisable.
Connectivity
As far as internet connectivity is concerned, the inclusion of a Wi-Fi connection under the 802.11ac standard that works at a dual frequency of 2.4 GHz and 5 GHz for faster and more stable web browsing as well as Bluetooth technology to share files and data on its version 4.0.
In addition, it includes a DVD reader/writer combo unit. Although nobody burns CDs or DVDs anymore, at least you can enjoy watching movies in this format with excellent sound quality from its Dolby Audio through the integrated stereo speakers.
For the rest, its connection ports are summarized in one Ethernet, one USB 3.0, two USB 2.0, a 4 in 1 MicroSD card reader and their respective VGA and HDMI inputs to reproduce the contents of your screen on televisions and external monitors larger format with Full HD resolution.
Conclusion and opinions
In summary, when we speak about the Lenovo Ideapad 310-15ABR we talk about a good and reliable laptop for accomplishing those daily office activities, long work sessions, multimedia tasks and casual entertainment thanks to its ergonomic AccuType keyboard, descent processing power, relatively small size and light weight.
Windows 10 comes pre-installed on this laptop as well as a set of multimedia features, perfect for those free moments of leisure; without forgetting that it has an excellent price compare to the value proposition.
Finally, the average price of this laptop is $379 USD, but it varies considerably, depending on your supplier. This model is not recent and surely there would be better and more affordable means to get it brand new in box from a retailer.
---
More stories like this
---