---
You can also be interested in these:
---
The Lenovo Ideapad 15 330 AMD is one of the most affordable machines out there. It boasts different customizable hardware, from AMD Accelerated Processing Units to FHD display, USB 3.0 Type-C, and memories up to 16GB. In this article, we are intending to review the unit thoroughly to find out if it is worth the price.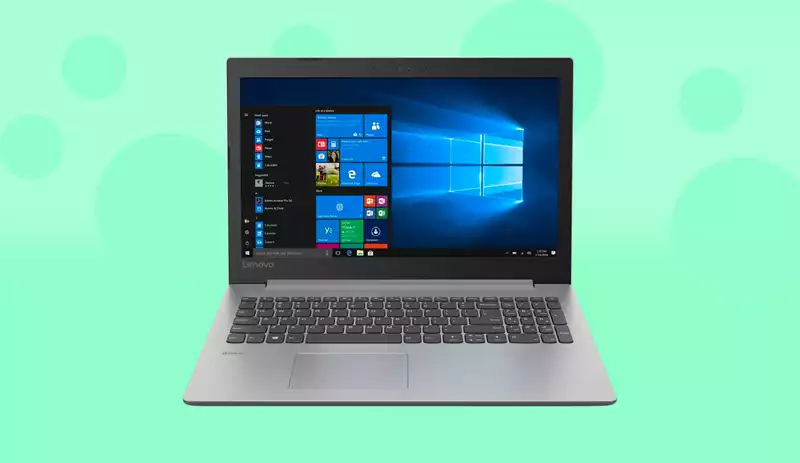 We will dive right into what Lenovo Ideapad 15 330 AMD offers, but before that, let us see all the pros and cons at a glance:
Pros
Cons
– Optical drive Comfortable keyboard
– Low price options
– USB 3.0 Type-C Sturdy construction
– Weak performance under heavy load
– Low-quality display (just in 720p version)
– Short battery life
Without further ado, let us review the unit in all areas.
Design
The dimensions of the device are roughly 0.9×10.2×14.9, and it weighs 4.85 pounds. This makes it an ideal, lightweight, portable device you can carry everywhere. Indeed, Lenovo Ideapad 15 330 AMD is smaller and lighter than many of its competitors.
The chassis and the elegant platinum gray frame feel undeniably sturdy. This metallic construction is usually used in high-end notebooks and Ultrabooks, as Lenovo also does the same. Despite that, you should be aware that the material does pick up dirty marks if you do not take care of it decently. This happens in all other notebooks with similar material as well.
Display
Lenovo Ideapad 15 330 AMD typically comes with a 720p display, and the screen size is 15.6-inch to be exact. However, Lenovo offers the FHD version for more professional users as well. If you prefer the HD variant, then you are going to suffer from the blind spot for this laptop series.
You may not quickly detect the low resolution in the 720p display, and you shouldn't also expect more from this budget device. You may have difficulties when working with the screen from some angles. It is not great, but still, we may call it acceptable.
In the 1080p case, everything goes smoothly on the display. The device delivers vivid and powerful visuals from many angles. Also in both variants, the good news is that Lenovo has added an anti-glare coating on the screen to push away reflections for the comfort of your eyes.
Keyboard and Touchpad
Let us meet one of the strong pros of Lenovo Ideapad 15 330 AMD: the keyboard and touchpad.
The device comes with a non-backlit, 6-row keyboard with decently spaced keys. The arrow keys and number pad are well designed and positioned. Apart from that, the keys do not travel a lot, so even quick typist can also rely on them and enjoy a nice typing experience.
The touchpad has been shifted a little to the left side of the area below the keyboard and comes in the same color as the enclosure. Despite that, it is completely suitable for different inputs and gestures. You can configure various ones on the set-up menu of the pad on Windows 10.
Ports and Storage
Different I/O port options are included around the Lenovo Ideapad 15 330 AMD. There are two USB 3.0 ports along with a USB 3.0 Type-C port, an HDMI port, and an SD slot. In addition to all these, you can find a headphone jack, an Ethernet port, plus a DVD optical drive. Also, wireless connectivity is possible via the 802.11AC Wi-Fi and Bluetooth 4.1.

In the case of storage, the device comes with a 1TB 5400RPM hard drive. However, you have other options including 512GB and 2TB too. The storage is highly likely enough for the majority of users. You can even extend your storage using the SD slot and SD cards. What's more, you can configure your system to include an SSD too to boot up the system as quickly as possible.
Battery Life
The battery life is where Lenovo Ideapad 15 330 AMD fails to amaze us. The life cycle of the battery is unfortunately inefficient and disappointing. You should stay close to a power outlet if you tend to use the laptop outdoors.
The battery can give you almost 6 hours of normal usage. Also, it supports Rapid Charge — 15 minutes plugged in will let you use the device for up to 2 hours if you use a 65W power supply and power off the device. Despite that, it is good to know that the average life cycle of the budget laptop category is almost 7 to 8 hours.
Price and configuration
The ground configuration for the Lenovo Ideapad 15 330 AMD starts at just $330 USD. It comes with an AMD Ryzen 3 SoC, an HD display, and is one of the most affordable units out there. Nonetheless, you can customize your preferences and order a more powerful, more expensive version.
The costliest version of the Lenovo Ideapad 330 series is as much as $750 USD, coming with an AMD Ryzen 7 2700U SoC and a 1080p display. Other processor options include the AMD Ryzen 5 2500 SoC, and the AMD Ryzen 3 2200U.
It is also good to know that the package is configurable with many different Intel processors including the Coffee Lake, Gemini Lake, and Kaby Lake variants. But we are covering the AMD-powered configurations in this review.
Performance
You can upgrade the Lenovo Ideapad 15 330 AMD to the latest versions of the AMD Ryzen industry-leading processors and graphics to make the most of your working experience. Furthermore, you can combine different AMD processors with different AMD graphics to create a customized AMD Accelerated Processing Unit that helps you enjoy an optimized power, speed, and performance, whether you are playing or working.
In the case of processors, you can configure your unit to have different AMD processors starting from Ryzen R3 2200U to Ryzen R7 2700U. Speaking of graphics, users can customize their APUs to be combined with different graphic cards including Radeon 530, Radeon R3, Radeon RX 540, Vega 3, and Vega 8. Besides, the memory does also come in three options of 4, 8, and 16 GB.

It is needless to say that the higher your configuration, the smoother and quicker your performance. It is highly suggested that you pick the 16 GB memory, Ryzen R7 CPU, and Vega 8 graphics if you tend to be more productive and be able to run some hardcore games while on lowered settings. However, the base and middle variants can only satisfy your fundamental needs for web surfing, photo and video viewing, and editing office documents.
The multicore Cinebench results for the middle range configuration of this unit with Ryzen 5 2500U 3.6 GHz, Vega 8 graphics, and 8 GB of memory shows that the system falls below Apple MacBook Pro 13 2018, Acer Swift 3, and Huawei MateBook Pro i7. Also, the system is hardly able to run The Witcher 3 (2015) even on low graphics but can run BioShock Infinite (2013) well on low graphic settings.
Should I buy Lenovo Ideapad 15 330 AMD?
The unit is an inexpensive multimedia package; therefore, it is not fair to expect very much out of it, so forget about playing top notch video games on it. The chassis is smooth, and the matte panel does lower the glare. Apart from that, it is one of the few laptops out there that comes with USB Type-C.
The experience of typing on the unit is satisfactory; you can enjoy the high-quality keyboard with low traveling and touchpad with good customizable gestures. Additionally, the device is lightweight enough to carry as your companion as you go anywhere daily.
There is still a long list of disappointments despite the low starting price. The system is not able to perform strongly under heavy load, hardly able to run games released in 2015. The battery life is too short in comparison with the market average, and even other Ideapad models. What's more, the variants equipped with 720p displays are barely competitive with other rivals.
The good news is that the Lenovo Ideapad 15 330 AMD is highly customizable. As per your budget, you can customize your unit and choose between many different CPUs, graphic cards, memories, display qualities, and hard drive capacities.
---
More stories like this
---